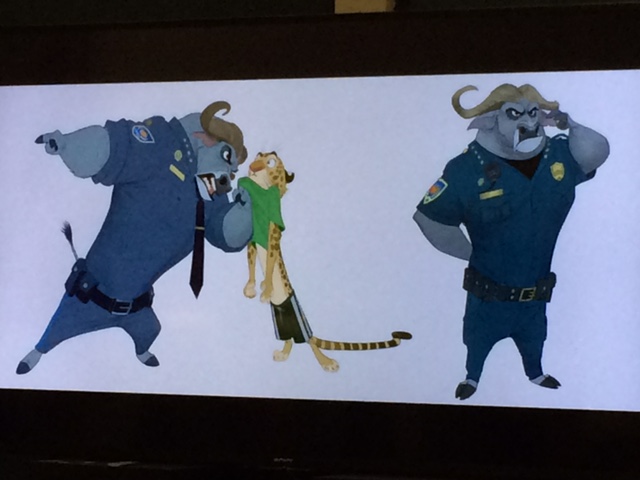 From script to story board to final film, the animation process of a Disney film like Zootopia makes a human acted movie look like a cake walk. One of the most fascinating parts of being invited to Disney's animated movie events is the opportunity to hear first hand from the people who bring the characters to life. So, it was exciting to have the opportunity to chill with artist Chris Loftis to get an inside view into the process.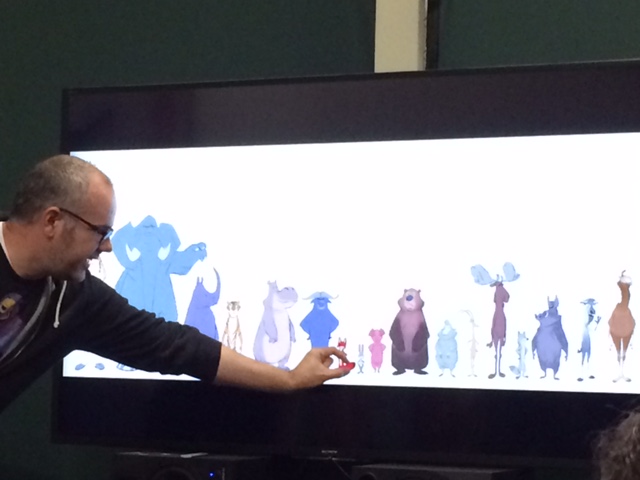 The animal research began by studying animals for 18 months in their natural habitat, including a trip to Africa, and with 64 different species it was critical to learn the mannerisms, movement, and scale of one animal to another.
But, the FUN part begins when they have to give these four legged creatures human qualities – like having them walk on two legs, giving them personality, and creating caricatures of human stereotypes.
Look at the picture above and think of how you would put pants on that cow….and make it look natural. Now THAT'S a feat. Now imagine having to do that for EVERY character who lives in Zootopia.
Of course, when we sat down with paper and pencil to learn how to do a basic drawing of Judy Hopps, I realized just how difficult it is. The Judy Hopps ABOVE was drawn by Cory Loftis, the sketch below was drawn by yours truly.
I'm excited to see how it all comes together when I see the final film in a couple of weeks.  Zootopia comes to theaters on March 4th. I'll be updating you with more info on this fun new animated feature soon.
ZOOTOPIA opens in theatres everywhere on March 4th