You know you're living the good life when you're dining at Sho Shaun Hergatt in New York with my f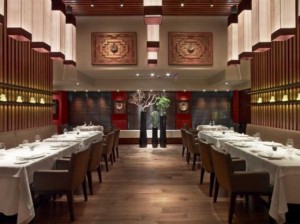 riend Lisa from the real deal in dining: Travels in Taste. Champagne Living readers have a once in a lifetime opportunity to enjoy an amazing experience when they register for a dining event that they won't soon forget.
MDEEP SEA DELIGHTS AND SAUCY SEA BITES
When: WEDNESDAY, MARCH 30, 2011
Time: 7 P.M.
Where: Sho Shaun Hergatt at the Setai – NYC
Cost: $200 (including tax and gratuity)
Menu
CHILLED KUMAMOTO OYSTERS
JUNSAI, SHISO, GINGER VINAIGRETTE
Franciacorta, Ronco Calino, Lombardy NV
STEAMED BOUCHET MUSSELS
POMME PUREE, SAFFRON- ESPELETTE CRÈME
Grüner Veltliner Smaragd, 'Achleiten,' Prager, Wachau 2007
FENNEL GLAZED COCKLES
MEDITERRANEAN BASS PAVE, GREEK YOGURT EMULSION
Gewurztraminer, 'Dragonfly,' Francis Tannahill, Washington 2007
THAI LONG PEPPER DUSTED DIVER SCALLOP
BRAISED OXTAIL, SYRAH REDUCTION
Closa Batllet, Priorat (Cariñena, Grenache, Cabernet Sauvignon) 2005
COCONUT PEARLS
HIBISCUS CHIPS, PASSION FRUIT SORBET
Royal Tokaji Wine Company, 'Red Label,' 5 Puttonyos, Tokaji 2006

CHOCOLATES AND PETITS FOURS
PLUS if you sign up at Travels in Taste you'll receive  a $75 gift certificate for a future visit for 2 PLUS a $50 spa certificate at the Setai in NY.
In addition – FB/TWITTER/SOCIAL media signups (the first 50 people who purchase HERE) will get a private tour of the kitchen with chef and a special treat prepared just for them!