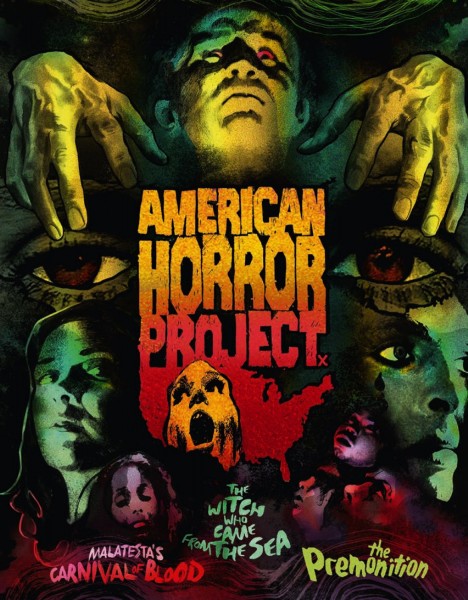 Horror got me into film. The Evil Dead was like a gateway drug for me. Schlock horror used to be the way to my heart. American Horror Project from Arrow Films have undoubtedly created a nice little fright fest, celebrating obscure and little known screen scares. Volume 1 contains three horror films from the 70's, that I had never even heard of (I know, right?)!
What do we get?
Malatesta's Carnival of Blood – The Norris family get jobs working at a seedy old carnival as a cover for searching for their missing son who disappeared after visiting said carnival. Eccentric manager Mr. Blood turns out to be a vampire while the evil owner Malatesta rules over a gaggle of ghastly ghouls who watch silent movies when they aren't feasting on human flesh.
The Witch Who Came from the Sea – Millie Perkins is a disturbed young woman plagued by disturbing visions. She hates men and castrates them because she was the victim of incest during her childhood." The Witch Who Came from the Sea" is a strange and moody exploitation flick with dream-like atmosphere and strong symbolism
The Premonition – This Thriller/horror movie tells the tale of a young girl who is terrified that her insane mother will take her away from her beloved foster mother. One day, the crazed real mother attempts to contact the girl at school, but her foster mother has a premonition and gets there in time to protect the girl. Eventually though, the real mother and her boyfriend, a carnival clown, succeed and takes her away, leaving the bereaved foster parents to enlist the assistance of a parapsychologist to help them interpret the foster mother's terrifying dreams and psychic connection to the girl and find her before it is too late.
If you're a fan of acid-trip cinema, you just may enjoy Malatesta. There are some good mind-bending moments but all and all the film could have used the Carnival better. Honestly Carnivals are the best settings for horror films. The surreal moments are worth the price of admission of this film but the rest was confusing and wooden.
The Witch Who Came from the Sea is a bit better. The acting and plot are more coherent in this one. It is intense and well-acted throughout. Perkins is convincing, and for a horror / psychological drama most of the acting is above average. It is a smart well-paced creepy and unsettling film.
The Premonition is also a strong film. .The script is imaginative as it delves into the bond of motherhood, telepathy and precognition. The acting is strong, the direction by Schnitzer is competent and there is some powerful suspense. The shock moments are very effective for example the scene where Andrea in a red evening gown slips into Janie's bedroom is very eerie and sad. Also the score is awesome.
As with every Arrow release the Audio and Visuals are great and the special features are really quite special.
MALATESTA'S CARNIVAL OF BLOOD
Introduction to the film by Stephen Thrower
Audio Commentary by film historian Richard Harland Smith
The Secrets of Malatesta – an interview with director Christopher Speeth
Crimson Speak – an interview with writer Werner Liepolt
Malatesta's Underground – art directors Richard Stange and Alan Johnson discuss the weird, mysterious world of Malatesta's underground
Outtakes
Draft script (BD/DVD-ROM content)
Stills gallery
THE WITCH WHO CAME FROM THE SEA
Introduction to the film by Stephen Thrower
Audio commentary with director-producer Matt Cimber, actress Millie Perkins and director of photography Dean Cundey
Tides and Nightmares – brand new making-of documentary featuring interviews with Cimber, Perkins, Cundey and actor John Goff
A Maiden's Voyage – archive featurette comprising interviews with Cimber, Perkins and Cundey
Lost at Sea – director Cimber reflects on his notorious cult classic
THE PREMONITION
Introduction to the film by Stephen Thrower
Isolated score
Audio commentary with director-producer Robert Allen Schnitzer
Pictures from a Premonition – brand new making-of documentary featuring interviews with Schnitzer, composer Henry Mollicone and cinematographer Victor Milt
Archive interviews with Robert Allen Schnitzer and star Richard Lynch
Three Robert Allen Schnitzer short films: 'Vernal Equinox', 'Terminal Point' and 'A Rumbling in the Land'
4 Peace Spots
Trailers and TV Spots
Overall this is an amazing set of three films worth watching for all different reasons. This isn't your typical 70's "gore-o-rama" flick but rather a twisted, dark, and at times hallucinogenic tale about the real horrors.


American Horror Project: Vol. 1 (6-Disc Special Edition) [Blu-ray + DVD]
is available on Amazon.com or specialty DVD stores.