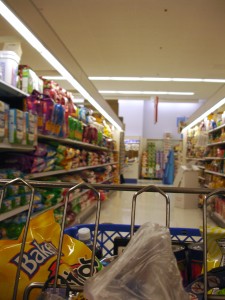 It's not what you think. I'm not sad, depressed or under the weather in any way, but I'm still BLUE.
I spent the day figuring out JUST how much I spend on food for the mansion and gas in the cars. I HATE being faced with the reality of how much trickles out of the wallet for the necessities, but it's good to do it every now and then just to see where you can save money. I figure that we spend approximately
$200 + per week on groceries x 4.3 weeks per month = $860 per month
$80 per month on Mr. S's car = $80 per month
$70 per month on the hybrid (it gets used the MOST)
TOTAL SPENT on food & gas = roughly $1,000 per month – or $12,000 per year
UGH, $12,000! What am I supposed to do? Frankly I'm too busy atending events, going to the spa, and traveling to be clipping coupons. How can I SAVE on my gas and groceries?
By using an American Express Blue Cash Everyday Card I could actually get
3% back on groceries
2% back on gas
2% back in department stores 🙂
1% everywhere else
With NO ANNUAL FEE
The American Express Blue Everyday Card can save you a LOT over the course of a year.  Figuring that I spend $12,000 on gas and groceries alone, I'd get
$360 BACK – hmmm….that's MORE than enough for a weekend in Key West!!
I did a little digging into various cards that give you money back and found that the American Express Blue Cash Cards (there are two different ones, for those who want even BIGGER rewards there's the Blue Cash Premier Card ) offer some of the highest rebates around. Plus, there's no annual fee, you still get the protection of using a credit card (vs. a debit), no minimum spending amount and no hoops to jump through. For me, using the American Express Everyday Blue Cash Card makes a lot of sense.
I'd love for you to do the same as I did today. Simply figure out how much you spend and what you could save.  Just to make it MORE fun I'm offering  
The Champagne Living #bluecashmeifyoucan challenge
Sit down and figure out how much you spend on groceries and gas each month.
Multiply the number by twelve for your yearly expenses.
Multiply the yearly number by the approximately 3% that you'd get back by using the Blue Cash (times .03)
Follow me on twitter at: zipporahs
Tweet what you'd save by using American Express Blue Cash to me at: @zipporahs using the hashtag: #bluecashmeifyoucan
One person will win a $300 American Express gift card!
Unlimited tweets
Giveaway ends: 12/3/2011
Winner chosen by Random.org
Open to US residents who are 18 and over.
No purchase necessary
Odds of winning are dependant upon the number of entries received.
Void where prohibited by law