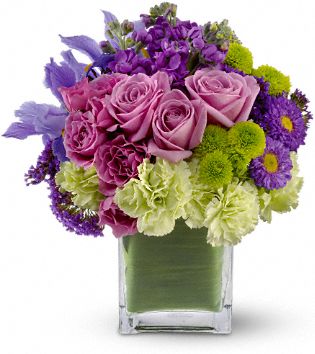 I should stay off of those phone calls with my single friends, especially around Valentine's Day. It's a no-win situation….especially my dear friend Sandy up in RI. She wants to be married so badly, that it consumes her. The "but at least you've got someone" on Valentine's Day is getting old. Does she not realize that conversation that Mr. S and I had last week when he reminded me that he's not getting me anything for Valentine's Day (because…I don't know why…because he's too lazy)? I suppose in some ways you always want what you don't have. I in turn keep thinking how wonderful it would be to do exactly what I want WHEN  I want to (to which she always responds – you do that now).
So, it's my turn to rant…….
Since retiring, Mr. S has no clue if it's even February….never mind Valentine's Day. While he used to show up at my house with flowers, I don't think he's even picked weeds lately, so I've taken to leaving my laptop open on the coffee table with the Deal of the Day bouquet from Teleflora, hoping that he gets the hint and orders flower delivery. For a guy like him, it's a no-brainer. All he needs to do is put in the occaision, add our zip code and who it's for and I'd be getting…
A mixed bouquet created by an expert florist using the freshest, most beautiful flowers available. The flowers included in each one-of-a-kind bouquet are selected to give maximum value.
Granted, because I love flowers so much I will order them myself or pick them up when I'm running around town, but there's something special about getting Valentine's Day Flowers, especially when there's some thought behind them (like knowing that I prefer tulips, iris' and hydrangea to roses).
Rant over!
Now that I've gotten that out of my system, I can move on. Worst case scenario, I'll ask him WHICH of the bouquets on Teleflora's site he's buying me, not giving him a chance to back out.
I'm not letting YOU end up in the same situation as me, so I've partnered with Teleflora to give one of our readers a Deal of the Day bouquet. Who needs a thoughtful husband when you've got Champagne Living? 
WINNER – Dana N. – Phoenix, AZ
GIVEAWAY
Extra entries
Tweet me @zipporahs  with the hashtag #Valentine-Rant and tell your worst Valentine's Day gift ever.
Comment below with your tweet
Subscribe to Champagne Living, "Join the Clique", follow me on facebook or twitter – all found on the sidebar (each counts for 1 extra entry)
Tell your peeps on your blog, facebook page or twitter about this or any post (each counts for 1 extra entry) and link to us.
Share this giveaway on any contest/sweepstakes/giveaway site for 5 extra entries..
This giveaway is open to US residents, 21 and over and ends on February 18, 2012
No purchase is necessary.
Odds of winning are dependent upon the number of entries received.
Void where prohibited by law
This promotional sponsored post was made possible by Mom Spark Media. I was compensated for my time investment and work on this campaign.  All prizing for MSM giveaways is handled by a third party unless otherwise noted. For this reason prize fulfillment can take up to 90 days after the winners information is received.