Many items in this post were sent to us by the brand. We do not charge them for consideration or placement in our gift guides or round-ups as we prefer to retain the right to not place an item that we don't truly love. We may however include affiliate links so that we get credit when you shop.
Any excuse for a party
Getting together with friends has been de rigueur lately. Maybe it's all of that time spent alone (with my husband) in front of the TV for the past few years, but I definitely missed my "GIRL TIME." Our get-togethers tend to either be playing games and eating or having a friend play live music – and eating. Do you see a theme here?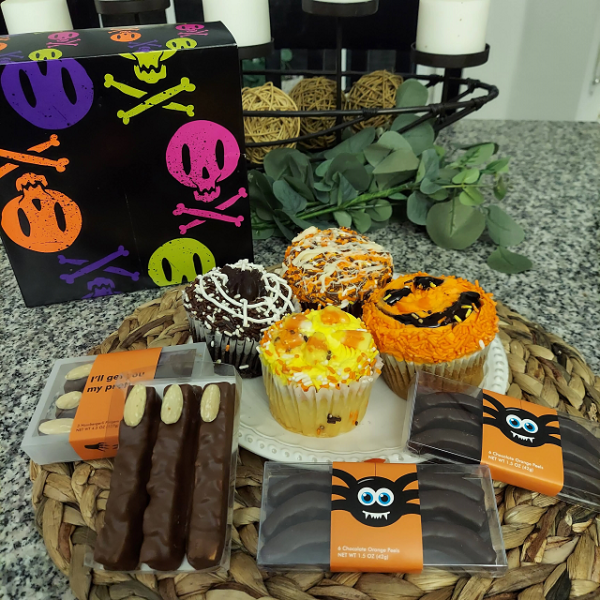 You bring the stuffed shells, I'll bring dessert
That's my "usual" response to the text thread about what everyone is bringing. They all understand. Hey, I married a chef so I wouldn't have to eat my cooking. But, I EXCEL at reservations and knowing just what to order to have everyone ooohing and aaahing. The response is always – "Where did you get that?" and no, I don't keep it under wraps. I am a sharer (actually, I've been told that I'm an OVER sharer…lol).
October is the perfect time to call friends and say "Hey, how about coming over for some Halloween desserts and prosecco?"
Okay, so maybe it is just another excuse to get together (especially when I said, no costumes required), but when I put out these great desserts, the party immediately went from just fun to stories of Halloween pasts.
Here's what I served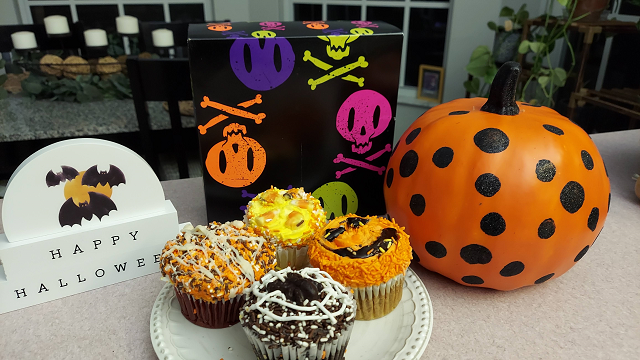 Jumbo Halloween Cupcakes from Bake Me a Wish
Yes, we shared, because EVERYONE wanted to taste each of the four flavors. Can you blame us? When you put out Jack-O-Lantern, Candy Corn, Spider, and Cobweb Confetti cupcakes no one can resist. The cake flavors include Chocolate, Red Velvet, Pumpkin, and Vanilla and the frosting and decorations are definitely no trick…just great sweet treats. Mr. S walked into the room and tried to grab the chocolate Spider and just like THAT, we all turned into witches, chasing him away. You NEVER, EVER, EVER try to take chocolate from a roomful of women.
These Jumbo cupcakes are big enough to share and with a variety for anyone's taste, they're sure to be a boo-tiful addition to your holiday (or not) party.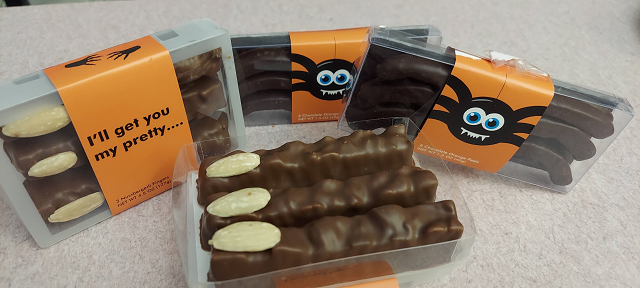 I'll get you my pretty… and your three witch fingers too!
This Halloween version of Andrés Chocolates Nussbergerli Sticks, named in honor of Nussberger, a Swiss Confiserie where founder André Bollier worked during his training in Basel will put you under a witch's spell. Yes, Mr. S DID manage to take one of these and immediately said "Oh, you are going to like THIS" (translation: I'm glad I got one before you ate them all). These luscious chocolate-covered sweets are small marvels of chewy-crunchy texture and complex flavor. Made with their creamy caramel, house-candied orange peel, and fresh roasted nuts, covered in our Swiss milk chocolate, and topped with a sliced almond you'll find them EXCLUSIVELY at Andrés
Spiders that you don't want to swat away? Not for a second. The creepy crawly treat is actually the same delicious Orange Peels, all dressed up for Halloween in a chocolate and orange spider costume. Each spider leg is made with fresh orange peels, candied in-house to ensure a maximum burst of flavor. You'll never look at spiders the same way again.
Bake Me a Wish Hocus Pocus Cake
So, maybe I was inspired by the recent release of Hocus Pocus 2, or maybe I was just under the Bake Me a Wish Spell, but I would do it again willingly. This bewitchingly decadent cake is available in vanilla, chocolate, red velvet, or strawberry, and we'll finish the spooky cake with vanilla icing! Yes, of COURSE I chose the chocolate (because there's nothing that goes better with bubbly than chocolate. The cute Hocus Pocus printed image on top of the cake is perfect for a screening night of the movie with your friends as well.
So, what is YOUR excuse for a party with friends? I'd love to know your ideas AND what you're serving.