This post has been sponsored by Petcurean. All opinions are my own and my four-legged best friend Clem.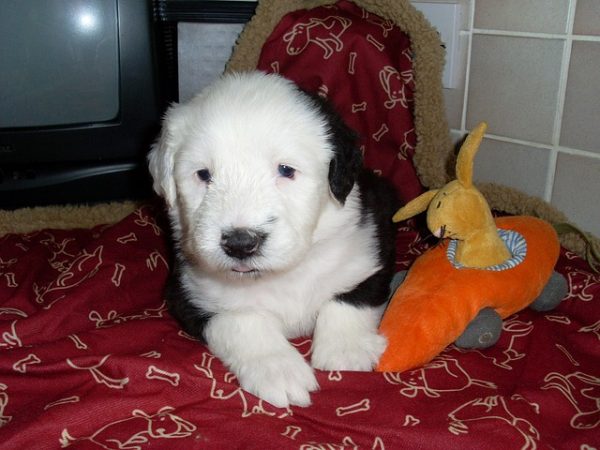 BC – "before Clem"
Before this foolish looking miniature bull-terrier came into our lives, we were an Old English Sheepdog family. Mr. S had adopted his first sheepie in college (Molly). When we were dating, and I got sick…he brought me MY first OES, who we honored with the name Norma Schwartz (Schwartz for short). Later there was Vanessa (she may have been half goat, because she ate everything…including socks) and our big "playboy" Max.
While all of our dogs (aside from Molly) were purebred champions, we saw how people were buying these big goofy balls of fur and then dumping them, because…all that fur needs a lot of grooming, food, exercise, etc. It was then that I became very involved with the New England Old English Sheepdog Rescue. Our home was a revolving door hair with big crates lining my kitchen and family room.
My favorite placement was Katie. Katie had to be given up at 16 years old because the family had lost their home and was moving in with family who were allergic to dogs. Katie was deaf, blind and matted. Sixteen is VERY old for a sheepdog (14 is very old for a sheepdog). Who would adopt her? Katie stayed with us just long enough for me to do an evaluation (a week) before one of the NEOESR members came to her rescue. She had recently lost a dog, and had an older one. The two had been companions and the dog that had passed away was also blind. The other dog had been almost a guide dog for this old gal, and she became incredibly depressed after her passing. Katie was JUST what this pup needed to feel helpful again.
We averaged 6-10 rescues/fosters a year and the most difficult part of the process was giving them up, but knowing that they would be in a home full of love was rewarding.
This October is adopt a shelter pet month. If your family is looking for a pet to love and a pet who will complete your family, I hope that you consider adoption or rescues.