This post is in partnership with the INSP Network.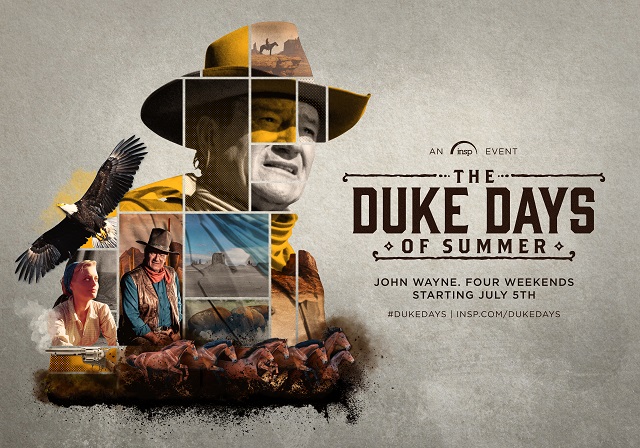 "The Sheriff Has Many Men"
My dad would quote John Wayne movies over and over again. We'd spend weekends as a family, cuddled up on the sofa in front of the TV watching marathons of the man who defined what a man was back in the day. There was no changing the channel when dad's favorite cowboy came across the screen.
Then it happened
I discovered what was to become one of Mr. S and my 5 favorite movies of all time – The Quiet Man. I'm not sure if it's his connection with Maureen O'Hara as Mary Kate Danaher (I can hear him say her name in my mind), seeing John Wayne in a love story,  or the beauty of the Irish countryside that tugs at my heart, but just like my dad it is a movie that I can watch over and over again.
Lazy Days of Summer? Not When the Duke Is in Town!
We'll be reviving the family tradition this year as John Wayne ramps up the Western action on INSP every weekend for the entire month of July. So crank up the AC, get your snacks in order, and ride with The Duke.
Rewatch your favorites as you tune in to watch his greatest films like 3 Godfathers, Angel and the Badman, Big Jake, El Dorado, McLintock!, Rio Bravo, Rio Lobo, Rooster Cogburn, The Shootist, and Cahill, United States Marshall.
This special programming event will begin with the 1971 classic Big Jake, which will air on INSP on Friday, July 5th at 9PM ET.
For the complete lineup, click here.
Enter to win
One (1) winner receives:
a Rafflecopter giveaway
INSP is available nationwide to more than 78M households on
Dish Network (channel 259)
DirecTV (channel 364)
Verizon FiOS (channel 286)
AT&T U-verse (channel 564)and more than 2,800 cable systems