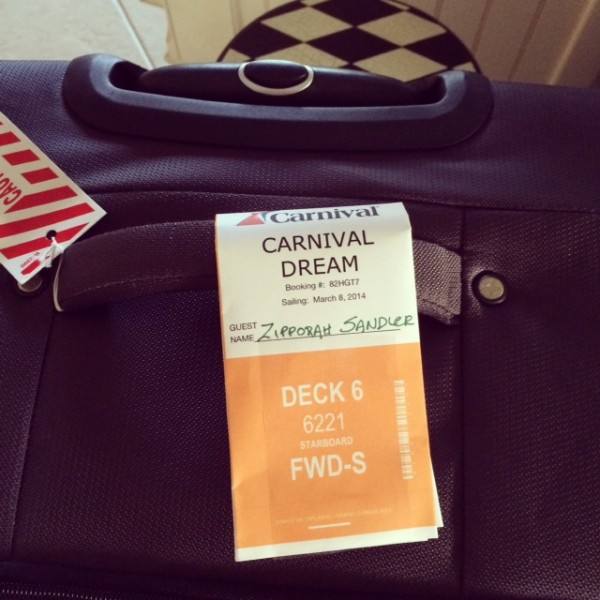 While I spent a bit more than 168 hours on board the Dream as their guest, I thought I'd just pick ONE of my days and let you in on a slice of it. Keep in mind that each day when you cruise brings NEW and FABULOUS…and that MY experience may be very different than yours depending on just what you want to do.
8:12 Wake Up to the knock on the door from room service. Don't judge me, I'm on vacation and being on the ocean is like a baby being rocked to sleep. I probably could have slept til noon if I hadn't put that darned room service tag out. Then again, I have LOTS that I want to do.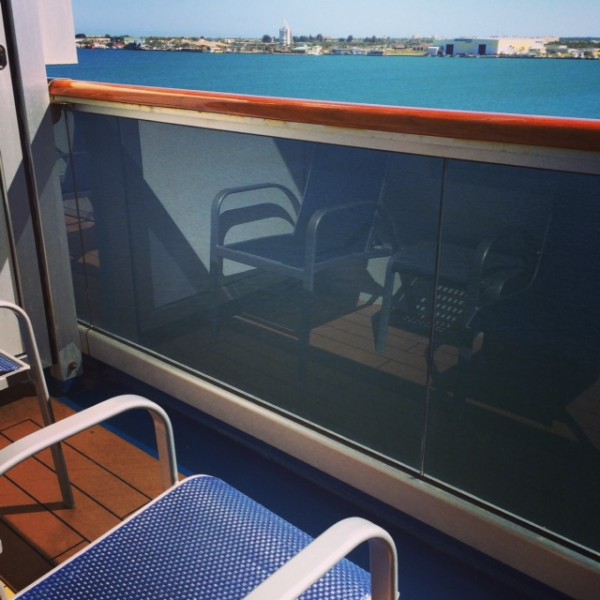 8:15 That first cup of coffee is the best. Even better, I've grabbed my plate of bagel and cream cheese and plopped into one of the chairs on our balcony. We're in St. Maarten and I'm watching people leaving the ship.
8: 43 SHOOT, I'd better get into the shower & get dressed, we've got an excursion to a butterfly farm and to the French side of the island (Marigot). Yesterday was a wash out. It rained and our Jeep sightseeing adventure was FUN, but there was a low fog, so the views of Magen's Bay in St. Thomas weren't clear. Thankfully that Banana Daiquiri (or two) that I had at the gift shop made me forget about the view.
9:15 Disembark in St Maarten and look for our guide. He's the one holding the sign that says "Butterfly Farm." Yes, I DID ask someone what I was looking for. Let's just call it my senior moment. FOUND HIM!  This was Mr. S's choice and I'm giving him a hard time about seeing butterflies vs. doing something exciting like going to the beach (I even tried whining….he wanted butterflies).
9:50 My head is turning, there looks like there's some good shopping around RIGHT HERE NEAR THE SHIP. Wonder if he'd miss me if I made a run for it? Hmmmm….guessing it's not an option til after the farm.
10:00 to ?? I lost track of the time as I oohed and ahhed looking out the window. We've driven through the island. The last time I was in St Maarten all I saw were the insides of my favorite shops and the America's Cup Regatta boats. This time I'm actually getting a tour of the island. Maybe the butterflies aren't such a bad idea. The island is just beautiful, but WAIT we're stopping for…SHOPPING on the way. YES!
We walk through the stalls of vendors & into a few stores. I stop for a smoothie and look at who's working there…
11:00 Back on the bus. NO BAGS. Those butterflies better be worth it. Lost track of time, but we're here…
and I'm in awe…
So, once again I was wrong (though honestly, he was wrong yesterday so we're even Steven). The Butterfly Farm is a truly MAGICAL EXPERIENCE! Being surrounded by these beautiful creatures, getting close enough to photo & video them, HAND FEEDING them, and learning how to attract them at home was NOT AT ALL what I had expected. This gal who didn't want to go…didn't want to leave.
1: 50 Once back at the ship, I sent Mr. S to our stateroom, while I made a QUICK escape to shop for jewelry…
3:00 Back on board & HUNGRY – Drop my packages off, toss on a pair of shorts, and head up to the Lido Deck for a slice of pizza and something to drink. I need to kick back a little, and I see people drinking out of coconuts. I WANT ONE OF THOSE! I head to the bar and order. I love just handing over my "sign and sail" card, it's so easy.
4:00 I'm ready to do something fun, Mr. S is tired of me shaking my wrist and saying "see what I bought?" What should we do?
4:15 MINIATURE GOLF – But, Mr. S plays REAL golf and I can't even hit the ball at the driving range. Still, I decide to bet him dinner tonight. If he wins I'll buy (he reminds me that dinner is included in our fare – like I don't know that).
Guess who wins?
6:15  I'm hungry again (this is a pattern for me). A quick change for dinner and we head to the dining room.
6:30 I love the varying menus, and the classics that stay on from night to night (for a meat & potato guy like Mr. S). Hmmm, seems like we were BOTH in the mood for pasta. Tonight I think I want to grab a piece of pastry from the buffet and enjoy it on the deck after dinner.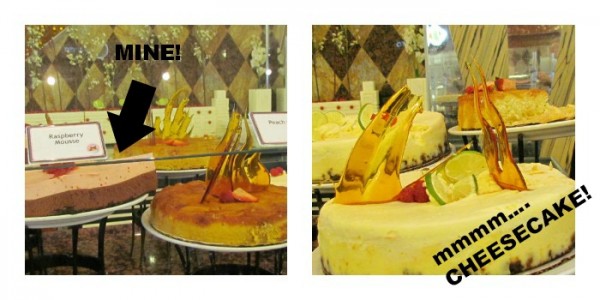 DESSERT UNDER THE STARS..without any shoes on. This is MY kind of vacation. But I want to hear MUSIC and gamble. So, off to the casino I go.
9:00 Sarah & Phoenix are entertaining tonight 'til 11:00 pm and I'm gonna practice a little addition to my wallet at the Blackjack tables while Mr. S plays his favorite slot machine "Wheel of Fortune."
9:20 Mr. S shows up at the table I'm playing with a smile on his face and $460 in his hand. I only gave him $50. WHOO HOO, HE WON and I'm up $45. I'd quit now, but I think I'm on a ROLL. He heads over to the Coffee Bar for a cappuccino.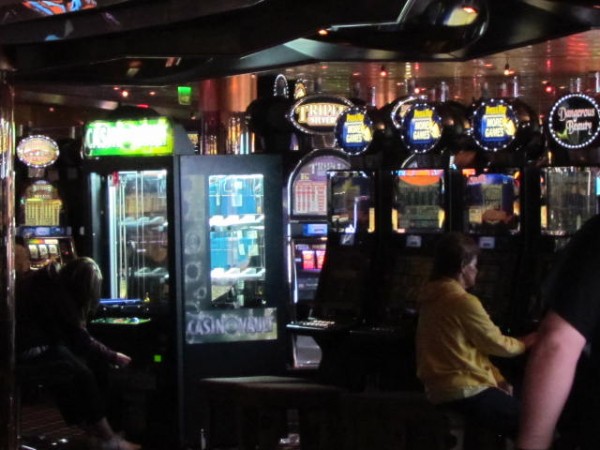 10:10 I've been up and down at the table. I'm leaving before I go down again, and walking away with $40 of Carnival's money. Well, with what Mr. S won, it all paid for those bracelets I bought this afternoon.
10:45 Head over to The Punchliner Comedy club to see the 11:00 show with Carl Faulkenberry. Wow, they have a nice wine & beer list (shocked)…a Bass Ale for Mr. S and a glass of Merlot for the lady please. 
I haven't laughed this much in a long time. I honestly don't usually enjoy the show on the ships, but this guy is HYSTERICAL.  So, glad we decided to do this tonight.
Midnight: I should keep going but being out in the fresh air makes me sleepy. So back to the cabin. There's an adorable towel duck waiting for us.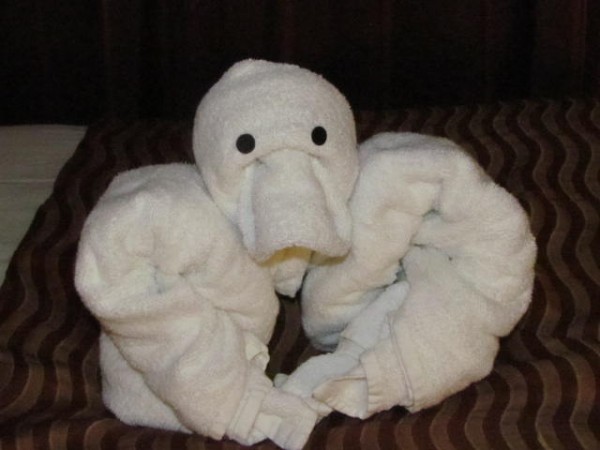 I can't wait to see what TOMORROW brings on the Dream. In the meantime
Nighty-Night
Details: