Whoosh……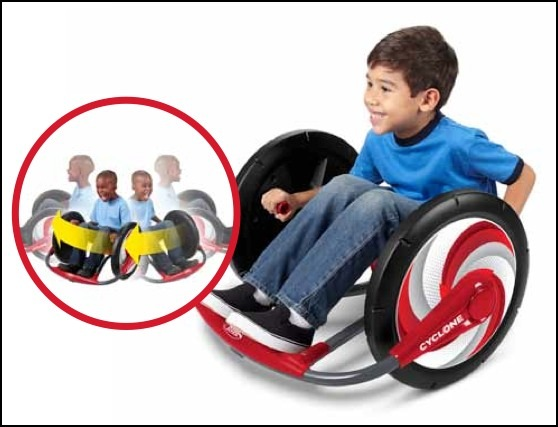 It's not often that we write about toys on Champagne Living, but since Radio Flyer approached us about reviewing the Cyclone, I thought…hmm…I have the PERFECT TESTER for this Champagne Living worthy set of wheels. EVAN! So, I got on the phone and called his mom Cayce and asked…no BEGGED her to have him "give it a whrrl" for us.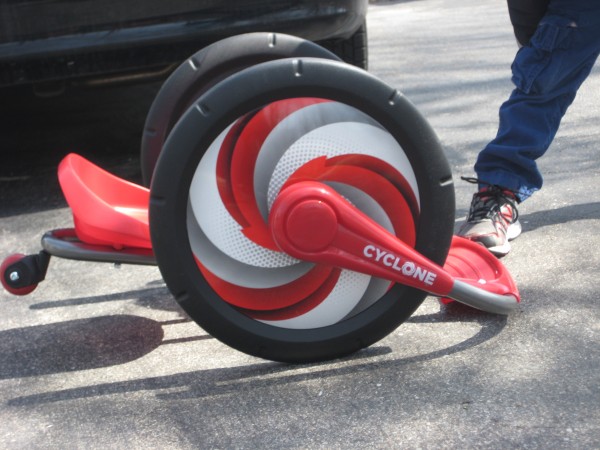 And just like THAT a Cyclone ran though Cayce's house.
Cayce is a single mom, and I'm thinking that she might have been concerned that this big wheeled vehicle for 3-7 year olds was going to be a challenge.
Cayce: We just got it, and it was a breeze to put together; my son even helped!
This arm powered cycle whizzes around on two big wheels (with 2 rear caster wheels for more action), rotating forwards, backwards and even spinning out like a crazy driver. It's quick, and easily controlled, with an ergonomic seat for relaxing back as your child zooms around.

Cayce: It took Evan all of 10 seconds to figure out how to spin in circles and he was off!
This is going to be a GREAT springtime cycle, but in the meantime….
Cayce: Because of the compact design, I can let him spin around the house freely to combat the last bit of winter 
With the snow plows going back into their garages, and winter coats are being shed for light jackets and sweaters, it's time to GO OUTSIDE AND PLAY, and what better way to enjoy spring than on the
Radio Flyer Cyclone
Details
Kid-Powered Action: Rotate 16″ Wheels w/arms to go forward, backward or spin
Speedy, Smooth Ride: Comfort footrest; two rear caster wheels for great, 360 degree spins
Comfort & Control: Ergonomic seat and frame; moulded handgrips
Solid Steel Frame: Timeless Radio Flyer design and quality
Availability: February 2014 at RadioFlyer.com and Toys 'R Us
Ages: 3-7 years
Weight Limit: 70 lbs
Priced at under $60, the Radio Flyer Cyclone is available at toy stores and online at RadioFlyer.com