I do!
These two words, each with no more than two letters are so small but mean so much and the first step to getting there is that very important piece of jewelry that every woman dreams about. The PERFECT engagement ring.
How much should he spend?
The rule of thumb has always been that the ring should cost between two and three months of his salary, but that's not set in stone. Remember that you'll be wearing this for the rest of your life, so you need to:
LOVE IT
NOT SKIMP
PICK OUT THE RING YOU REALLY WANT
Where to start?
When choosing a diamond there are four C's that classify diamonds
Carat – this refers to the weight of the stone. One carat is divided into 100 "points," so that a diamond of 75 points weights .75 carats.
Cut – while  many of us think of the actual SHAPE of the diamond, the cut of the diamond is actually about PROPORTION. Whether you prefer Round Brilliant, Marquise, Emerald, Pear, Princess, etc., the diamond should be cut so that the light reflects and is dispersed through the stone for that beautiful reflection.
Color – Did you know that diamonds come in ALL sorts of colors, but traditionally the clear stone is what we see in engagement rings? Clear diamonds range in color from D (colorless) to Z (light yellow).
Clarity – Stones have flaws and blemishes, and the less flaws the more expensive the stone. Clarity grades in diamonds run from Flawless to Imperfect 3 and will have a major determination upon the price you pay. For investment purposes, you want the best stone that you can afford.
Choosing the RIGHT ring for YOU.
In this day and age of buying from the internet, whom can you trust? Most importantly you want to buy from a reputable jeweler who can help you through the process. A diamond is a major investment, so the reputation of your jeweler is so important. Choosing a ring from your computer screen isn't something that you want to do.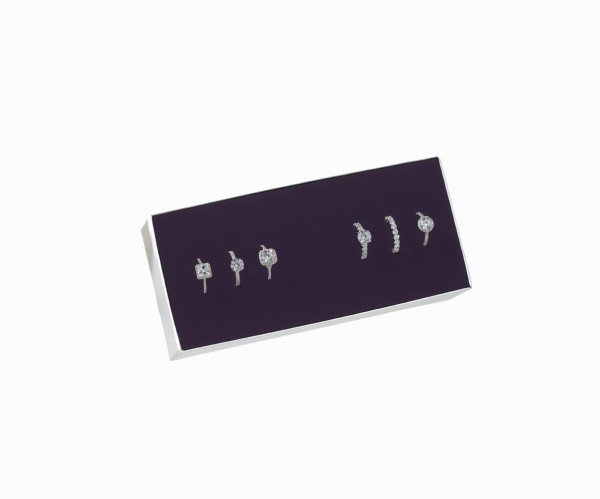 Ocappi Jewelers has come to the rescue with a BRILLIANT idea.
The Ocappi trademarked  "One&Only" replica rings concept allows clients to more easily and comfortably try, select, and fall in love with the right ring style at home, before having designer artisans hand-craft the ultimate ring with a diamond from the top 1% of the market, and the perfect size and fit for popping the big question.  Ocappi's master gemologists search for that singular spirit which distinguishes an extraordinary diamond from all others. The stones must possess an uncommon brilliance and romantic allure that captivate both the heart and eye, a quality Ocappi refers to as "magnetic appeal."
You simply
Visit the Ocappi website and choose up to 6 rings that you'd like to try. They will send out these rings in the right size replicas, crafted with high quality cubic zirconium and silver alloy for you to try on at home for up to 5 days. Once you fall in love with the ring, you simply return the replicas back to Ocappi and select and make the purchase online for a personalized, handcrafted Ocappi designer ring, which will arrive in a single ring gorgeous box. While there is a $75 hold for each of these, your credit card will not be charged. You can also reach YOUR jeweler at Ocappi by e-mail, phone, and even via online chat to answer any questions you might have.
Most importantly
Ocappi diamonds are completely free of conflict and they adhere to  full compliance with the Patriot Act, the Kimberly Process, and United Nations resolutions. "Not only does Ocappi only source diamonds from Kimberley Process approved providers, but they put their values to work in trying to improve living conditions in Africa where the majority of diamonds come from through charitable giving to TBD. "
For more information:
Visit Ocappi Jewelers at: www.ocappi.com