Thank you Kathy Chin Leong for going the distance and covering West Coast travel for us here at Champagne Living. Travel posts are sponsored by DMO's, hotels, and more. All opinions are strictly our own.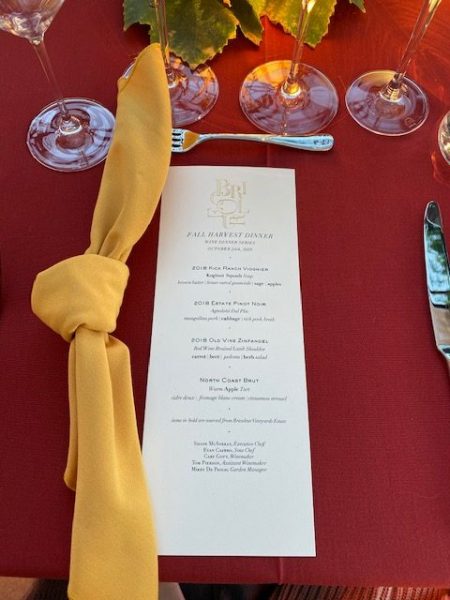 Everything appears normal at this wine dinner at Bricoleur Vineyards, except that our server is wearing a mask. Instead of sitting at one long harvest table imbibing with patrons, my husband Frank and I are situated quietly at a table by ourselves, officially six feet or more away from other guests. The glass pyramid heaters dividing each table fWelcome to autumn 2020! The pandemic has affected every industry, and wineries have been hit especially hard. And in addition to COVID-19, Sonoma and Napa Valley were affected by raging fires in the late summer. The winery that opened this June had to transition quickly. While it kept its programming the same, it had to change how things are done.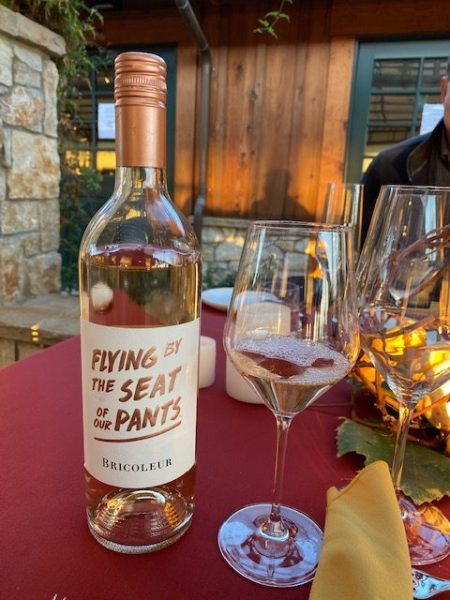 Bricoleur kicked off its dining season with pizza nights for families, paired tastings with food, and wine dinners, to name a few. Bricoleur, as the team tells us, is a French word that means "one who starts building something with no clear plan, adding bits there and there, flying by the seat of their pants." It is the brainchild of three founders: high-tech entrepreneur Mark Hanson, CEO; his wife Elizabeth Hanson, CFO; and daughter Sarah Hanson Citron, vice president of marketing. They head up the business that has already opened to rave reviews for its unpretentiousness and fun-loving, off-the-cuff style. For instance, "Flying by the seat of our pants" is the label of its Brut sparkling wine unveiled in March.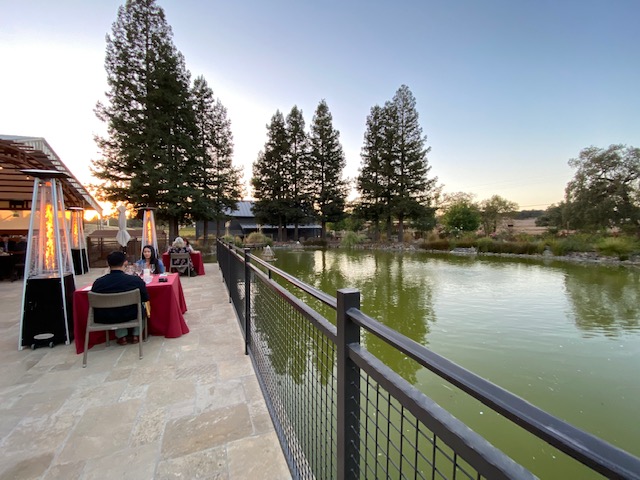 The sustainable vineyard facility is tucked off Starr Road in the small town of Windsor. Upon parking, you walk up to a vast stone patio populated with orange umbrella tables, strategically spaced. The tasting room is a wood-clad barn with tall peaked ceilings. There is a pond in the back of the structure, plus a vegetable garden, chicken coop, and beehives among the olive and fruit trees. The rose garden and bocce court is yet another nice touch. And though it sounds cliché, lovable winery dogs may come bounding out and greet you on certain days.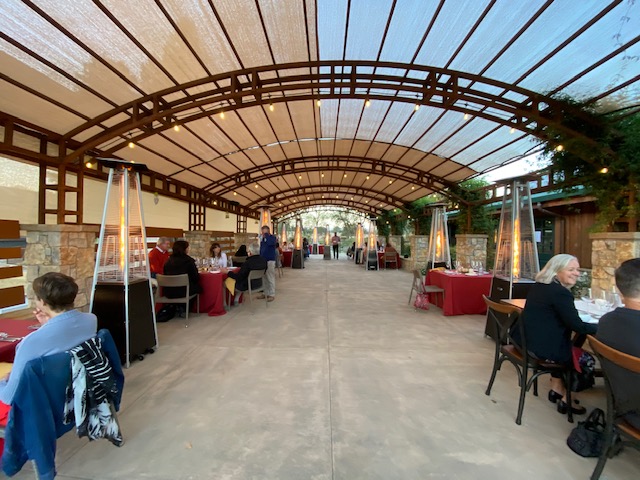 Hostesses at the ready were perched at a podium on the patio, ready to welcome guests and seat them under an arched steel canopy festooned with lights.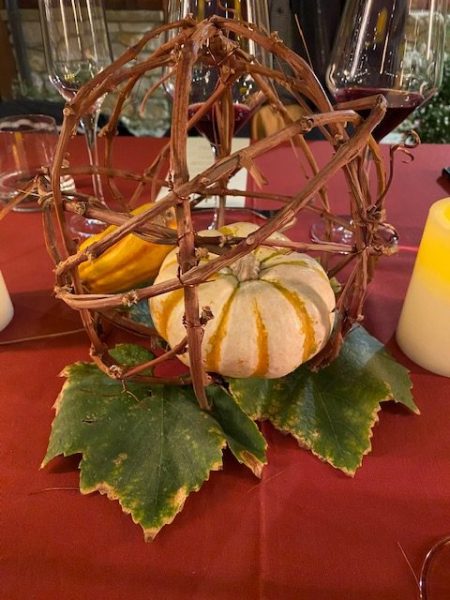 The wine dinner, priced at $175 per person, included the five wines, and five courses. Tables were dressed with red-orange tablecloths, mini pumpkins, vines, white candles, and fig leaves. Starting with a sparkling rose, the beverage was paired with homemade focaccia bread topped with homegrown yellow cherry tomatoes that were extremely bright and sweet. At the beginning of each course, the server came to explain the wine and to make sure we enjoyed each bite.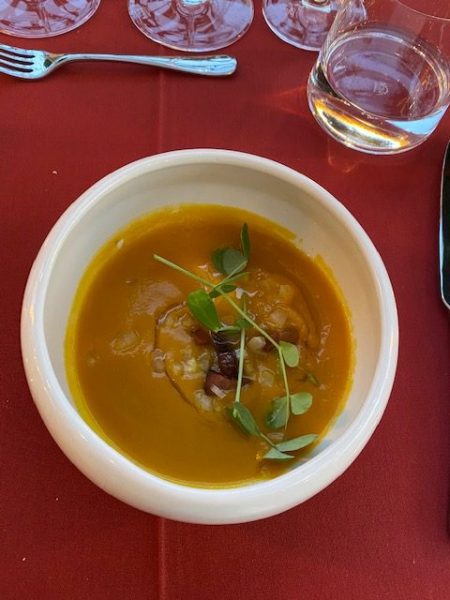 Next came the koginut squash soup, birthed with so much work I was glad I didn't have to create it. The arm tattooed, executive chef Shane McAnelly emerged to tell us how the squash was estate-grown and then roasted to produce that sweet nutty flavor and then blended. He told us how the separate soup base was prepared with apple juice and sage and very little dairy. It was topped with bits of house-cured guanciale, a type of Italian-cured ham. The first sip made my palate sing, and I had to be restrained from singing an all-out opera in praise of this heavenly concoction. Matched with the 2018 Kick Ranch Viognier, I marveled how wine could be paired with, of all things, soup!
The trio of soup dumplings dubbed "agnolotti dal plin" were filled with mangalitsa pork, and cabbage also grown on the premises. Indeed savory, the little meat pouches featured with a dough with the right chew. Again, this married well, now, with our glass of 2018 Estate Pinot Noir.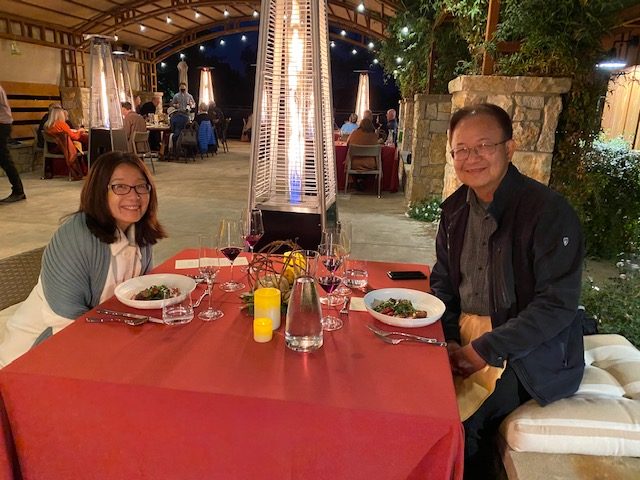 We were quite full by the time the braised lamb shoulder sauntered on the scene, but we were pleased to dive into that dish with the 2018 Old Vine Zinfandel. I originally thought that we would be getting a large slice of lamb. Instead, we received on our plate chunks of lamb topped polenta along with homegrown carrots, beets, and herbs.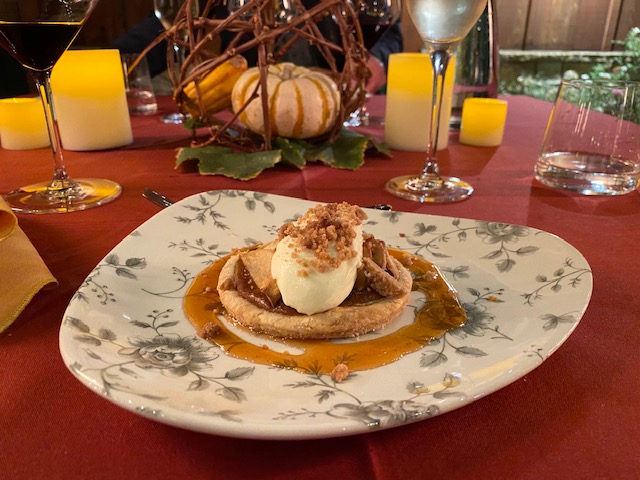 As you can imagine, four courses with four wines can inflate one's stomach to the point where one must loosen a belt notch or two. Happy tummies in tow, we had to tell the server to give us about ten minutes of downtime before she served dessert. I am so glad we waited. That gave us an ample opportunity to recover and get our mouths ready for the sweet portion of this dining symphony. In floated a warm apple tart, baked with fresh-picked estate apples, topped on a pancake-height cinnamon streusel base. Apple cider sauce circled the tart and a fluffy "Fromage blanc" cream was plopped in the center, completing the dessert with a full suite of flavors and textures. As owner Mark Hanson walked around the tables, we toasted one another with the "Flying By the Seat of Our Pants" North Coast Brut that finished out this standing ovation celebration of food and wine. Wine dinners are all special, and so special in fact, that each person at Bricoleur gets a personal menu, and I am saving mine just like a concert program to savor the harmonic flavors and the lilting memory. If you are interested in visiting, contact the winery at www.bricoleurvineyards.com, it is open Thursday through Monday, 10-5.