Have you ever dreamt of owning a luxury kitchen? Something that a chef could adore? All of those picture-perfect kitchens in home magazines and on Instagram may feel as if they're out of reach, but fortunately, it's not even remotely close to the case. Owning a luxurious kitchen doesn't need to be a pipedream; it can come to life. All it takes is a little planning. So, here are some major tips you'll need to make it come true!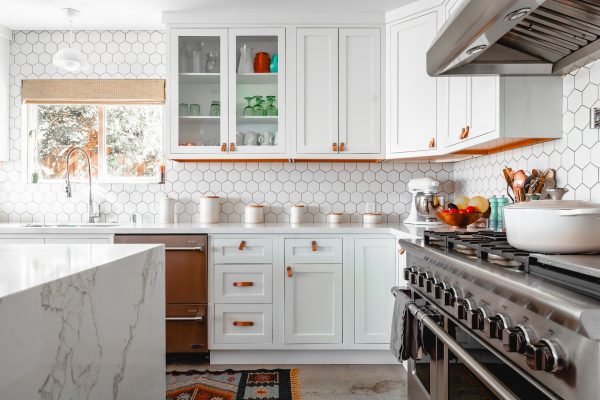 Plan your layout
The kitchen is one of the most important rooms in the house. It is where you cook, entertain, and spend time with your loved ones. Obviously, you want to make sure you get it right. That means planning a layout for a luxury kitchen. The layout does have importance in making the space look luxurious.
As far as kitchen designs go, islands are an ideal space saver. They provide a worktop, but most importantly, they also act as an entertaining space. In addition, you'll be able to serve your guests drinks and snacks without disrupting your preparation. For a large luxury kitchen remodel, consider including an undercounter beverage bar and smartly built-in accessible closets. The layout is up to you, but keep in mind that small spaces won't appear as elegant.
Invest in high-end appliances
Investing in high-end appliances for your kitchen is a great way to improve its function, aesthetics, and resale value. Although they cost more than standard appliances, they will last longer and perform better. They are also more energy-efficient, saving you hundreds of dollars each year. Luxury appliances are built with higher-quality parts and materials than their lower-cost counterparts. Think about brands such as Smeg and Kitchen Aid, as these are very high-end and semi-expensive but still allow for your kitchen to look top-of-the-line.
Add some luxurious accessories
Adding some nice accessories such as a rug, plants, and some nick knacks here and there is going to be a way to add that small touch of luxury into your home. Having accessories (even useful ones) doesn't immediately mean that your kitchen is going to look cramped, further from the case actually! Don't overcrowd your shelves or countertops, but don't leave them, baron. It's really all about balance.
Invest in a unique faucet
The faucet is one of the most used appliances in your home. Choosing the right faucet will ensure that your kitchen stays attractive, functional, and stylish. However, you also need to keep in mind that it must blend in with the rest of your living space. Before you make a purchase, you should spend some time researching different models. Compare products and pay close attention to ratings, reviews and costs. Plus, this should match your sink and the rest of the theme of your kitchen.
Featured lighting
Kitchen lighting plays an important part in creating a luxurious kitchen. It can make a room look bigger, brighter, and more elegant and a great place to entertain. However, too many lights can create a clinical feel, while too few can result in shadows. The type of lighting you choose will depend on the size of the space and the style of your kitchen. For example, if you have a large island, you should invest in a chandelier. Pendant lights are also a popular choice for kitchens.
Stack pot lids and pans sideways
If you're looking for smaller kitchen storage hacks that still pack all the luxury into one, then this is the tip for you. The use of pots and pans is very common. There are many ways to store them. One method is to stack the lids sideways. This saves space and keeps the cookware in neat and orderly condition. 
It can be done in any cabinet or countertop. Pots and pans can be stored on rails, open shelves, or ceiling-hung racks. The storage system should be easy to access and easy to clean. A good one should be durable and can fit all sizes of pots and pans. Having them stacked up neatly instantly helps make the kitchen look elegant.
Don't forget the countertops
When it comes to creating an elegant kitchen with countertops, there are a number of things to consider. First, you want to select a material. Something such as quartz countertops just screams elegance and luxury. However, keep in mind that there are plenty of other materials, too, such as granite and marble. The best way to ensure that your countertop complements your other design elements is to choose a matching backsplash. This will make your design appear seamless. But don't forget the proper care techniques for taking care of the countertops too!