When I was young I thought that turning sixty was something to dread, but the closer I got, the more I realized that I was finally at a point in my life where I could actually make those dreams that I'd been thinking about come true. Of course not EVERYTHING has been idyllic.
I've put on some weight, had to slow down a bit because of joint issues, and then there was the aging. Lucking with proper care, I can do something about it all..
The weight will come off with a bit of walking (or swimming in my new pool) and some simple habit changes that include a healthier diet, and with that my joint pain should ease up some (I'm doing EVERYTHING in my power to avoid anything "drastic").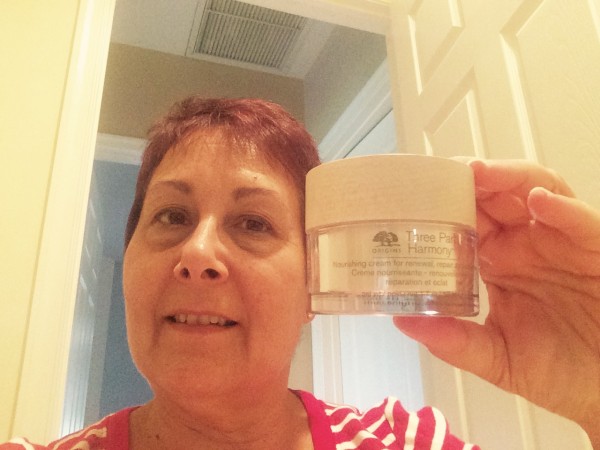 Then there's the face….or should I say my skin. Again, I'm not ready for anything drastic, so finding a method that's EASY (life is too short for complicated) and WORKS is key. I'd much rather spend my time trotting around the globe, then standing in front of the mirror for hours on end. Oh, I take care of the big things (I've had sun/age spots removed and LOVE microdermabrasion), but day to day skin care has to be quick and effective.
I'd much rather use my time lounging with my husband by our pool, decorating the new mansion, and slowing down. Mr. S has been retired for ten years, and while he has slowed, I was revving up. Now that we've got a new home and a beautiful outdoor living space, I want to enjoy it with him.
Just this month I began using Origin's Three Part Harmony Oil-infused Serum and Three Part Harmony Nourishing Cream.The two-part system is designed with three goals in mind:
to renew, repair, and restore radiance using the power of nature to help create your most optimally youthful and healthy skin.
Twice a day (morning and night) I TREAT myself to Origins Three Part Harmony. I know that I'm taking great care of my aging skin, yet I'm not spending hours loading on cream after cream. Its simple system of

Renewal
with age collagen diminishes, so I love that the nourishing cream replenishes the collagen to help repair
Repair
Bye bye dry…with Vitamin E and plant butters, I know that I'm getting the hydration that my skin craves
Radiance
For that glow I thought I had lost years ago.
Both the oil infused serum and the nourishing cream are priced at only $69 each and available at Origins.com
This is a sponsored conversation written by me on behalf of Origins. The opinions and text are all mine.