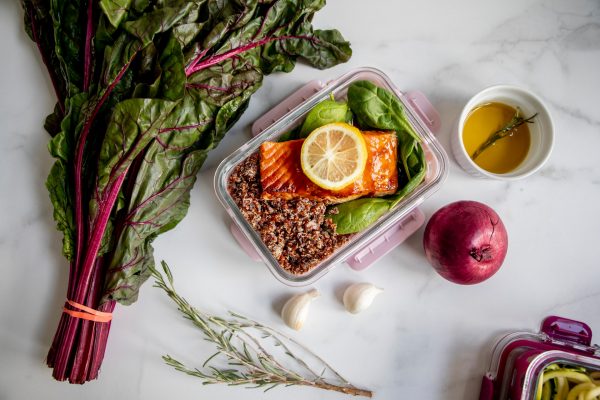 The entire idea of living a healthy lifestyle sounds easy enough but at the same time, it sounds a little bit impossible right?  There's something about having to force yourself to do things that you're not wanting to do that just makes it seem like a total turn-off. Not to mention the fact that there's this whole idea that you need to cut out everything you enjoy in life such as chocolate cakes and martinis. Everyone wants to be healthy, but not lose their happiness from things they used to enjoy. Plus there are strict schedules and other commitments that could also make it far too difficult to work out on a regular basis.
Regardless of the obstacles that you're facing in your life or the things that make you all warm and fuzzy inside, you can still continue doing things you love while still staying motivated to live a healthy life.  When it comes to living a healthy lifestyle, even the smallest of changes can make a massive impact. So these are some helpful tips for getting yourself motivated to switch to a healthy lifestyle.
Living healthy isn't a punishment
Unfortunately, so many people believe that living a healthy life is nothing more than a giant punishment. But it shouldn't be thought out that way. However, allowing yourself to live a healthy life means that you're giving yourself the gift of working towards a much better life. This is truly one of the greatest gifts that you could ever give yourself. It's understandable that you're going to think of it as something negative at first because who actually likes kale or celery juice?
 But you also have to keep in mind that there are hundreds of ways that you can live a very healthy lifestyle. You don't have to eat or drink weird concoctions that you know are going to taste bad, and you don't have to eat a salad every single day either.  In general, just be happy with yourself, and be proud that you're wanting to make some changes.
Begin with having some small goals
When it comes to creating a better lifestyle change for yourself,  you'll want this to be long-lasting. Just jumping into it cold turkey could help you out a lot but at the same time, you're likely to spiral downward at a much quicker rate too. You're going to want to create some long-lasting habits, as this shouldn't be temporary. One of the best ways to do this is to just take some small steps by setting up little goals.
Creating little goals will help you out in creating habits. This then will turn lead into something more consistent and better. So get out a notebook or even a helpful habit-making app and jot down some long-term and short-term goals. Some examples of goals that you could use can include
Writing in your food log

Getting in 2,500 per day

Unplugging for one hour right before bed
These are quite small and they can be pretty achievable. Once you reach these goals or once you believe you set these up into a habit, you'll begin to not notice how inconvenient or impossible they once felt to be.  But it also helps you out a lot if you're able to create some long-term goals as well. Sure, having short-term goals are great, but it also helps a lot to have some bigger ones that you can work towards. Some great ideas for long term goals can include:
Losing 15 pounds

Running one mile for the first time

Swimming 5 laps.
You'll want to make these big, however, you don't want these goals to be too big either. Just creating some smallish-big goals will be a great stepping stone in achieving something much bigger such as the milestone of losing 50 pounds or the milestone of deadlifting 100 pounds as an example.
Start with doing exercises that you can tolerate
When it comes to being healthy, it's best to understand that you're not punishing your body when you exercise. It's understandable that you could think that because exercising can make you sweaty, feel sore, and out of breath. But having a negative stigma against it isn't going to help whatsoever.  It's best to just do exercises that you know you're going to enjoy. One of the beauties of getting physically active is the fact that there are indeed multiple ways you can get active and stay active. It's also something that isn't one-size-fits-all.
If you're someone who absolutely despises cardio such as running, then maybe you can do something else such as jump on a trampoline. There are plenty of things that you can do, all it takes is a bit of time and experimenting. But some ideas could include heading to the gym, joining a dance class, walking, playing exercise video games, trying out video workouts, joining a fitness club, and there's so much more to choose from as well. You'll just need to think about what you're able to afford and how you can properly allocate your time to exercise.
There are also other things that need to be kept in mind as well whenever you're exercising and that includes things such as how long you exercise, your protein intake after working out, and keeping hydrated (before, during, and after your workout). 
Keep hydrated
Not only is staying hydrated important during workouts, but even throughout the day, you need to make sure that you're completely hydrated as well. Believe it or not, you could be dehydrated right now and not even realize it. There are a lot of effects of dehydration but sometimes they don't show up until it gets extreme. But some of the symptoms can include mouth sores, fatigue, UTI, infections, and a lot more.
Not only should you drink a lot throughout the day but it's best that you consume a lot of water and beverages that contain electrolytes as well.  Drinking things such as soda won't be the most helpful as those can even make you dehydrated. It might be best to look into the Refuel Ratio hydration blend from Ladder as this can help you keep hydrated so you can keep reaching your fitness goals. Sure, there is a lot to keep in mind when you're first getting into working out but you'll learn a lot along the way.
Get in some more Zzzs
An adult body needs 7 to 9 hours of sleep per night, with the sweet spot being at 8 hours. It's crucial that you get enough sleep each and every night as this is going to affect your body and mind. The brain needs time to process information. If you're someone who struggles to fall asleep promptly then it's best to check out the environment you're in because that could be affecting it.
 Is your bed uncomfortable? Are you playing with your phone before bed? Is your room too loud? Are there too many things going on in your mind before bedtime? Something else to think about is whether or not you have a consistent bedtime schedule.
Take some time to unplug
Nowadays people are attached to their screens more than ever. It's not hard to see why a computer or some other type of screen is needed for work, school, and to even do daily tasks such as shopping or making payments. Technology is just needed and that's inevitable. However, it's still very important to just click out and just experience the world.
 This can include just disconnecting and unplugging from the world for an hour or two each day. But it's best to just cut it down because it can be very beneficial to your eyes and your mental health as well.
Eat healthy
Eating healthy is one of the hardest parts of changing a lifestyle. This is known to be far more difficult than working out as eating healthy is the biggest mental challenge of them all. When you think of "healthy eating" what immediately comes to mind for you? A lot of people will immediately think of something bland such as a salad, celery sticks, or unseasoned chicken with rice. These are healthy, very healthy, but they're also quite boring as well.  However, it's important to know that healthy food doesn't have to be boring! Having a better grasp of various types of healthy food might help you readily stick to your healthy diets.
You can go on websites such as Pinterest, and you're going to be met with thousands of healthy and delicious recipes that you can try out. Healthy foods don't need to be boring, sad, or taste bad. It's all about how you cook your food and how you season them. But what about indulging in junk food? You most certainly can do that as well! Eating healthy includes allowing yourself to indulge in your favorite foods, but it's all in the name of moderation.
You just have to watch your intake and nowhere to stop yourself. Self-control is one of the biggest aspects of eating healthy but it's also one of the biggest aspects of changing your life. Switching into a healthier lifestyle change is all about changing your mindset and overcoming what your mind wants.