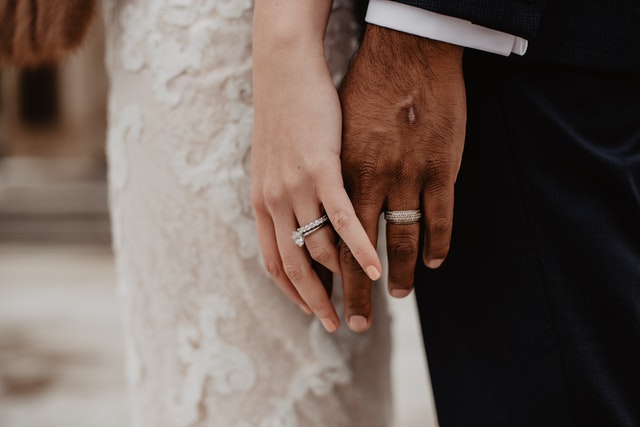 The wedding rings have been the symbol of eternity, which expresses two lovers' devotion to one another, and commitment to live a life filled with love and compassion. The traditional meaning behind rings dates back centuries ago. Today, although its meaning still stands true, the designs available are much more varied than they once were.
With so much planning and detail to take care of for your wedding, from the wedding cake to choosing the perfect wedding song, it can be challenging to know where to start, and whether you'll ever get through your list of todos.
To help you check an essential item off your list, with this guide, there are five simple steps you can follow to ensure you find the perfect wedding rings that you'll both adore forever.
Begin Your Search Soon
Whatever you do, try not to wait until the last minute to source your wedding rings. In doing so, you may visit a jeweler who has the perfect rings but doesn't have your stock sizes.
Plus, being short on time will give you little to no room to find two rings that you both love.
The general advice is to always start your hunt for your precious rings early. After all, you'll be wearing them every day for the rest of your lives together, so they're an essential purchase worth devoting time to in advance of your wedding day.
No Need To Match
Some wedding ring selections are available to purchase in pairs. Traditionally, couples often chose rings that share relations in style and materials. Such as matching plain gold bands.
But as elements of a traditional wedding have gradually become more of a theme to choose than a necessity, couples are intrigued to find different components for their wedding that expresses their personality and unique love to one another. With that, wedding ring choices have evolved to suit the requirements of a society that's searching for more than conventional matching bands.
The point to make here is, you don't need to have matching rings. If the groom loves the idea of an antler ring, and the bride wants a rose gold wedding ring, so be it.
Yes, you're joining in holy matrimony, and you share or will share a lot in your lives together. Still, you also have differences, and these are most likely what you love about one another. Foster this perspective when ring shopping, because having different rings, defines your commitment, just as much as having matching bands.
Set Your Price Limit
Setting a budget ring, before you begin your hunt should be stressed much more than it is. Don't leave yourself the opportunity of falling in love with rings that are not feasible affordably. Because no one wants to start their married life in debt.
Take a look at your savings for your wedding, and work out how much you can afford and want to spend on rings.
Remember, you don't have to pay a large portion of your wages on a ring to prove your commitment. Love and trust are proven and built with continuous effort throughout your relationship. It's not, however, proven by purchasing expensive rings.
Consider Lifestyle Choices
If you're a lover of swimming or getting your hands dirty in the garden, you'll want a ring with the practical qualities you need from it to endure your everyday activities.
For this step, it's essential to consider the material of the ring, and the shape. For example, a silver wedding band with diamonds prominently resting on the edge of the band looks and sounds, for that matter, beautiful. But if it's snagging on your clothing every morning while you're trying to rush and get ready for work, search for something else.
Such as a sleek band, with curved sides that are less likely to get hooked onto things. If you want to add some interest to your ring, think about jewels embedded into the band. Less prominent gems shall make it harder to catch onto things and snag.
Perfect Sized Rings
Lastly, it's important only to get a wedding ring when you are both feeling calm and relaxed. Swollen fingers caused by exercise or stress, for example, could cause you to purchase rings that don't fit both you properly.
The steps throughout this guide are practical tips that make it possible for you and your partner to buy rings in good time. That won't restrict your individuality or cause you to both overspend, and, of course, that shall fit on your wedding day.