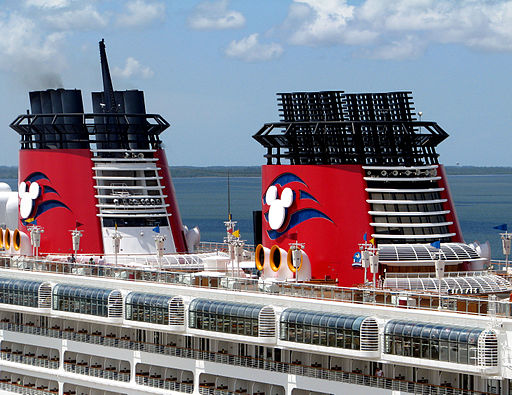 I've looked out at the Disney Wonder and the Disney Magic a number of times from the balcony of my stateroom as we pull up along side her. On more than one occasion we had a similar itinerary, docking within minutes of the mouses ship. Since it's usually just Mr. S and I traveling, we've not ventured from the adult cruising to Disney, and I keep wondering if it would be as much fun for two GROWN-UPS with no kids in tow.
I do know that a lot of you are taking your children and grandchildren on the high seas, and just as they do in the parks, Disney rules the seas when it comes to fun with the kids. Like most cruises, it's not an inexpensive vacation, especially when the entire family is coming along. I've done a bit of research to find some little known secrets that go BEYOND just the usual advice of traveling off-season.
1. SECRET PORTHOLE ROOMS
It's been pretty hush hush, and at first I thought it was simply a rumor, but it turns out that both the Magic and the Wonder offer inside staterooms sold as Category 10 with no window. That doesn't mean that you can't see outside, because these secret rooms have a small porthole with a slightly obstructed view, allowing some natural light into your room at NO additional cost. When you're booking, ask for room #: 5020, 5520, 5022, 5024, 5522 or 5524. For families traveling together, ask for 5022 and 5024 or  5522 and 5524, as they are adjoining.
2. SECRET VERANDAH ROOMS
Again the Magic and Wonder offer a few Category 6 staterooms that have a small private open air deck for you to enjoy. While a regular verandah room can set you back quite a bit, these have a slightly obstructed view, so you can grab them at the lower Category 6 price. Ask for room numbers 6134, 6634, 7120 or 7620.
3. LARGE FAMILIES
You can save money over the larger expensive staterooms by booking two adjoining rooms at a lower price. Not only does this give you more space, but you'll also get the benefit of the extra bathroom (the large family stateroom has ONE bathroom, while adjoining rooms each have their own)
4. CHECK THE MAP BEFORE BOOKING
Look for the location of elevators, nightclubs, etc. I've been stuck next to a noisy elevator or had a stateroom just UNDER the bar and I can tell you that a good night's sleep was hard to come by with all of the racket going on. If you get seasick (like me), be sure to book closer to the stern or in the center of the ship for less motion.
5. ASK FOR AN UPGRADE
But, don't do it when you book. Wait until you get on board the ship, then ask. If there are rooms available they can make it happy at no extra cost. As soon as you embark, ask to be upgraded. Remember that it's first come, first served, so ask as SOON as you arrive.
If you have any tips, tricks, or hacks for travel, please let me know and I'll be sure to include them in upcoming posts.
Bon Voyage!
Photo Credit:  Rennett Stowe from USA (Disney Wonder Uploaded by russavia) [CC-BY-2.0 (http://creativecommons.org/licenses/by/2.0)], via Wikimedia Commons