If you're thinking of adding a couple of small bathroom upgrades then you're going to be spoilt for choice. Bathrooms have a plethora of upgrade options that are small but meaningful. In fact, many small upgrades can completely change the way you use your bathroom. To give you an idea of what we mean, we've put together a list of five must-have bathroom accessory upgrades that will change your life.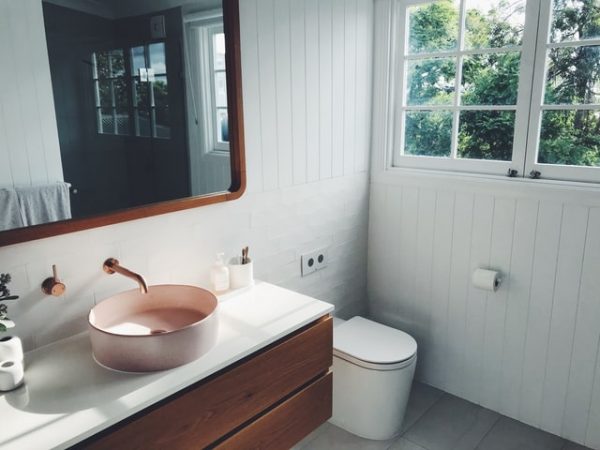 Toilet paper holder with shelf
If you're someone that loves to sit on the toilet with your phone or tablet, then you're definitely going to want a toilet paper holder that has a shelf. The shelf can be used for anything, but we've found that it's a great phone holder especially if you're not near the bath or any counters where you can place your phone. It's a helpful and often underappreciated little accessory that will actually change the way you go toilet.
Luxury towels
Adding a couple of luxury bath towels to your bathroom can make a bigger difference than you might think. Many people have small and thin towels that don't work very well. They take forever to dry you and they're also rough on the skin. A luxury bath towel if soft, absorbent and makes the end of your bathing experience that much more luxurious. It seems like a small upgrade, but you'd be surprised at how much difference it makes.
A double showerhead
A double shower head sounds like a strange invention, but it's actually surprisingly useful. Some people prefer having more water coming out of their showerheads, and others like to set one shower head to a higher pressure setting to clean their hair and blast dirt off their body. For some couples, you could even use a double shower head to take a shower together. Just keep in mind that it'll reduce the water pressure coming out which can make it seem weak. Thankfully, there are ways to fix the water pressure in your shower.
Bathtub corner shelf
No more placing things around the rim of your bathtub. Get yourself a corner shelf for your bathtub and put all of your things on it to make space and also keep your bathroom organized. If you have lots of different products then a corner shelf will make things just a little easier when you're trying to find a specific product, shampoo or brush.
Bathtub tray
Who doesn't love a good soak at the end of a hard day? If you love your 30-minute bathing sessions, then why not get a bathtub tray? You can keep all kinds of things in it such as bath salts, flowers or even your phone. Some people even enjoy watching dramas and YouTube videos as they bath, and a bathtub tray makes this easy and safe. Just make sure your electronics aren't plugged in and that your tray is large enough to be stable in your bath.