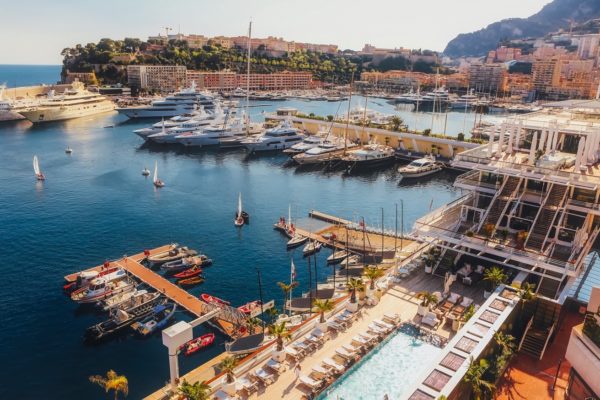 The South of France is renowned for being a playground for the rich and famous, and it comes as no surprise that this region of France is full of luxurious activities. When you think of the South of France, the first thing that springs to mind is the purple, lavender fields of Provence or the glistening turquoise waters of the Mediterranean Sea, and with a mix of Roman remains and white sandy beaches, it truly is the perfect destination for a holiday.
When on holiday, we experience new flavours and try activities which we would not necessarily try when we are at home. With so much to discover, we have put together a list of five of the most luxurious experiences that you can find in the South of France.
1 – Take to the skies
Whether in a hot air balloon or private helicopter, they are both incredible ways to see the South of France from a different perspective. In a hot air balloon, you will be able to see the glorious countryside below you, which is well suited for those travelling as a couple as this activity is extremely romantic.
Of course, a private helicopter tour is one of the most luxurious activities out there. Whilst in flight, you can take in the sights below you. See views of the Cote d'Azur from the air and feel like true royalty.
2 – Taste some of the world's best food
Caviar is known for its lavish appeal, and when eaten as a canapé or sampled with some world-class vodka, there is nothing else that can really make you feel more luxurious. The South of France is no stranger to this delicacy, thanks to the location being paired with such culinary excellence. Another delicacy is, of course, the truffle, and this elusive fungus has got a history in the South of France, with the black truffle being named after the region of Périgord. You can enjoy this delicacy in numerous dishes, but you can also enjoy a spot of truffle hunting yourself.
France is known for is exceptional cuisine, so if you are looking to treat yourself, why not head to one the most expensive restaurants in the South of France? Anne Sophie Pic is one the only women in France to hold three Michelin Stars, and her restaurant is just as fabulous. It gives it diners a once-in-a-lifetime experience.
3 – Sample some of the best wine
To accompany some of the incredible food mentioned above, you will need to pair it with some refreshing wine. The South of France is home to some the best vineyards in the world, as well as some of the best vintages. Throughout this region, you will find a number of vineyards which offer you a tour, in addition to a tasting session.
4 – A yacht tour
A yacht has been a symbol of wealth and luxury for a number of years, and you can also get a slice of this life. With boats available to accommodate anywhere from 20 to 200 people, you can enjoy a tour around the coastline with a glass of champagne in hand. When cruising through the turquoise waters of the Mediterranean Sea, you will be able to spot luxury villas in South of France hidden in the cliffs.
5 –  Visit the Monte Carlo Casino
The Monte Carlo Casino is one of the most prestigious casinos in the world. After 8pm, a proper dress code is implemented, and jackets are recommended. It is the perfect activity which will ensure that feel glamourous. Sit at the bar with an espresso martini and try your luck at one of the many games. You can also book a tour of the casino where you can learn about the history of the landmark, the royal family, and other interesting facts.
The South of France is the ideal location for that glamourous holiday you most definitely need. With such an array of fantastic activities to enjoy, will you be heading there soon?