Bali is a true tropical paradise. This small Indonesian island is known for its pristine white sandy beaches, a laid-back lifestyle, and plenty of resorts that will cater to your every need. The island is also known as a romantic getaway for couples looking to spend quality time together.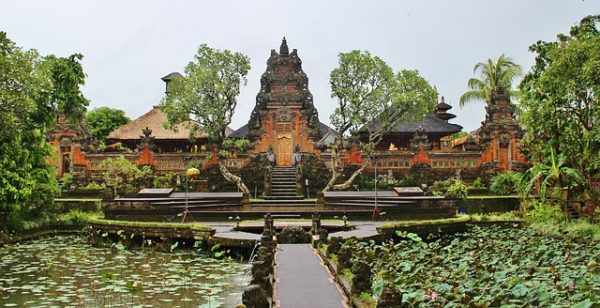 But with so many choices, where should a couple stay? The following is a list of five perfect getaway jungle and beachfront hideaways.
This jungle hideaway is perfect for any couple looking to get away from the craziness of popular tourist spots. They offer luxurious rooms, a wide variety of food, and two amazing pools. You can bathe on the pool deck or indulge yourself at the spa with a professional massage. This resort also offers traditional craft lessons, like making beautiful creations with coconut leaves.
If you're looking for both a getaway and in a true jungle setting, then this resort is for you. Puri Sunia Resort is surrounded by two small, traditional villages, rice paddies, and plenty of jungle forest that will make you feel even more secluded. And if you want a little adventure, this resort also offers rice paddy trekking and bike tours as well.
This is a unique resort that is perched high in the rainforest, overlooking the Ayung River. But it's the swimming pool that really sets this resort apart. The pool is high above the surrounding rainforest, giving you and your partner stunning views as you swim. Your vacation at the Hanging Gardens also includes your own private villa, most of which have their own infinity pools. This is a truly unique experience for couples looking to get away from it all.
Do you prefer views of the ocean over views of the jungle? If so, then this is the resort for the perfect romantic getaway. This resort is located on rugged cliffs that overlook the beautiful Indian Ocean. You can also choose between suites that overlook the ocean or ones with your own private pool. And if you're the adventurous type, this resort even offers excursions to the island's only volcano, Mt. Batur.
5. The Laguna 
If you're looking for a luxury beachfront resort at a good value, then The Laguna is the perfect choice. This resort offers a variety of rooms and suites. But what really sets it apart is the pristine beach, where you can soak up the tropical sun or take a swim in the warm water. If swimming isn't enough, they also offer boat and kayak rentals so you can explore the surrounding area on your own. Fishing and scuba diving are also available.
Romantic getaways in Bali are easy to find if you know where to look. The island is a perfect destination for those who want to escape the daily grind and have a relaxing, or adventurous vacation in a true paradise.