From skincare to haircare and keeping up with the latest fashion trends, fashion accessories are sometimes overlooked in between all the other fashion and self-care factors that we focus on. However, accessories are essentials for every woman as they can pull an outfit together and add unique finishing touches that can either vamp up or dress down any outfit. There are certain essential accessories that every woman should have in her collection of tending finishing touches. And if you aren't too sure which accessories you need to have, we have listed them for you.
Sunglasses And Prescription Lenses
Of course, prescription lenses are only essential if you need them. However, your prescription lenses can be worn as a trendy accessory, as eyewear is a trend of its own. You could consider orange eyeglass frames that are fitted with your specific prescription lens needs. Geometric frames and retro oversized square frames are also trending this year. At the same time, whether you need prescription lenses or not, every woman needs a trendy pair of sunglasses. It would be best if you considered the same principles of picking the right frames as you would when selecting everyday glasses by considering your face shape.
A Handbag
Of course, you need a handbag to keep all your essentials with you whenever you leave the house. Handbag trends are ever-changing, and there are tons of designs and styles to consider. More often than not, it's best to have at least three handbags; one practical handbag in a neutral color and design for everyday use, one formal bag for those fancy outings, and one playful or bold handbag to dress up any outfit.
Jewelry To Complete Your Outfits
A simple statement necklace or a pair of earrings can complete an outfit as a fancy finishing touch. Every woman should have a few jewelry pieces, although you should consider your style to select pieces that will compliment most of your outfit choices because there are endless styles to consider.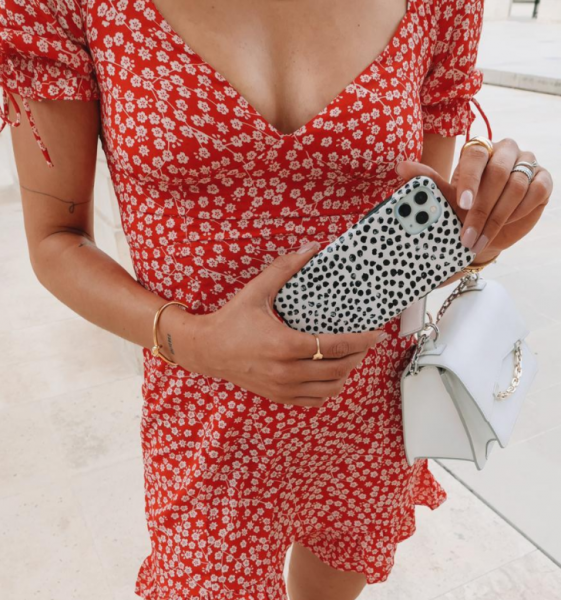 A Stylish Phone Case
Matching your phone with your outfit can be that one step you have been missing all along, as your phone is often featured in mirror selfies or lying in a frame when you are posing. Having a phone case that matches your style will make it your best accessory. BURGA has over 120 fashionable designs that come for many phones like Huawei, Samsung, Google Pixel, and iPhone. As they are constantly adding new models, you will easily find a fashionable iPhone 13 phone case! Making your phone into a fashion accessory is easier when you have many options to choose from.
A Trendy Hat
Hats are practical accessories as they can provide protection from the sun, warmth in winter, and the element of style to any outfit. You should have at least one practical hat in your collection of accessories. Although, once again, there's no reason you can't have a few varying hats to pull off different outfits.
A Stylish Scarf
Scarfs are not just for cold winter months as the perfect trendy silk scarf can be worn in summer and even over a necklace if you know how to match accessories well. You can also choose a variety of stylish scarfs and create a collection. The right scarf can dress up any outfit instantly. And during the winter months, scarfs are practical accessories that will ensure you stay warm and fashionable at the same time.
When choosing the right accessories, you should always prioritize your style preferences above the day's trends. In most cases, the simplistic accessories are considered timeless, while bolder and louder designs generally only last a year or two. So be sure also to consider this factor as it will allow you to invest in quality timeless accessories while spending less on ones that may not withstand the test of time.