When it comes to holiday parties, you want to serve drinks that reflect the festive atmosphere. While eggnog and Christmas beers are some of the most popular beverages, why not serve beverages that are a little more unique yet still just as tasty.
Head to your nearest liquor store in Savannah or whichever city you live in and pick up the ingredients to make at least a couple of these fabulous holiday drinks.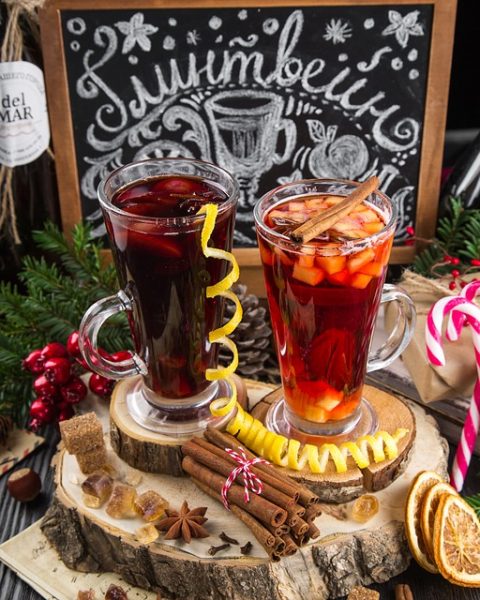 Mulled Wine: The Wine Lover's Version of the Hot Toddy
Hot toddies are a great way to warm up when the weather is chilly, but if your guests are wine lovers, consider making mulled wine instead. This is a soothing beverage that dates back to Roman antiquity, though it wasn't until the 14th century that it got its name, which comes from the Old English word that means "muddled." Author Charles Dickens gets the credit for elevating mulled wine into a traditional holiday drink, with it appearing in a number of his books, including his popular short story, A Christmas Carol.
To make your own, you'll need the following:
1 bottle dry red wine (merlot, pinot noir, cabernet sauvignon, etc.)

6 ounces brandy

1 orange, sliced into rounds

2 lemons, sliced into rounds

½ cup honey (use less for a mulled wine that's not as sweet)

3 cinnamon sticks

6 whole cloves

1 tsp fresh ground nutmeg
Combine all ingredients in a large pot and place on low to medium heat over the stove, gently warming the ingredients for 20 to 25 minutes, not allowing the mixture to boil. Stir occasionally to ensure that the honey completely dissolves. When the wine is steaming, and the ingredients are well-blended, it's ready to serve. Just ladle the mulled wine into a mug and enjoy.
The Gumdrop
The Gumdrop is a great drink to add holiday magic to your party. This one is easy, simply rub the rim of a martini glass with a lemon wedge, and then rim the glass with granulated sugar. Shake 2 ounces lemon-flavored rum, 1 ounce vodka, ½ ounce Southern Comfort, ½ ounce lemon juice, and ½ teaspoon dry vermouth in a shaker until cold. Strain into a cocktail glass and garnish with gumdrops on a toothpick.
The Grinch
Named after Dr. Seuss' legendary character, this unique drink showcases the Grinch's sour personality by using melon liqueur, and the maraschino cherry is said to be his hard "two times too small."
To make it, add 3 ounces melon liqueur, 1 ½ ounces of fresh-squeezed lemon juice and one tablespoon simple syrup to a shaker half-filled with ice. Shake vigorously, strain and pour into a glass. Add the maraschino cherry as a garnish.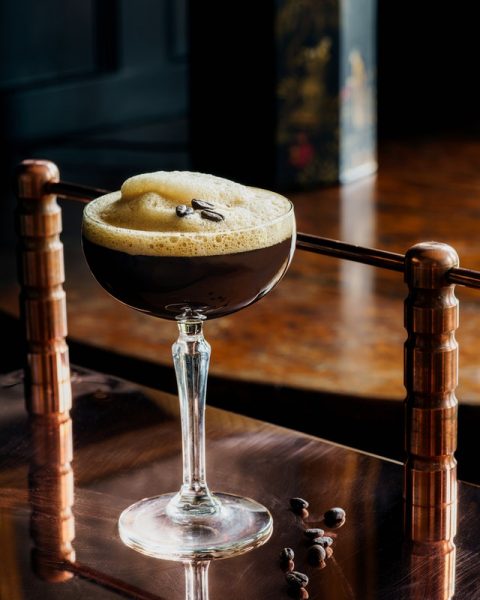 Espresso Martini
Want to keep the party going long after dinner? The Espresso Martini is a great energizing cocktail to serve after dinner. The cold coffee-flavored cocktail is blended with vodka, coffee liqueur like Kahlua, espresso coffee, and simple syrup. Add 2 ounces of vodka, a ½ ounce simple syrup, ½ ounce of coffee liqueur, and an ounce of fresh-brewed espresso. You can use coffee beans as a garnish, but it's not necessary. Simply place all the ingredients into a shaker with ice, shake well, and strain into a chilled cocktail glass. Add a few coffee beans to garnish, if desired.
The Candy Cane
This drink screams Christmastime, a sweet, decadent beverage that perfectly suits the holidays. In fact, it would also make a great dessert. This recipe makes enough for 16, but it can easily be halved if you don't need that much, although there will definitely be guests coming back for seconds.
16 oz peppermint schnapps

16 oz white creme de cacao

2 quarts half-and-half

A splash of grenadine syrup

16 small candy canes
Combine all ingredients except the candy canes in a pitcher and chill in the refrigerator for at least an hour. Stir the mixture and then pour into martini glasses, garnishing each one with a candy cane.