This post has been sponsored by Perdue Farms. Breakfast is one of those meals I really enjoy making. Maybe it's because I'm awake and ready to jump in to the day.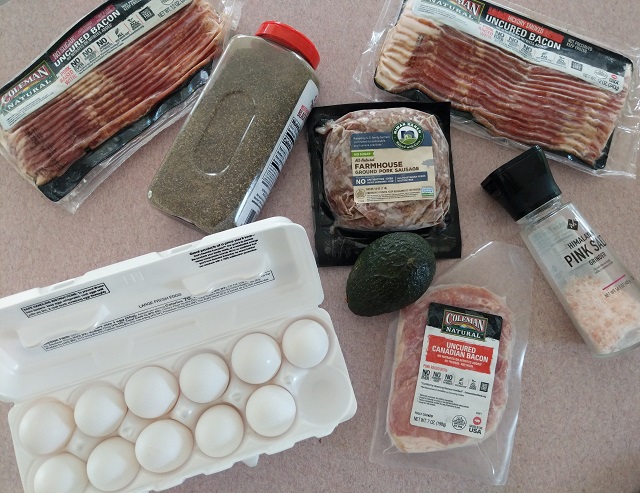 Getting off to a good start every morning is about more than just coffee. You need food. And what better way to get a boat-load of taste, a nutritional boost and a way to head off the "just arrived at the office" growling stomach than by preparing a tasty, palate-pleasing breakfast that won't force you to get up early to prepare it?
Happily, there are breakfast bowls and there are BREAKFAST BOWLS, and my suggestions include ingredients some folks save for weekends because they haven't time for anything more than a bowl of cereal or a doughnut: Canadian bacon, bacon strips, sausage, and steak.
Your mouth is watering, right? Keep reading. Your stomach won't be making strange noises for long once you adopt these bowls as your morning repasts and a few of them can even be prepared at night and baked in the morning.
1. Canadian Bacon Egg Cups
My son Ben makes these on the weekends and keeps them refrigerated to grab and go in the morning. They are especially great for those days when you're short on time. This is for ONE egg cup, but I always make at least 6 or more of them at a time.
Ingredients
cooking spray
1 egg
1 slice of Coleman Natural Uncured Canadian Bacon chopped
1/4 cup of cream cheese
Directions
Pre-heat an oven to 350-degrees
Spray a muffin tin with nonstick spray.
Chop Canadian bacon (I like big chunks, but the choice of size is all yours)
Scramble egg
Add Canadian Bacon and cream cheese
Spoon into muffin tin
Bake for between 12 to 18 minutes, depending upon how you like your eggs.
Make extra. You'll want to eat more than one.
2. South of the border bacon tacos
I often have tortillas leftover because there are so many in a package and only two of us. I love using them up this way.
Ingredients
oil
2 tortillas
4 eggs
6 slices Niman Ranch Applewood Smoked Uncured Bacon
1 boiled potato cubed
1/4 onion sliced
1/2 cup of shredded taco cheese
salsa
sour cream
Directions
Saute onions in pan
Add potato and cook until the edges get crisp and the onion is caramelized
Fry the bacon (I microwave 1 minute for each slice, but if you prefer the pan method…go for it)
Drain grease
Chop bacon into chunks
Scramble eggs and add to the potatoes
Add bacon and taco cheese
Heat tortillas for a few seconds in the microwave
Stuff tortillas with egg mixture
Add salsa &/or sour cream
Chow Down!
3. "The fix it the night before" sausage and egg breakfast bow

l
Take a pass on morning drama by compiling these breakfast bowls at night and cooking them in the morning.
Ingredients
frozen hash browns
olive oil
Niman Ranch Farmhouse ground pork sausage
1 small onion chopped
1 small green or red pepper chopped
shredded swiss cheese
salt & pepper
Directions
Sauté frozen hash browns in olive oil, salt, and pepper until golden brown & crispy.
Saute the ground sausage with the chopped onion and peppers.
Fill large ramekins or other oven-proof bowls with a layer of potatoes, sausage, and peppers
Scramble eggs and add them to each bowl.
Top with swiss cheese.
Refrigerate.
Warm-up bowls in the oven the following morning.
4. A true Champagne Living style breakfast bowl
Ingredients
Panorama Organic Grass-Fed Beef Steak Strips for Stir-Fry
1/2 onion
4 eggs
spinach
4 cherry tomatoes
cooked asparagus
bleu cheese
balsamic glaze
olive oil
sliced avocado
Directions
chop spinach
cut cherry tomatoes in half
grill steak
fill the bowl with spinach & cooked asparagus
add steak
fry or poach eggs
add eggs to the bowl
top with feta cheese & slices of avocado
drizzle with the balsamic glaze & olive oil
MANGIA!
5. Mr. Sandler's meaty breakfast bowl
Ingredients
1 package Coleman Natural Canadian Bacon diced
1 package diced Colemen Natural Uncured Hickory Smoked Bacon
I package Niman Ranch Breakfast Sausage
8 eggs
1 cup of milk
2 cups of shredded cheddar cheese
onions
red peppers
Directions
Pre-heat the oven to 400-degrees
Fry bacon until crisp
Drain bacon and crumble.
In the same skillet, cook 6-ounces each of diced Canadian bacon and sausage
Remove and use the oil to sauté the onion & peppers until cooked until cooked
Reat 8 eggs with 1 cup of milk, salt, and pepper
Fill bowls with the defrosted hash brown potatoes, bacon, Canadian bacon, sausage, onions, and peppers
Top with 2 cups of cheese
Cover with foil and bake until eggs are cooked and set.
This reheats the next day nicely!
Get 15% off all of the meats used in these recipes available at Perdue Farms when you use this link: http://perduefarms.com/champagneliving