Abbott partnered with influencers such as me for its Ensure Program. As part of this Program, I received compensation for my time—although thoughts and opinions are my own.
Two weeks ago, I slipped, donned, struggled putting on last year's bathing suit for the first time this season and headed out to the pool. Running past the mirror fast enough so I wouldn't catch a glimpse of my cottage cheese thighs, jiggly upper arms, and a body that really belonged in the next size larger, I jumped in to begin my pre-summer program. I didn't need to assess my situation, I can easily see and feel that I'm not as strong, energetic or fit as I used to be, just look what happened when I tried to do aerial yoga in New York. Thankfully, it is NEVER too late to begin.
Since I'm older, and larger, there is a lot to improve. That's a GOOD thing, because I'll be able to see the difference in my energy level, strength, and appearance quickly. I've put together an easy FOUR-POINT plan to get my mojo back. Let's just call it
The Champagne Living Plan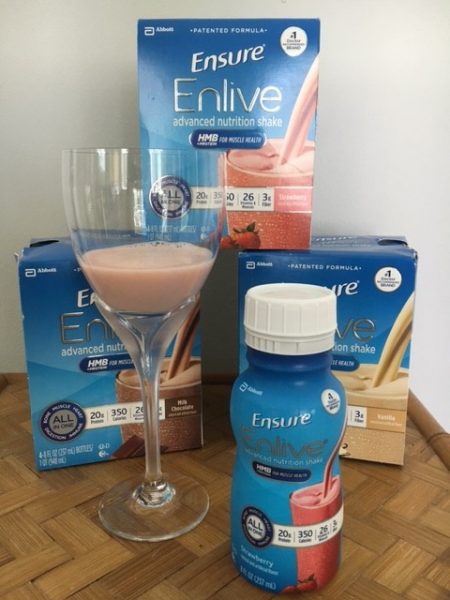 I'm a quitter. Why? Because I have a habit of overdoing it, hurting the next day and well, you know the rest. By easing into an exercise program, I can slowly build up from 20 minutes, to 30, 40, etc. Begin by taking a 20-minute stroll around the block with a neighbor. Chatting along the way will make it go by QUICKLY and I'll bet you dollars to those doughnuts I shouldn't be eating that you'll find that you've walked MUCH farther than you had initially anticipated. If you have access to a pool, it's time to jump in and get walking, swimming and doing your stretching in the water. Pool exercise takes the pressure off of your joints and provides a natural resistance to help you build those muscles that are so important to keep strong as we age.
Increase my protein – I recently learned JUST HOW IMPORTANT it is for women over 50 to get at least 53 grams of protein – if not more – daily to build and maintain our muscles. As I'm looking to give a kick-start to rebuilding my muscles, I took a look at what I was eating (cereal for breakfast, a sandwich for lunch and a decent dinner) and found that I wasn't getting NEARLY enough. To make certain that I'm getting my recommended nutrients, including plenty of protein daily for building those sexy muscles that I want, I've added Ensure Enlive to my diet. It's a great mid-day treat as it comes in 3 delicious flavors (chocolate, strawberry, and vanilla) and rather than my usual caffeine break that gives me a quick burst, then a BIG letdown, I get long lasting energy that'll keep me going.
Build those muscles – I may say that I want good strong muscles because it will keep me safer and healthier, but if I'm being honest…I want a sexy back and arms and shapely legs. The health benefits are a bonus. My thinking may be a bit skewed, but the outcome is the same. As we age we need those muscles to stay active. While I'm not the outdoor adventure type, I still like to know that I could go kayaking on a press trip, climb Machu Picchu, and yes….shop the March.
Hydrate – As the temperature goes up, so does the sweat factor, and drinking plenty of water is not only the key to hydration, but it also helps curb the appetite AND does wonders for the skin. Make your glass of water a bit "fancier" by serving your H2O in your best crystal goblet with a wedge of lemon, cucumbers, or berries for flavor.
When I make them realistic and uncomplicated to do, I find that achieving my health goals much easier. Of course making sure that you've got EVERYTHING you need in advance means no slip ups.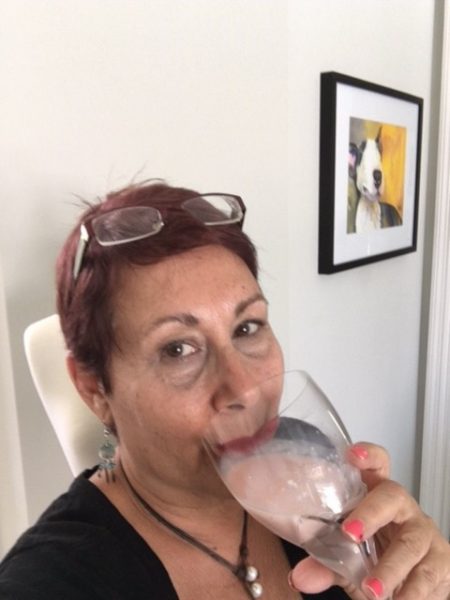 My shopping list
2 pool noodles for flotation. That way I can do scissor kicks, crunches, etc. in the pool
Ensure Enlive to help build and maintain the muscles that I need.
A beautiful wine goblet for both my water and my Ensure Enlive….remember this is a Champagne Living Plan.
FACTS
Ensure Enlive contains a high amount of protein (20 grams) and the unique ingredient HMB, which work together to help rebuild muscles, so you can enjoy your favorite summer activities. It's in a convenient grab 'n go bottle, so I always keep an assortment of flavors chilling in the refrigerator. I can enjoy it while I'm out running errands, sitting by the pool, or working on Champagne Living. It was designed specifically to help adults 50 and over to get the key nutrients our bodies need to help rebuild strength and energy to live our healthiest lives possible.
I think of Ensure Enlive as my afternoon TREAT. It's my sneaky little way to make sure that I'm getting all of the nutrition I need, even if I don't always eat "right."


For more information about what Ensure Enlive can do for YOU, visit: Ensure Enlive
Abbott partnered with influencers such as me for its Ensure Program. As part of this Program, I received compensation for my time. The opinions and thoughts in this piece are my own. Abbott/Ensure believes that consumers and influencers are free to form their own opinions and share them in their own words. Abbott/Ensure policies align with WOMMA Ethics Code, Federal Trade Commission (FTC) guidelines and social media engagement recommendations.