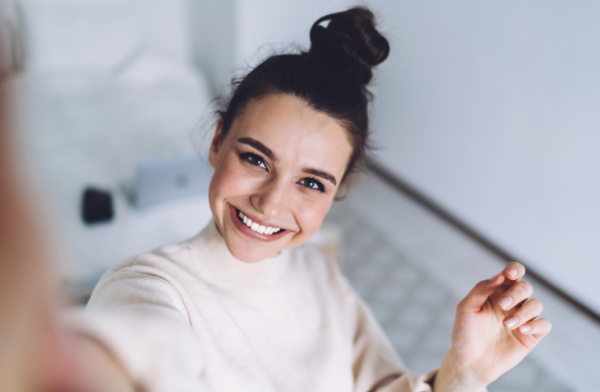 Chances are, you have seen hundreds of really bad selfies on social media.
From blurry images and pictures that are too dark to photos that are not exactly flattering, there is no shortage of cringe-worthy pics on Instagram, Facebook and Twitter.
Fortunately, taking a really nice selfie is not that difficult. In fact, by learning a few basic tips, you will soon be taking and sharing pics that will get tons of likes and positive comments from your friends and family.
Here's how:
1. Let There Be Light
Hands down, lighting is one of the most important factors when taking great selfies. As often as you can, choose a brightly lit room or a sunny day when snapping shots. When concerts start up again, instead of taking a selfie inside the arena in the dark, opt for one in the brightly lit lobby. And if you do want to nab a selfie under your colorful umbrella during a rainstorm, tilt the umbrella back enough so that you let as much natural light in as you can. Remember, you can take as many selfies as you want and then select the best ones to post on social media, so feel free to experiment with light and different times of day to see which works the best.
2. Try Different Angles
All camera lenses, including those on your smartphone, are usually made from a curved or domed glass. Because of this, if you change the way you hold the camera you can alter the way the photo will look. For instance, try holding your smartphone in the air and look up at the camera, or take the shot from the side rather than from right in front of you. Another idea is to shoot from below; for instance, if the sky is full of amazing clouds you can snap the shot with you looking down at the camera and then capture as much of the sky in the background as possible.
3. The Eyes Have It
People are naturally drawn to eyes when looking at photos. After all, they are windows to the soul. So to take the best selfies ever, try looking right at your phone's camera. Experiment with how much you open your lids — too wide looks unnatural, too closed looks like you're squinting. The sweet spot is right in the middle. Professional photographer Peter Hurley calls it "the squinch" — which is the term he coined for narrowing the distance between your lower eyelid and pupil for the most flattering look. That coupled with some new makeup or an eyelash serum that makes your lashes really pop will give you the look you're hoping for.
4. Ditch the Duck Lips
One way to ruin an otherwise well-framed and well-lit selfie is with a smile that is unnatural or a goofy expression like the classic duck lips so many people like to do. But to look as great as you can, you really can't go wrong with a natural smile. This may take some practice; take a bunch of selfies until you snap one that has a really photogenic smile, or take some time in front of the bathroom mirror to see what works. You can go with a huge grin with all of your teeth visible if you like, or a more cheeky close-lipped smile—the goal is to find a smile that "looks" like you the most and then going with it in the selfies.
Practice Makes Perfect
Taking a great selfie may be more challenging than many people realize, but like many things in life, a little practice will go a long way. By paying close attention to the lighting and angles, accentuating your beautiful eyes with "the squinch," and experimenting to find your best and most natural smile, your selfies will definitely stand out on social media.