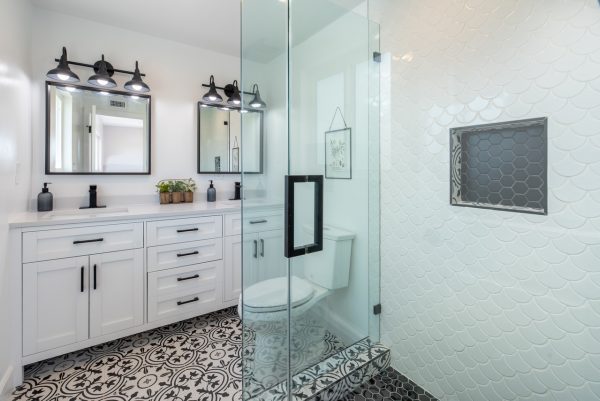 Real estate agents play a valuable role in a home seller's journey, from looking for buyers to negotiating the best deal. Given these vital contributions, many homeowners look for competent realtors to support them in this endeavor. That's also why top real estate agencies go through many hoops to get the best agents for the job, such as can be seen in this recruiting real estate agents emails article.
If you're planning to sell your home, it's a good idea to consult with a real estate agent. Aside from helping you list your property, they can also make suggestions to improve its value. After all, they know what makes a home more desirable among prospective buyers.
In particular, updating the most-used spaces like the bathroom have a significant impact on your property's value. A midrange bathroom can boost a home's price tag by at least 64 percent, which you can benefit from even if you opt for a minor renovation project.
Whether you're planning to sell your home soon or in the future, here are some bathroom upgrades you can do to raise your property's value:
Update the Fixtures
Some bathroom improvements don't require major changes or a huge budget to deliver an impressive design impact. One example is swapping outdated fixtures for more modern ones. By changing old faucets and shower heads, you can make the home more inviting. Also, this project isn't very expensive and is also easy to do that even do-it-yourself renovators can handle it.
When switching the plumbing fixtures of your bathrooms, remember to pick those that will complement the rest of the space. If you want to achieve a modern feel, for example, you can get faucets and showerheads in black. Apart from the aesthetic enhancement, updating bathroom fixtures can also enhance the room's functionality. For instance, a new showerhead may offer comforting massage-like features, while a higher arc sink faucet can make it easier to wash your face.
Apply a Fresh Coat of Paint
Another significant improvement you can give your bathroom is a fresh coat of paint. Any space can benefit from getting a paint job; bathroom walls that show signs of age, mildew, or water damage, even more so. Before you paint over these imperfections, however, make sure to address the root of the problem. If only a small area of the drywall is damaged, you can cut and replace it by yourself. Otherwise, you'll need the help of a professional to resolve it.
Once you've addressed the issue with the drywall, you can paint over it and make the room feel like it's new. Unless you're painting a spacious master bathroom, this is a DIY project you can manage. To ensure the finished work looks neat, use painter's tape to line the corners. Also, consider a neutral color as this is generally appealing to more prospective buyers.
Change the Vanity
If your renovation budget permits it, consider working on your bathroom vanity. This means upgrading the sink and cabinetry, not just the fixtures. You can get a vanity kit, which includes a base, sink, countertop, and hardware. This is a convenient approach if you want to have complementing elements in a single purchase.
On the other hand, putting together your own vanity allows you to customize every component. It also gives you the opportunity to pick materials that will greatly appeal to potential buyers like granite and marble countertops. They're popular among a lot of buyers because these materials give a premium and modern look, as opposed to laminate or tile countertops that sometimes look dated. Additionally, a pedestal sink is more space-saving than a sink base cabinet. It helps open up the room, making it appear larger than it is.
Upgrade the Bathroom Flooring
In case you're uncertain about what to improve in your bathroom, begin with the flooring. Remove old floors and replace them with fresh tiles for a dramatic change. Just take note that the price range in upgrading your flooring will depend on the materials you choose, the size of the room, and labor costs if you don't want to do the work all on your own.
You have plenty of options when it comes to flooring materials. Marble, for example, looks stylish and is highly durable. The downside is that marble can become too slippery when wet. As an alternative to marble, you can opt for tile. It's one of the most versatile flooring materials because it comes in a wide array of colors, shapes, patterns, and textures. Some tile designs even resemble wood, so you can get the same visual effect of wooden floors but the water-resistance of tiles. Just weigh your options and your budget to choose the best one.
When prospective home buyers see a beautifully renovated bathroom, they're more likely to be accepting of a higher price because it's one of the most-used rooms in a house. So if you want to boost your property's value, consider any of these bathroom improvement tips. Even if you don't plan to sell right away, you can enjoy using a more comfortable space.