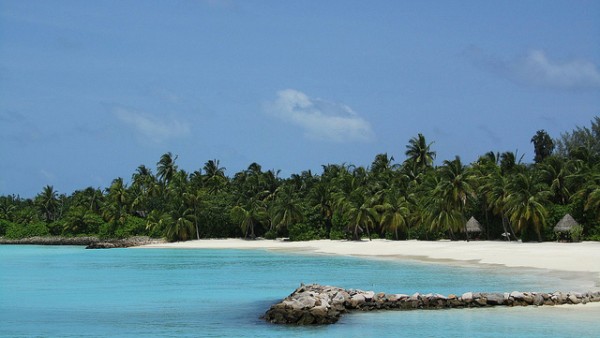 Big things, as they say, often come in small packages. The Maldives, located 400km off the southern coast of India, has a total area of just 298 sq km – roughly a fifth of London. Despite the tiny size, the country offers tons of fun things to do for the discerning traveller, from world-class watersports and stunning azure ocean waters to crystal-white beaches and top-tier luxury hotels.
Make sure you don't miss out on the following things if you book a holiday in the Maldives:
1. Explore the waters
The tropical waters around the Maldives are teeming with marine life. The coral reefs around the country's 1,192 islands abound with a variety of colourful fish such as butterflyfish, surgeonfish, and parrotfish, huge rays and the imposing whale shark – the largest fish in the world. The water is unusually clear almost all the year round, so strap on a snorkel, grab a pair of flippers, and dive into the ocean for the experience of a lifetime!
2. Take up some watersports
The Maldives are 99 per cent water. Nearly every aspect of Maldivian life revolves around the ocean. As such, the country has a particular affinity for watersports. Parasailing, kayaking, kite-surfing, water-skiing, and jet-skiing facilities dot the nation's coastline. With its location in the middle of the Indian Ocean, the country also enjoys some spectacular waves, making it a veritable paradise for surfing enthusiasts.
3. Discover the Maldivian way of life
The Maldives have been inhabited for thousands of years. Ancient Indians from the sub-continent's southern coast sailed to the islands around 300 BCE, bringing their rich culture and language(s) with them. The country was subsequently settled by Buddhists from Sri Lanka who left their own mark on the nation's culture. Today, the Maldives boast a kaleidoscope of multiple cultures and languages, each with its own heritage – all of which are free for you to discover on one of the many inhabited islands.
The Maldives are unlike any other country you've visited before. With little landmass, the country has developed a culture and lifestyle unique throughout the Indian Ocean. The islands are stunning, the wildlife gorgeous, and the opportunities to relax, learn, and have fun enormous!
Image by Eric Messa used under creative commons licence