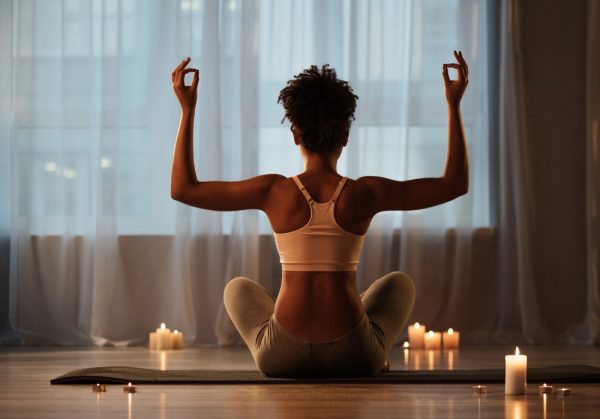 Whether you've been meditating for years or are just getting into the practice, you decided it's finally time to create your own in-home meditation space.
Because you've noticed a positive difference in your stress levels since starting meditation, you now want to create your own space that encourages quiet reflection, focus, and calm.
After looking around your home, you've decided the rarely used guest room would be ideal to transform into your very own meditation space. Here are three ideas to get you started.
1. Choose Peaceful Colors
It's great if your soon-to-be yoga studio is already painted in a color that soothes you. But if it has a fire engine red accent wall or screaming fuchsia ceiling, you should probably invest in a gallon or two of paint to redo the color scheme.
Select colors that help you feel at peace — light blues and greens are often good choices — and then pick out accessories like throw blankets and artwork for the walls in shades and designs that help you relax.
2. Find a Comfortable Space to Sit or Lie Down
Some people prefer to meditate while sitting, and others like to stand or lie down. Regardless of how you like to practice meditation, your room should have a comfortable place for you to rest.
For example, you might opt for some large cushions, or you might find that a mattress is a better option. This way, if you're sitting on the edge of the mattress while meditating and start to nod off, you can easily lie down.
A mattress is also a good choice if your meditation space will occasionally revert to a guest room. Now, you don't have to spend a ton of money on a mattress for your new space. Instead, pick out a mattress that's affordable and provides pressure-free comfort during your meditation sessions.
3. Decorate and Supply Your Space
Experts recommend going for a minimalist approach when decorating a meditation room, as this will help to avoid distractions. As for what you choose, it's up to you — the main idea is to select items for your space that will help you focus and feel relaxed.
For example, you might like flowers and a string or two of white lights, as well as a Buddha statue and candles. In the event you fall asleep during meditation, you might want to go with battery-operated flameless candles that look like the real thing.
Additionally, some yogis like to have an altar of sorts in their meditation room. If you want to add this, use a small table and cover it with a scarf or tablecloth in soothing shades. Meantime, others prefer a specific item they can focus on when meditating, including a painting, photograph, statue or candle.
Metal wall art is another great way to decorate your meditation room, as it can help you create a calming and soothing atmosphere that supports your practice. Whether you are looking for a zen-inspired style or something more traditionally spiritual, there are many different designs and themes to choose from when it comes to metal wall art. Just remember to keep your design vision in mind.
Find Peace Right at Home
Once you set up your meditation room and start to use it on a regular basis, you might wonder how you ever got by without it. Even if you must give up this new space a couple of times a year when Grandma visits, you'll find having a dedicated space to meditate encourages you to do it more often, all while finding that inner peace and focus you need.