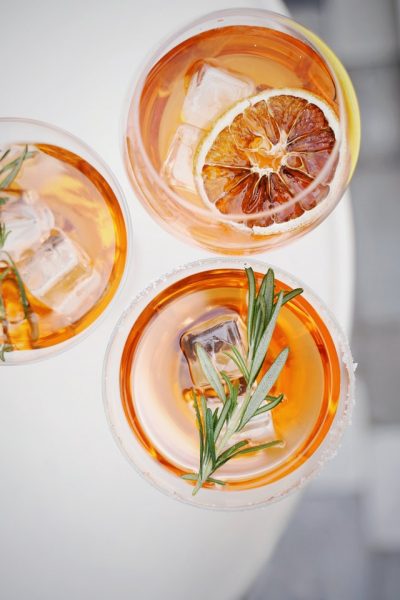 Staying fit at any age can be a challenge, especially if you don't want to compromise on the best things life has to offer.  Fortunately, you don't have to sacrifice everything to stay spry and feel youthful.  It's true that the standard "everything in moderation" is a valid policy for retaining vitality and health. Nevertheless, occasionally partaking in some indulgences can actually be healthy as we age. 
Savoring a periodic sipper doesn't have to be taboo for staying young and healthy.  This is especially true if you add youth-boosting ingredients such as anti-aging juices or fresh fruits in cocktails. You can make great concoctions that don't force you to compromise on taste.  With that in mind, here are a few delightful anti-aging cocktails you've got to try for your health and happiness.
What Makes a Cocktail Healthy?
Before we say "cheers" to some sensational anti-aging sippers, let's review what makes some cocktails healthier than others. Other than drinking in moderation, a healthier cocktail should go easy on sugar content.  Most mixed drinks are loaded with sugary concentrates that can put the kibosh on your health and diet.  Therefore, cocktails that utilize natural sweeteners like agave instead of simple sugar syrups are far more ideal for your health.
Furthermore, a better cocktail uses fresh, organic juices that are good for you.  Also opt for the freshest, best herbs in cocktails for a healthy kick in your libations.  Mixed drinks made with choice fruits, juices, and herbs that can potentially boost health are significantly better than most traditional versions. 
And bear in mind that you can always go virgin.  That is to say, if you leave the alcohol out, these drinks can still pack a powerful punch to improve your wellbeing. So, without further ado, here are a few healthy, anti-aging cocktails you're going to love.
Pucker Up With a Paloma
A low-sugar cocktail that can even be made sugar-free, the Paloma is a light, invigorating drink.  It's made with tequila, grapefruit soda (which can be sugar-free), or flavored seltzer water.  The main flavor accent is grapefruit juice, which is low in calories and rich in immunity-enhancing vitamins such as vitamin C and A.  Be aware, grapefruit may conflict with certain medications, so double-check before indulging in this refreshing cocktail. Finish with a slice of grapefruit for an extra vitamin-packed punch.
Best Brunch Watermelon Mimosas
You know we love this one because it features our namesake, champagne.  The other prime ingredient is watermelon and orange juice. Watermelon juice is packed with anti-aging elements such as vitamins B1, C, and A. This delicious, fresh juice is also high in lycopene which helps crush free radicals in the body and thus helps reverse signs of aging.  Lastly, the orange juice in this mimosa is a natural anti-inflammatory and aids in promoting healthy skin. Top with a refreshing sprig of mint which is thought to help with indigestion.
Spiked Pumpkin Latte
This is a comforting cocktail to try on a chilly evening in front of a crackling fire. Blend pumpkin puree, almond milk, low-calorie sweetener, and strong coffee together. Be sure to grind fresh coffee beans to get maximum health benefits from your coffee such as improved memory, and an array of healthy nutrients such as riboflavin, and vitamin B.  Then, add bourbon to make your spiced latte into a spiked version.  A powerful source of antioxidants, pumpkin purree may encourage cell growth and may also provide a defense against certain diseases. Pumpkin is also known to improve eyesight with its high content of vitamin A and lutein.  Almond milk is fewer in calories than heavy cream, and it is incredibly high in vitamin E.  Top with freshly ground nutmeg, cinnamon, and ginger – all of which help reduce inflammation.
Drink Wisely and Enjoy
It's been said that with age, comes great wisdom, so you know that there is no quantitative medical proof that these anti-aging cocktails will improve your health.  In truth, the best way to maintain your youth and vitality is to drink alcohol in moderation, stick to a well-balanced diet and get exercise. But you already know that, so while you practice a healthy lifestyle, don't forget to indulge in any of these sensationally scrummy sippers.