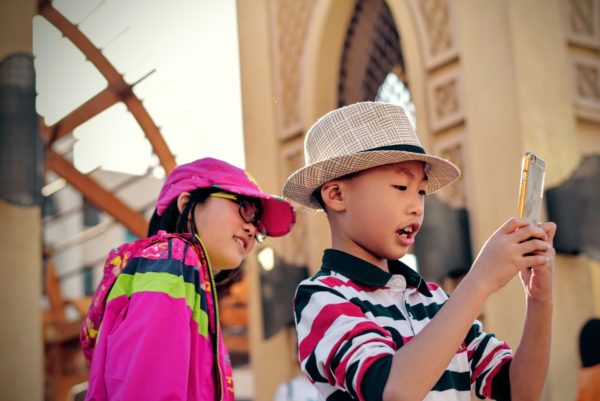 It's been a while since Mr. S and I have traveled with kids in tow…15 years actually. While our only son is on his honeymoon this week, my mind is wandering to grandchildren and how I can't wait to spoil them and take them around the world with me on my travels (as long as mom and dad say it's okay of course).
I'm a little rusty at having to entertain little ones on a plane or in the car, and I vaguely remember all of the stuff we'd have to pack for our treks (Ben was quite the traveler when he was young).
I asked the people at Homebase for some tips that I could share, and they came up with this fabulous list of 12 to make your next vacation with the kids go that much smoother.
1. Inflight Entertainment.
Prepare multiple small inexpensive gifts, each individually wrapped and tucked away – and present them periodically as need be; new books, pencils/crayons and paper, etc. Food treats work too – the key is diversity and surprise. And keep a stash — or purchase similar items in Italy – for the trip home.
2. Bring Your Own Childcare.
Offer to bring along a niece, etc. who otherwise might not have the opportunity to travel in exchange for childcare. Children who are looked after by someone familiar are more likely to be happy and relaxed when adults want adults-only time.
3. Books, Films and Advance Excitement.
We encourage families to use holidays and birthdays as a time to focus attention on the upcoming trip and build engagement and excitement. Your holiday can be themed around where you are going and what you are doing. Homebase Abroad can help with book and movie lists, but it is also a good time to invite each family member to begin thinking about the 'one really cool thing' that might make the trip for them. Years ago it was seeing Galileo's preserved right middle finger at the Museo Gallileo, Florence's science museum just around the corner from the Uffizi.
4. Support Museum Gift Shops and Private Foundations.
Help preserve and restore local historic and art treasures; Save Venice is one of our favorites for their series of very engaging Treasure Hunts. These and other self-directed games and puzzles help children with their own game of I Spy across the city.
5. Hit the Museum Gift Shop First.
It's a great place to pick up helpful guides and games oriented to children. These items will increase their engagement and help them learn to appreciate looking at art and absorbing history through architecture and the like. The Musei Firenze on-line store gives you a chance to preview the selection (although advance shipping to the States is not available). Homebase Abroad Concierge can arrange for your selections to be available for your arrival at the house so everyone is ready for their visit.
6. Download the App.
Italian museums have done an excellent job joining the digital age. Given you have only 15 minutes with the astonishing Last Supper, download one of multiple apps before your visit so you make the most of that precious time.
7. Don't Overdo It.
The rhythm of an Italian day has a lovely cadence. People really think about and focus on lunch – they eat, sitting down, doing nothing else (like driving anyone?). Then some nap, others might stroll, read, or simply keep the conversation going around the table. One morning and one afternoon activity are generally fine. And plan for a seated lunch. It is a lovely tradition. And good for you too.
8. More Gelato Please.
Once you learn how to find good gelato (general rule of thumb, avoid any place with huge piles of gelato in garish color), make sure it is part of every day. Be unconventional. Why not before lunch? Before dinner? As portions in Italy are reasonable, a scant half-cup won't damage waistlines or appetites.
9. Pack the Gear.
Depending on where you are, it is possible to rent good baby gear in Italy but consider what you need in-flight. As with child-care, familiar gear you can rely on and that your children are comfortable with makes a difference. Plus, a stroller is a great catch-all carrying device through a large airport or across a city when not otherwise in use. Diapers are readily available – in smaller packs than we are used to – but can be provisioned for you so they are waiting for you on arrival.
10. And Yes, Unplug.
We believe in Villa Travel because it fundamentally gives you a chance to unwind together. That means everyone has to put down the phone. There is no need for your children to have a data plan while abroad. You can encourage and promote taking photos without also facilitating the endless snapchat/texting/messaging conversations. Turn it around and help older children think about a theme to focus on and use as a thread throughout their experience. For our girls it became food. Specifically 'cacio e pepe' – a favorite dish and one they tried everywhere, at the villa, in fancy restaurants, humble trattorias etc. Or pick an artist; especially one they might be touching on in their school curriculum.
11. Get Local.
If you see children playing soccer, stop and watch. If you see a shepherd with sheep in the road, pull over and get out of your car. Visit morning markets or poke your head through open doorways into a musty, messy old workroom where hand-carved frames have been made for decades. This is not something anyone will see at a mall.
12. Hit the Beach.
Besides being an ideal place for children to spend the day and give adults a bit of a break, going to the beach in Italy is, as with so many aspects of life there, highly civilized. The way it is done is to have us book you a Beach Club – complete with beds, changing rooms, places to eat good local food. You get the idea. Keep in mind the Amalfi Coast is pebbles – everyone needs water shoes. For sand, go to the Maremma beaches where your lunch will be brought to your shaded beach chair on a small table.