Items in this post were sent to us by the brand. We do not charge them for consideration or placement in our gift guides or round-up as we prefer to retain the right to not place an item that we don't truly love. We may however include affiliate links so that we get credit when you shop.
I shop on Amazon for household supplies, books, movies, etc. all of the time, but the one thing that I hadn't done is order clothing from one of the affordable clothing stores. For this post, I visited the Zeagoo Amazon Store to try and create an entire wardrobe using just ONE skirt (that I had been eyeing for a long time) to see if it could take me from casual to evening and everything in between.
The SKIRT that I started with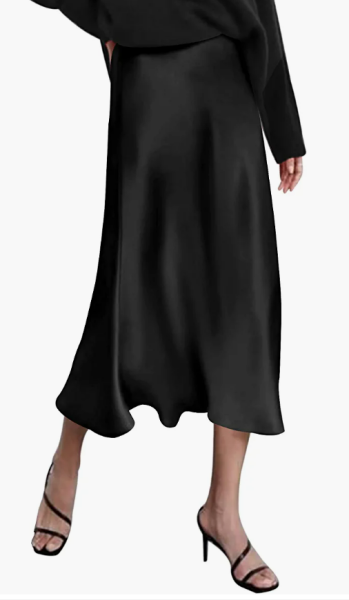 As I mentioned above, I've wanted a midi-length black satin skirt for a very long time, but being only 5'1″ I worried that it would be overwhelming. I also worried that ordering it from one of the less expensive Amazon stores I'd get an inferior-quality skirt. In both cases I was wrong. As soon as I put it on and felt the sides skim my hips and flare out, I knew that not only is this skirt incredibly flattering, but I couldn't tell it apart from one that I looked at in one of my favorite department stores where I regularly shop.
This is a statement skirt that is a great base for so many looks. The high waist is extremely flattering AND slimming, and the design is absolutely elegant.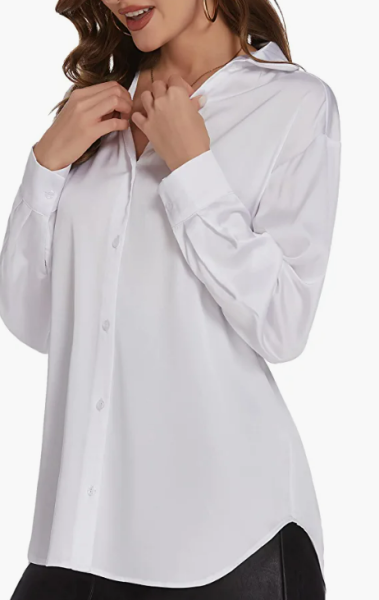 A classic paired with a classic. There's NO going wrong when you add a longer white button-up collared shirt with a skirt (actually there's no going wrong when you pair this shirt with ANYTHING).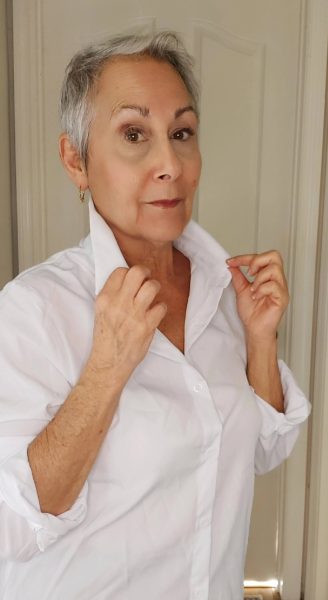 Its simplicity is perfect for pairing with your favorite skinny jeans, this skirt, open over a simple dress, or … you name the options and it works. This blouse buttons up to the neck, unbuttoned to show just the right amount of skin, or as a jacket over a t-shirt, dress, etc.


It can be worn loose and over your skirt or pants, tucked in, or tied at the waist.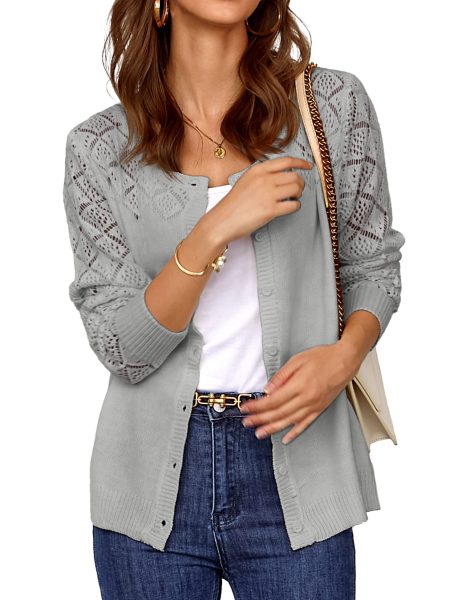 Lightweight Long Sleeve Crochet Sweater
Cardigans NEVER go out of style, and whether you live north or south, this lightweight cardigan with delicate crochet features a button-down open front, crew neck, and soft drape, and comes in an array of classic solid colors.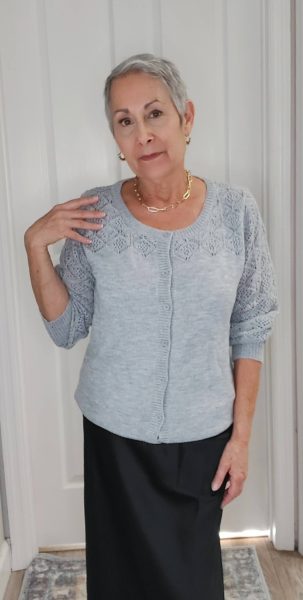 I love the traditional preppy look worn buttoned up as a sweater with no shirt underneath, But, it's oh-so feminine and can be paired with a camisole, t-shirt, sleeveless blouse, jeans, leggings, skirts, shorts, pants, or even an evening skirt. Even better…pair it with the satin shirt and skirt above either buttoned or unbuttoned for a schoolgirl look.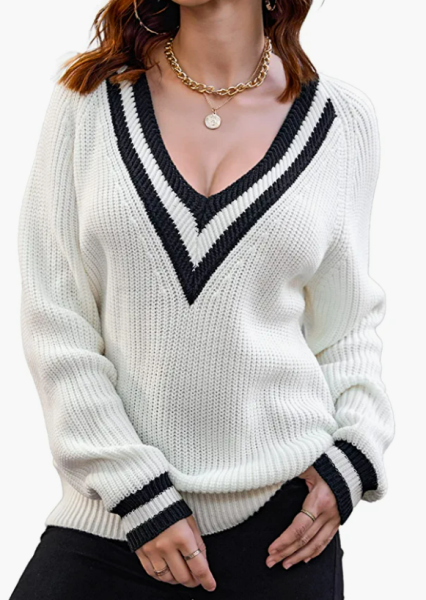 You can't go wrong with a classic preppy sweater! There's something about pairing casual and dressy together that makes a statement that says, "I'm not afraid of style." The low V, baggy style with the skirt that shows off your hips is a great go-together no matter what your size.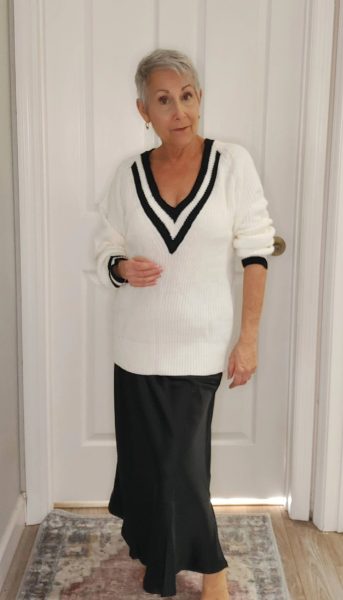 Over a pair of leggings and boots for an edgy look or over jeans and sneakers for a classic collegiate swag, this oversized sweater is FUN.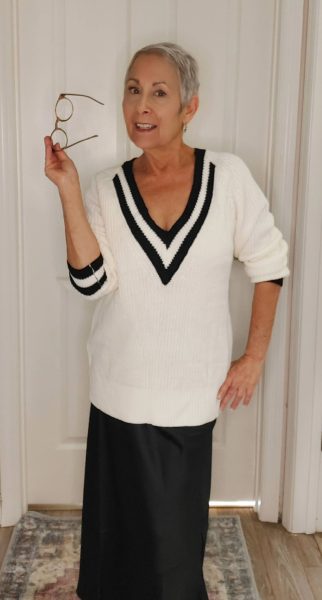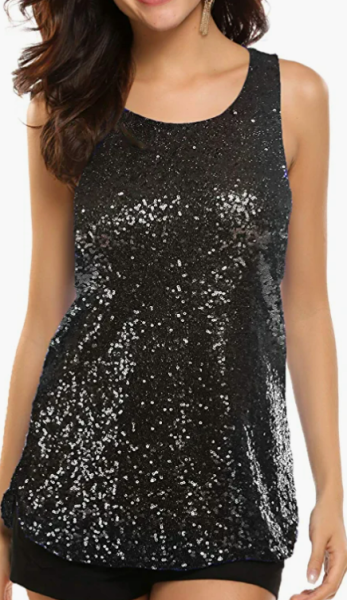 Going out on the town, to a wedding or other event can't get any easier than pairing this sleeveless sequin tank top with the satin midi-skirt. The scoop neckline with double side slit hem-line is incredibly flattering. It has a loose waist that hides your belly!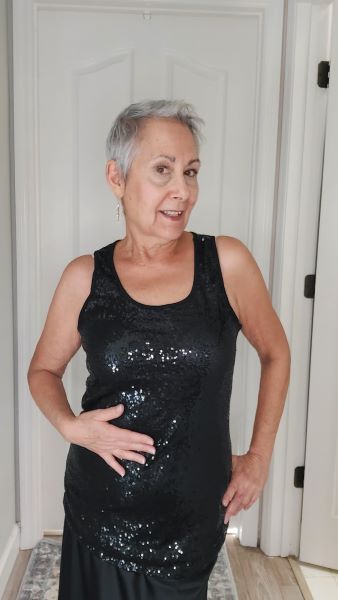 Surprise them by wearing it with jeans or create a tuxedo look with a pair of slim-fitting black slacks and white bucks. Never again will you say "I have nothing to wear" when you're invited somewhere special as long as this sequin top is in your closet.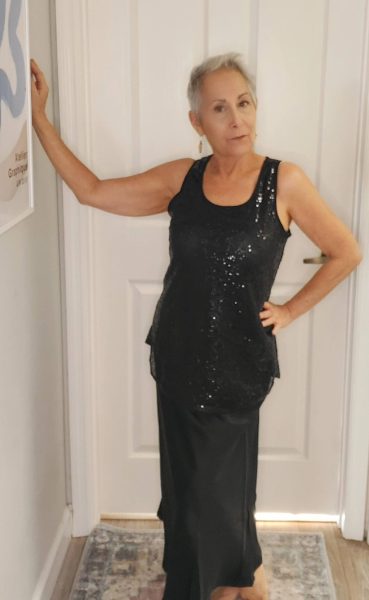 This top is on sale right now at Zeagoo for $23.99 a similar one is for sale at N.M. for $995!!!
Purchase HERE > Sleeveless Sequin Tank Top
Call me Impressed
I'll never be afraid to order clothes from Amazon again now that I found the Zeagoo Store. Check them out and let me know what you'd pair together that I missed.