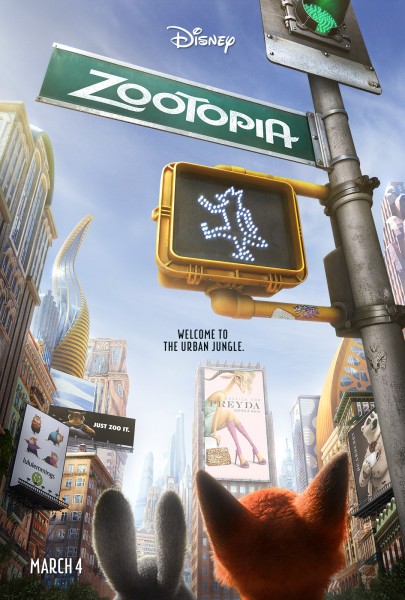 No nieces and nephews, no kids at all, that's how I went to see Zootopia. Yes, this IS a Disney animated feature, but I – as an adult went to see it, along with OTHER adults (although in all fairness I'm guessing that the other viewers all have children at home).
Zootopia through an adult's eyes
You can easily google the other blogger's reviews to get their take on Zootopia as a great kids flick, but I wanted to give you an adult perspective – perhaps with a little haughtiness, and a touch of "I'm better than all that."
Synopsis
The modern mammal metropolis of Zootopia is a city like no other. Comprised of habitat neighborhoods like ritzy Sahara Square and frigid Tundratown, it's a melting pot where animals from every environment live together—a place where no matter what you are, from the biggest elephant to the smallest shrew, you can be anything. But when rookie Officer Judy Hopps (played by the voice of Ginnifer Goodwin) arrives, she discovers that being the first bunny on a police force of big, tough animals isn't so easy. Determined to prove herself, she jumps at the opportunity to crack a
case, even if it means partnering with a fast-talking, scam-artist fox, Nick Wilde (played by the voice of Jason Bateman), to solve the mystery.
"We set out to make a funny animal movie.But the more digging we did, we saw an opportunity to talk about something important." ~ Director Byron Howard
So, let's get down to the nitty, gritty
Zootopia is a multi-dimensional film that children will love and adults will think "how'd they get away with that?" The script is incredibly smart and the story-line teaches lessons about diversity, bullying, standing up for yourself, and becoming mature. With a mixture of pop-culture references and human stereotypes interwoven with animal behavior, Zootopia made me howl, feel for these animals, and take a good long look at human nature…yes, through an animals eyes.
Let it be said
That there is nothing frightening, or off-color for children, but the innuendo's will delight YOU as well.
Plus….Shakira and Kristen Bell
Just sayin….


Disney's Zootopia in theaters NOW!
Find out more on: