The items in this post were sent to us by the brand. We do not charge them for consideration or placement as we prefer to retain the right to not place an item that we don't truly love. We may receive a commission when you purchase via our links.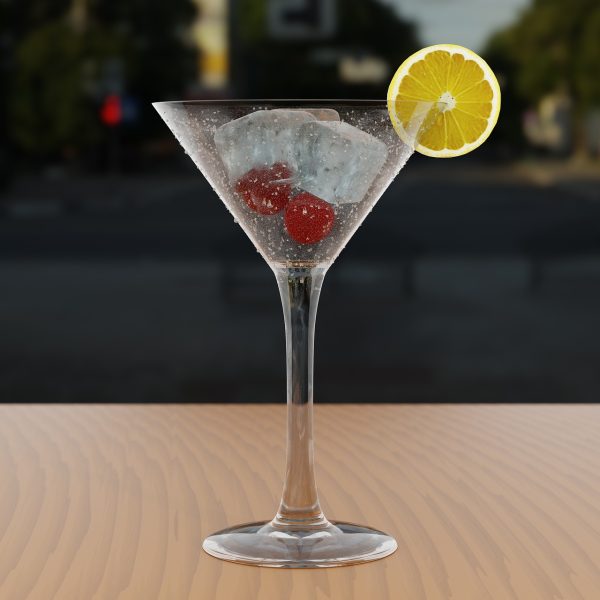 Raise your glass and get ready to savor the delightful world of non-alcoholic beverages that offer all the flavor and none of the alcohol. Whether you're abstaining from alcohol, designated driver for the evening, or simply looking for refreshing alternatives, this is your ultimate guide to the best non-alcoholic cocktails, wines, and beers that will tantalize your taste buds and keep the party going without the hangover.
From mocktails bursting with fruity goodness to sophisticated alcohol-free wines that rival their boozy counterparts, and crafty non-alcoholic brews that won't leave you feeling left out, we've curated a list of the finest options to ensure your taste buds are in for a treat. So, let's explore this vibrant and flavorful world of non-alcoholic libations that prove you don't need alcohol to have a great time!
Bubbly Time!
With its crisp and refreshing taste, alcohol-removed bubbly is the perfect companion for those seeking a sophisticated option for celebrations or simply unwinding after a long day. Its fizzy bubbles that tickle the palate, and the fruity and floral notes that dance on your taste buds, make every sip a celebration of flavors. Isn't it time that you enjoyed some non-alcoholic sparkling wine that allows you to toast to life's moments, big or small, with all the sparkle and none of the hangover? Whether you never drink or just want to take a break this is a guilt-free indulgence for anyone to relish.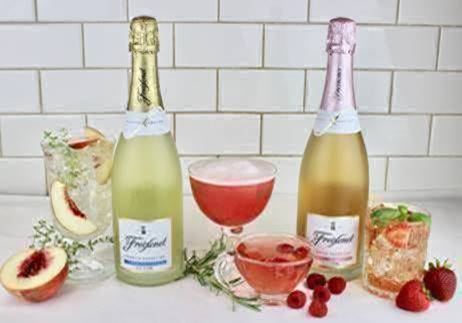 The world's leading Cava producer, Freixenet, has two satisfying Alcohol-Removed wines that can be enjoyed on their own throughout year-round or in a refreshing mocktail cocktail that doesn't require you to be a mixologist!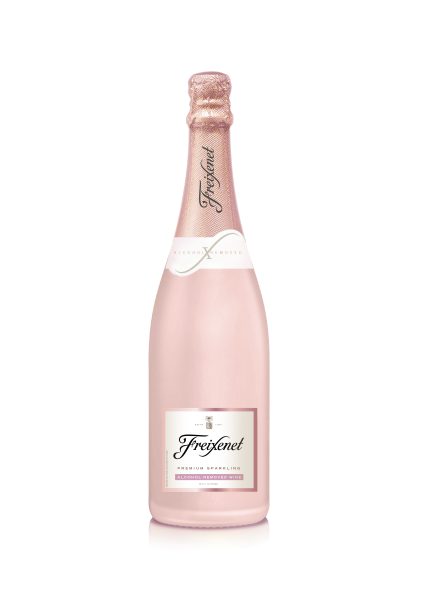 Produced in the Penedès region of Spain using a blend of Airén and Macabeo grapes, Freixenet Alcohol-Removed wines were created to taste like premium sparkling wines thanks largely to a proprietary vacuum technology to extract the alcohol while maintaining the wines' characteristics.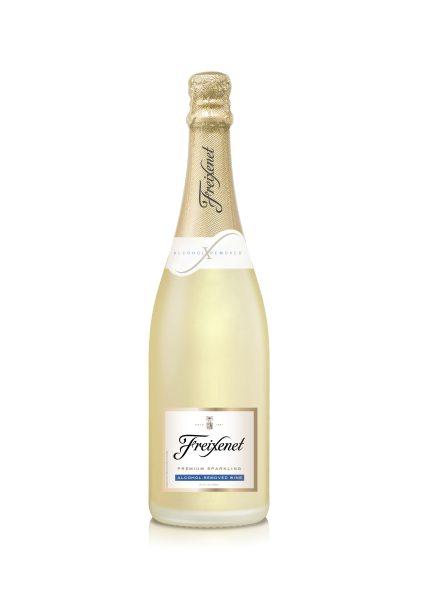 The result is two fresh and fruit-forward sparkling cuvées that do not require any celebration! Freixenet Alcohol-Removed Sparkling Rosé features notes of wild berries along with floral and tropical fruit notes while Freixenet Alcohol-Removed Sparkling White offers tropical, citrus hints with persistent bubbles.
Available at:
CAN I have one, please?
Canned non-alcoholic cocktails are a convenient and refreshing way to enjoy the complex and flavorful world of mixed drinks without the need for a bartender or a liquor cabinet. These ready-to-drink beverages combine carefully crafted blends of juices, herbs, and spices to deliver a delicious and alcohol-free alternative to traditional cocktails. Whether it's a tropical not Rum and Cola, a tangy Alcohol-Free No Gin and Tonic, or a fruity Spritzer, these canned delights provide a hassle-free way to savor your favorite cocktail flavors on the go, at picnics, or during moments when you want to unwind without the alcohol. Simply crack open a can, pour over ice, and you're instantly transported to a world of taste and refreshment. Cheers to the convenience and flavor-packed enjoyment of canned non-alcoholic cocktails!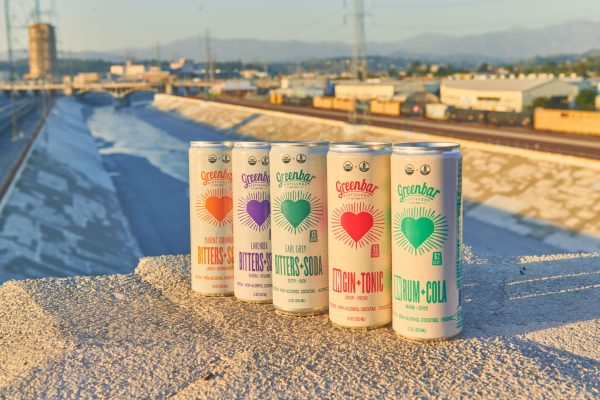 Founded in 2004, Greenbar has since expanded into the world's largest portfolio of 100% USDA-certified organic spirits and holds exclusive partnerships with some of the nation's largest retailers, including Whole Foods.
What makes 
Greenbar
's N/A Highballs special is that they are still made using 
Greenbar
's own handcrafted spirits as the base, giving true depth through the use of traditional distillation and infusion techniques, followed by boiling off the alcohol in a special dealcoholization process, which ensures the real aromas, textures, and tastes are captured authentically.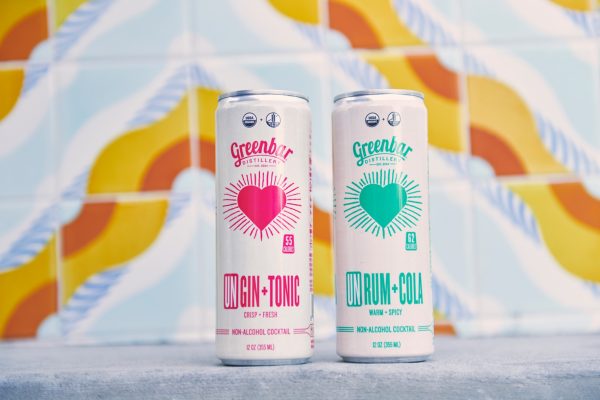 Their non-alcoholic highballs include
UnGin + Tonic – Bright, crisp, and dry, this non-alcoholic canned highball packs all of the qualities of a freshly-made G&T, credited to 

Greenbar

's still-made gin with the alcohol boiled off.
UnRum + Cola – With real, dealcoholized rum layered with baking spices, fresh citrus, and kola nut, this warm and spicy booze-free highball makes skipping the buzz worth it.
UnSpritz – The lush and tangy drink is the alcohol-free Californian version of an afternoon Italian tradition. The floral and tangy flavors and textures of this drink are captured authentically by boiling off the alcohol.
and a variety of Bitters + Soda offerings
Available at:

If you've been looking for a healthy alternative to beer, providing guilt-free,
hop
-filled relaxation without the alcohol, calories, carbs, sugar, or gluten you just found it.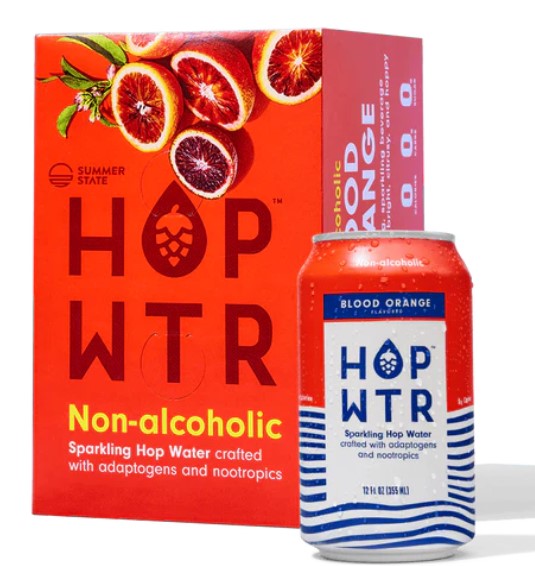 HOP
WTR
 is a non-alcoholic sparkling 
hop
 water crafted with crisp, bold 
hops
 and mood-boosting ingredients. Available in six delicious flavors, the line features a proprietary blend of stress-busting 
hops
, as well as a stack of adaptogens and nootropics including ashwagandha and L-Theanine, which is specifically formulated to help you unwind and destress.
Offerings include:
Classic
Ruby Red Grapefruit
Blood Orange
Mango
Lime
Peach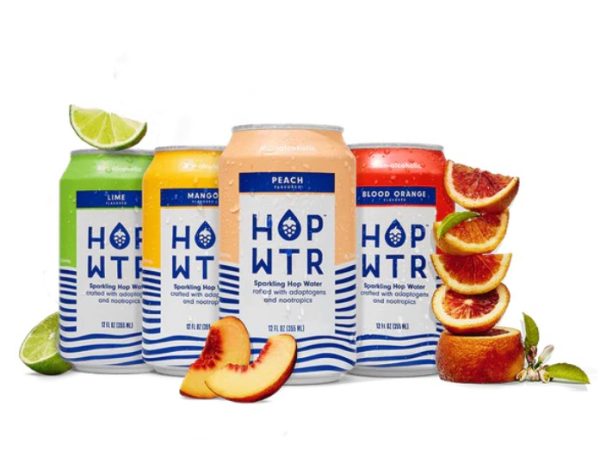 Each HOP WTR brew is packed with Citra, Amarillo, Mosaic, and Azacca hops, delivering a citrusy, piney, and refreshing flavor that is hydrating while evoking a light and satisfying IPA.
Available at:

 hopwtr.com and at local retailers in select markets.
Pass the Snacks Please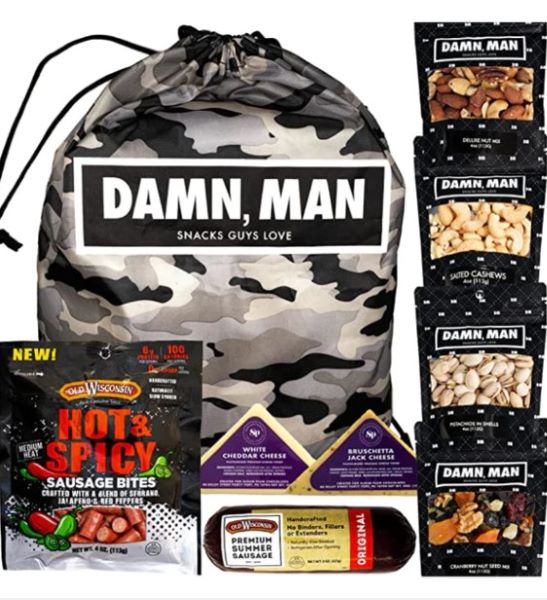 The ultimate variety of unique snacks, and comes in TWO SIZES (in case you have few friends over). Each bag includes a great variety of flavors, gourmet hand-crafted, small-batch kettle-cooked nuts paired with unique flavored cheese and savory spiced summer sausage and sausage bites. The Charcuterie Bag is sure to hit all your taste cravings!
The Deluxe Bag includes:
White Cheddar Cheese
Bruschetta Jack Cheese
Summer Sausage
Hot and Spicy Sausage Bites
Salted Cashews
Pistachios in their shells
Deluxe nut mix
and Cranberry Nut Seed Mix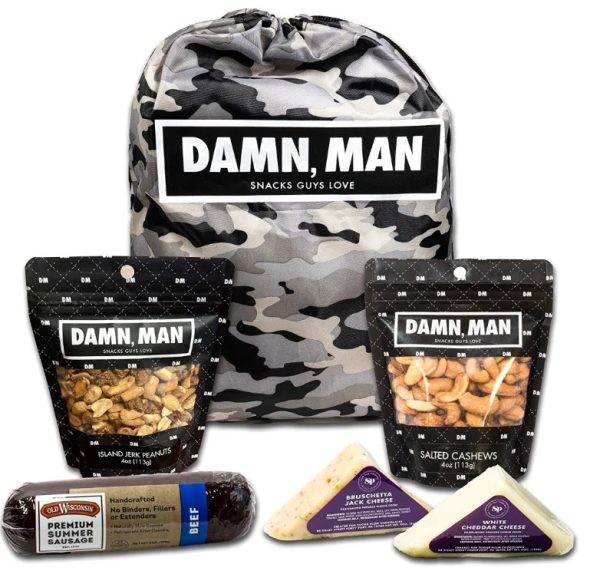 The Standard Bag Includes:
Island Jerk Peanuts
Salted Cashews
Summer Sausage
Bruschetta Jack Cheese
White Cheddar Cheese
These charcuterie bags are sure to hit all your taste cravings!
Available online at: Damn Man – Snacks Guys Love
A Reason to Socialize
Gathering with friends and socializing over a non-alcoholic beverage that drinks like a glass of wine is a wonderful way to enjoy the camaraderie of shared moments without the effects of alcohol. Why not choose a sophisticated and alcohol-free alternative that offers the same ritualistic pleasure of clinking glasses and savoring the flavors, making it perfect for parties, brunches, or intimate get-togethers?  Create a space for meaningful conversations, laughter, and the joy of being together while toasting to the simple pleasures of life, whether you're raising a glass to celebrate or just cherishing the company of friends.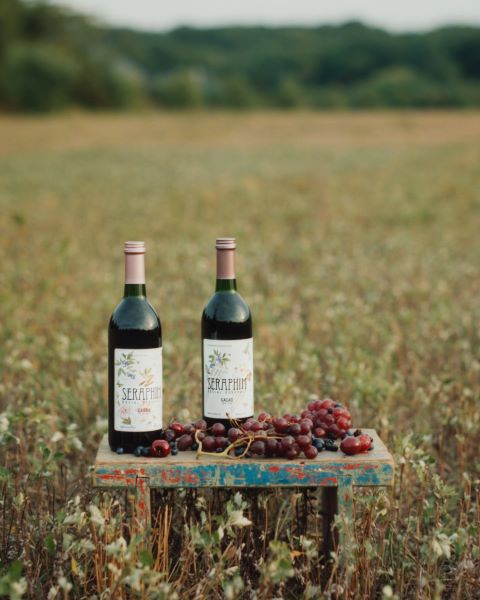 Elevate your drink choices with the award-winning Seraphim Social Beverage. This line of non-alcoholic botanical blends is thoughtfully created to prioritize your well-being. Brewed like tea and crafted to be enjoyed like a red wine, Seraphim Social Beverage's flavorful blends are formulated with consciously selected organic and wild berries, healing herbs, and botanicals, creating a symphony of harmonious flavors perfected by nature.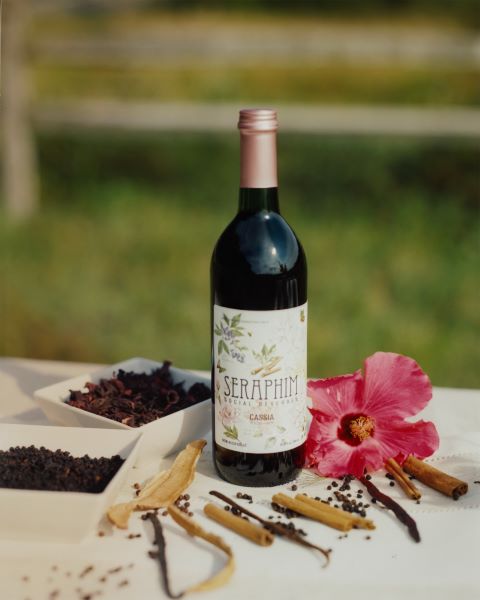 This woman-owned brand includes two exceptional blends:
Pure Blend Cacao, with velvety-smooth dark chocolate flavors
Pure Blend Cassia, capturing the essence of tart berries with a hint of cinnamon and spice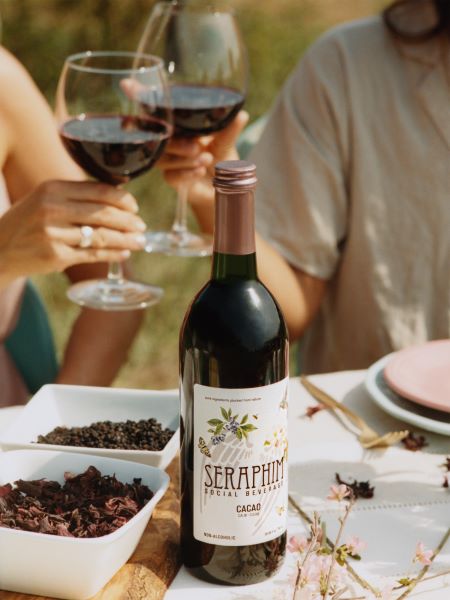 Each delightful blend is crafted without added sugar, artificial colors, flavors, or preservatives and has only 60 calories per serving. Made with mostly organic ingredients for a sustainable earth, it is also gluten-free and vegan-friendly. As an added touch, Seraphim Social Beverage's 750 ML artfully adorned, locally sourced bottles are infused with the calming energy of amethyst crystal. Seraphim Social Beverage caters to various occasions and can be enjoyed as a soothing drink, a celebratory cocktail in a wine glass, or a thoughtful gift.
The Full Bar
Creating a full non-alcoholic bar at home is a delightful and inclusive way to cater to all your guests' tastes and preferences. Stocking your bar with a variety of non-alcoholic spirits, mixers, and garnishes ensures that everyone can enjoy a customized and sophisticated drink experience. From alcohol-free gins and distilled botanicals to non-alcoholic versions of classic liqueurs, you'll have a wide range of options to craft refreshing and complex cocktails. Don't forget to include a selection of fresh herbs, fruits, and quality mixers like tonic water, ginger beer, and soda to enhance the flavors. With a well-equipped non-alcoholic bar at your disposal, you can shake, stir, and mix up a diverse array of drinks that are sure to elevate any gathering, ensuring everyone feels welcome and catered to.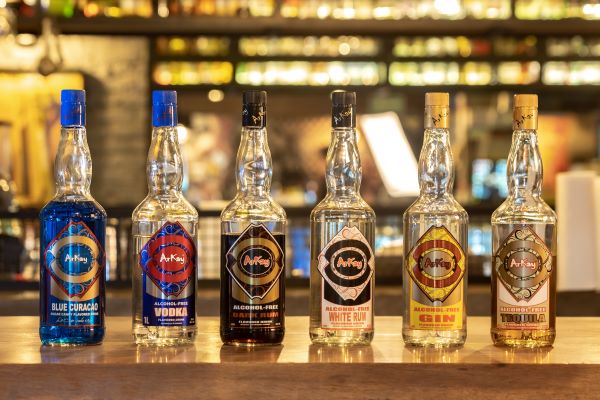 At cocktail parties, designated drivers, teetotalers, and pregnant women often are limited to drinking soda, water, or juice – options that can become incredibly monotonous. A new beverage in the market is about to shake things up and open a world of possibilities, giving everyone a chance to enjoy all the flavors of whisky with none of the alcohol, calories, sugar, or sodium.
Straight-up, "on-the-rocks" or with your favorite mixer, anyway, is a good way to ARKAY! Since it can be consumed all night long without any intoxicating effects – it contains 0% Alcohol, 0% Calories, 0% Carbs 0% Sugar, 0% sweetener, Gluten-free, and vegan-friendly.
The secret? Arkay has a small molecule inside the drink, in contact with the tongue, sending stimuli to the brain, where the mucous membranes of smell and taste saturate and make the consumer believe that he/she is drinking alcohol.
The inventor of the world's first alcohol-free whisky-flavored drink started in his garage and developed a vodka alternative, with the same kick and burn as regular alcoholic drinks, giving consumers the buzz and happy high, without the hangover and side effects, while also being a safe alternative for alcoholics, seniors, pregnant women, vegetarians, athletes and designated drivers. This reverse engineering concept in 2011 blends flavors and aromas of whisky, tequila, gin, and vodka with water, adding at the same time a proprietary molecule that tastes and smells identically to alcohol.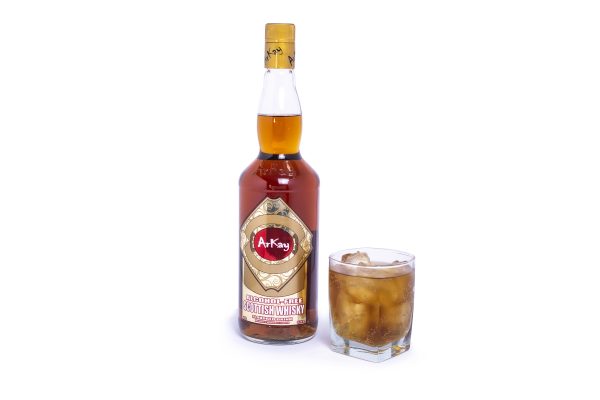 The mocktail combinations are ENDLESS as Arkay offers over 30 varieties of their alcohol-free versions of your favorite liquors (and liqueurs).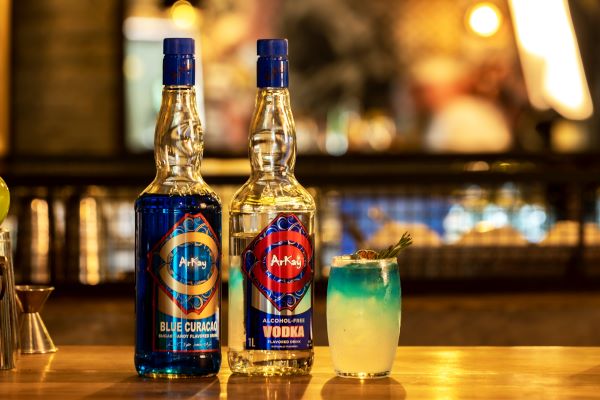 They offer
Rums
Vodkas
Whiskeys
Gins
Tequilas
and pre-mixed Cocktails like Pina Coladas, Mojitos and Margaritas
FYI, I was blown away at the flavors of all of the drinks that I've enjoyed so far. They really do taste like the real deal AND I can enjoy them completely guilt-free (not only are they non-alcoholic but they are diet-friendly).
For me, savoring non-alcoholic cocktails and wine is a testament to my appreciation for responsible and mindful drinking. These delightful alternatives allow me to relish the flavors, socialize with friends and family, and celebrate life's moments without having to have a designated driver, a hangover, or even the added calories. Choosing these options, definitely helps me prioritize my well-being, ensuring that I stay in control while still indulging in the pleasure of finely crafted beverages. It's a reminder that responsible enjoyment can be just as fulfilling and enjoyable, leaving us with memories of great conversations and cherished moments, without the alcohol.
Cheers!