I'm always on the go. Packing takes me under ten minutes and I NORMALLY take JUST what I need, with room to spare. My toiletry kit remains packed from one trip to the next. I just count out the days, bring appropriate undies & jammies and then toss in a couple of skirts and an armful of tops to mix & match. My entire WARDROBE is basically mix & match, so it's easy.
BUT – I'm so accustomed to traveling in warm weather PLUS I live in the south, so the cold weather baffles me now (you'd think after living in New England for over 50 years that I'd KNOW).
This week, I traveled to Chicago…well, really Naperville for my Butterball Turkey Talk training (BTW, I make a MEAN bird). Never knowing what October weather is like in the north, I should have prepared for everything. Here's what I packed
Underwear
Jammies
1 dress
1 Pr. heels
1 turtleneck top
1 bateau neck top
1 pr. black slacks
1 pr. flats
leather jacket
2 scarves
warm-up jacket (to either layer or wear on the plane)
Tell me what I forgot…go ahead…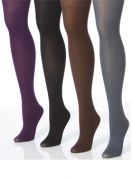 I forgot to bring my Kushyfoot Microfiber Tights, Kushyfoot Microfiber Crew socks and my Kushyfoot flats to go. What that meant is that my legs and piggies were COLD…PLUS, by midway through the evening my heels were killing me. I could have easily tucked the flats into my cosmetic bag or just tossed them into my handbag in their little package.
If you've never tried Kushyfoot Microfiber Tights, they are VERY different than the REGULAR tights on the market. They have a massaging sole, which pampers your feet with every step. I love looking GREAT, but when my feet FEEL good I can party all night long.  Of course, it all depends on the heels that I'm wearing and how long I'm on my feet. That's why I missed my Flats to Go that SHOULD have been in my handbag (but were still on the dining room table next to where I had packed). Needless to say, I walked barefoot through the hotel after dinner and called it a night…WAY too early.
I've learned my lesson. All it takes is ONE night out at 38 degrees with rain and cold (and no tights on with a dress) to remind me to tuck a pair of each into  my suitcase and LEAVE them there…JUST IN CAST I NEED THEM.
For more about Kushyfoot products, or to buy some for yourself visit Kushyfoot.com