I know it's May and the temperatures here in South Florida are soaring into the 90's, but if you know me…you know no matter HOW HOT IT IS, there's a good chance you'll see a scarf around my neck. For those who were with me in Chicago last week, you may have had a laugh when I had one around my neck and a second one tucked in my bag (to cover my legs on the plane if it got cool). I can't help myself. Diamonds may some girls' best friends, but mine are scarves.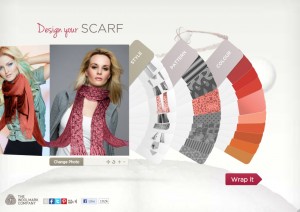 When Woolmark approached me about participating in the world's longest SOCIAL SCARF campaign, I thought it was such a fun idea, that I immediately jumped to their facebook page and created MY social scarf to be a part of the mix.
'Wrapped in Merino' features a virtual Merino wool scarf. When you head to their facebook page, you can design your very own section of the scarf and connect with your friends' scarves. The hope is to set a new World Record for the World's Longest Social Scarf and you can help! As a bonus, they are giving away Net-A-Porter vouchers every week.
Want to join in the fun? Head to the We Love Wool Facebook page and create YOUR scarf!
Full details can be found at: