So, you REALLY stocked up on wine and canned good when you got the work that you'd have to be in the house for quite a while. SMART THINKING. But, while you have plenty of Tussock Jumper on hand, you didn't buy that caviar or canned lobster meat. So, what goes well with two of my favorite wines?
Here are my choices paired with some of my favorite Tussock Jumper Wines
Have a can of chili?
If you're like me, you can add some extra zing to it and spice it up and pair it with the slight sweetness that Tussock Jumper Riesling provides.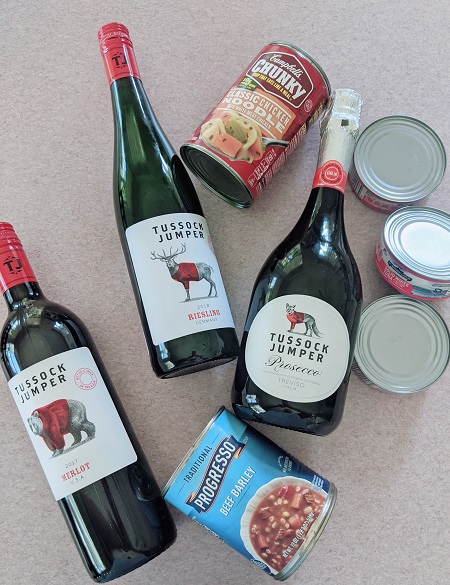 Did you stock up on soup?
I love these combos best:
Chicken noodle soup

– Open a bottle of Tussock Jumper Chenin Blanc and you'll know exactly why I paired these

Split Pea

– Tussock Jumper Riesling balances a hearty soup like this

Beef Barley

– bring on the Tussock Jumper Merlot
White Clam Chowder – I like mine with a cold glass of Tussock Jumper Chardonnay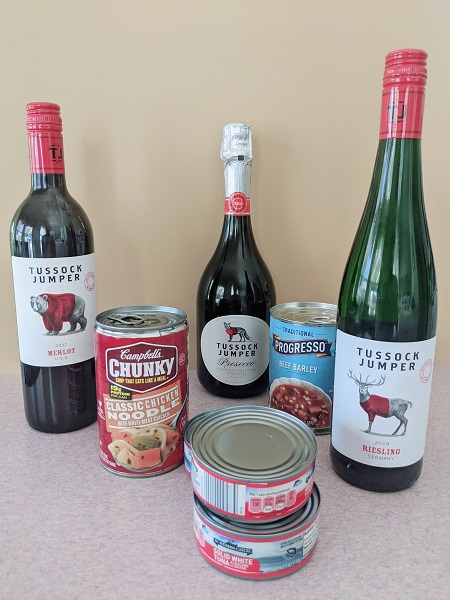 Tuna, PB&J and other sandwiches
Tuna Sandwich – I love nothing more than a glass of Tussock Jumper Grenache with my tuna. It has just the right amount of fruitiness without being overly sweet.
Peanut Butter & Jelly – If I am indulging down that rabbit hole, I need the tickles of a sparkling wine to complete the experience, like Tussock Jumper Prosecco.
Grilled Cheese – It may not be canned, but it keeps FOREVER and I love to pair the deep rich flavor of Tussock Jumper Tempranillo with cheese (even if it's American).
The best part of pairing foods you have stocked up on with wine is, that you can EXPERIMENT and no snobby sommelier will ever judge your choice. Secretly, I think they are opening a package of ramen and enjoying it with Tussock Jumper Prosecco, but he/she will never tell.
I know that a LOT of delivery services (like Instacart who delivers my Total Wine & More orders) are delivering wine to your home from local stores, so there's never a reason to run out of great Tussock Jumper Wine.
A bit THANK YOU to Tussock Jumper Wines for helping me get through the pandemic by sending me a bottle of Reisling and Prosecco.