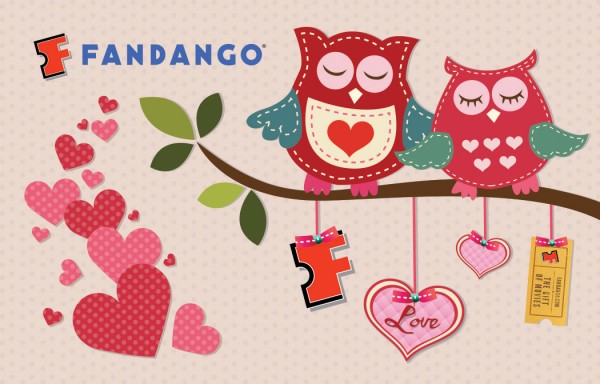 No one wants to sit at home watching the same old shows on television for Valentine's Day. At least if you're like me you don't. I want to go out and have FUN. A simple dinner and a movie (especially when it's a Thursday night) can be a real treat, and with so many great movies like SAFE HAVEN, and Beautiful Creatures opening on Valentine's Day, I can see JUST the movie that we I want.
Mr. S gets VERY impatient having to get to the theater early for tickets. Fandango makes it easy for him to order our tickets in advance. We've used the service not only for those HOT movies that we think we wouldn't otherwise get in to on opening night, but it's also perfect for a work night screening when you're pressed for time. Since Valentine's Day is also a work day, you can make your Valentine's Date Night perfect with guaranteed movie tickets from Fandango!
Fandango, the nation's leading moviegoer destination, sells tickets to nearly 20,000 screens nationwide. Fandangoentertains and informs consumers with reviews, commentary, celebrity interviews and trailers, and offers the ability to quickly select a film, plan where and when to see it, and conveniently buy tickets in advance.
Don't forget to check out their Valentine's Movie Guide for tips on the perfect movie to see — whether you want to get romantic or have a fun night out with the girls (or guys)! You can even play Fandango's Most Romantic Movie Bracket Game for a chance to win a year's worth of romantic movies! One winner will receive a year's worth of dinner-and-a-movie dates, find out how to get started here!

Plus you can always spoil your sweetie with a Valentine' Day gift card from Fandango.  They will make sure you get your movie tickets…the kiss is up to you! Check out how ADORABLE these gift cards are…

For more information:
Oh, and enter to win a $30 Fandango gift card and a $50 Visa gift card for YOUR perfect date night.
I will receive product to facilitate this review. All opnions are strictly my own.