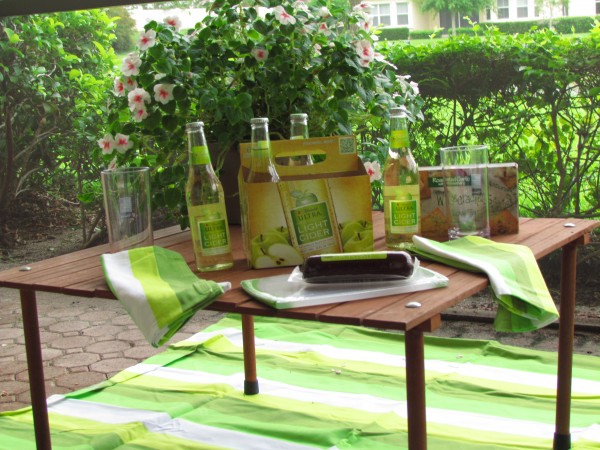 Once again Ben, our guy-in-residence is here to give his side of the story. Newly single and attempting to get back into the world of dating, he's not only pumping Champagne Living with a little testosterone, but giving us an inside look at what it's like on his side of the fence. Last week he had a date with someone he had just met….
Preparing for picnics is a difficult task. Especially when its early in a relationship and you don't know the other persons likes and dislikes. As the guy you have to find some universally liked foods (well nothing is universally liked). Sticking to the basics is always good.
So I went out on a date this past weekend (newly single…call me) and decided to go with a picnic. Honestly, I have never done the picnic date, so this was very new to me. I had my picnic basket, blanket, and place settings but what do I pack? I checked the NY Times for some ideas!
I started with panzanella. Cut day-old crusty bread into one-inch cubes. Just before leaving the house, combine it with chopped tomatoes (seeds are O.K.), chopped cucumber, chopped red onion and fresh basil. Pack dressing separately: olive oil, red wine vinegar, diced anchovies, capers, salt and pepper.
Pesto Chicken Rolls – Season and grill chicken cutlets. Brush lavash or any other wrap-type bread with pesto; layer with the chicken, sun-dried tomatoes and arugula; roll up and cut on the bias.
I also had desert covered with homemade cookie sandwiches! Mix peanut butter and cream cheese. Spread between two good cookies and make sandwiches.
The really difficult part was knowing what to bring to drink. Wine? Soda? Water? I decided to go with Michelob Ultra Light Cider. I really did not have the room in the basket for a bottle of wine and pairing the wine would be difficult for a naïve like me.
The Ultra Light Cider was a hit! The taste blended with all the food perfectly. The taste was very light not overpowering but crisp. It really brought the whole meal together.
Unfortunately the food and drink were the best part of the date! Well now I have an excuse to drink more of this wonderful beverage!
We received product to facilitate this post. Ben's views are strictly his own.
GIVEAWAY
Winner – Amy R. – St. Cloud, FL
Extra Entries
Follow me on twitter @zipporahs and tweet about this giveaway
Comment below with your tweet
Subscribe to Champagne Living,  follow me on facebook or twitter – all found on the sidebar (each counts for 1 extra entry)
Tell your peeps on your blog, facebook page or twitter about this or any post (each counts for 1 extra entry) and link to us.
Share this giveaway on any contest/sweepstakes/giveaway site for 5 extra entries..
This giveaway is open to US residents, 21 and over and ends on July 5, 2012
No purchase is necessary.
Odds of winning are dependent upon the number of entries received.
Void where prohibited by law. Liquor may only be shipped to certain states.