Enjoy these four books that are perfect for those days that you take JUST FOR YOURSELF! Make a cup of tea (or pour a glass of wine), sit outside and get lost in one of these great books.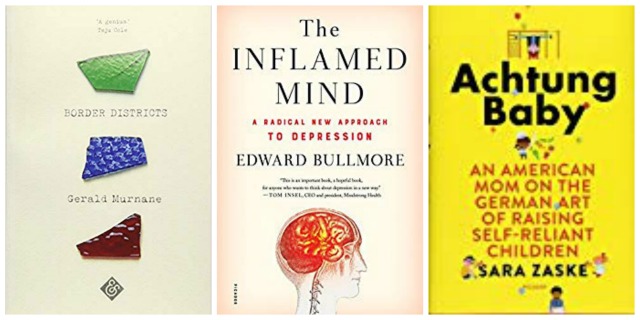 Border Districts by Gerald Murmane
GASP.
Eloquence.
Stream of consciousness with a tap of James Joyce and a timpani of ruminating Murmane…if his reputation had not preceded him…("Murmane is a genius, is a worthy heir to Beckett"…Teju Cole, The Guardian), I would have just put Border Districts down into a dusty corner of my desk and placed a coffee cup on it.
Fussy, fastidious, punctilious pedantic, dramatic, – the first pages of the elderly narrator's Thoreau-like abscondence from the noise of his capital city to a remote town to spend his last days ruminating on his interior palette and thoughts weighed me down like lead.  However, and it's a huge however, – as Murmane's philosopher transcends his scenery and leads us into his past with priests, the illusion of security in a world gone mad with noise and chaos, and other interior images of churches purged of their stained glass windows and how the colors of crushed glass coalesced and patterned themselves into their own world, his revelations lead us to a "student of mental imagery.">Existential, ephemeral, poignant, elusive and in the end majestic, Border Districts defines the reality of memory, literature, and existence itself.
As perfect as a poem, Australia's Murmane creates a fusion of thought and imagery that flows into a work of art.
The Inflamed Mind – A Radical New Approach to Depression by Edward Bullmore
University of Cambridge professor of psychiatry and scientific researcher Edward Bullmore gives us a look at a breakthrough game-changing new science on the link between inflammation in the body and depression. The immune system is the key to mental disorders and he outlines a revolution of new treatments targeted to break the cycle of stress, inflammation, and depression.
Well researched and profoundly interesting, The Inflamed Mind travels a course beyond lab and clinic into the holistic way that the mind, brain, and body work together to help us survive.
That and much more provides insight in this hopeful book with a compendium of information that just makes sense. Eye opening.
Achtung Baby – An American Mom on the German Art of Raising Self Reliant Children by Sara Zaske
Sara Zaske moved from Oregon to Berlin with her husband and toddler. She knew it would be a difficult transition and then she became pregnant with her second child. And she watched and listened and realized that German parents provide much more freedom to their children than Americans. In Berlin, children did not drive to school with their parents, they walked by themselves. They rode the subway by themselves, they cut food with knives, and played with fire, with no adult supervision. German parents were relaxed and their children thrived. It was an entirely different culture from fearful American parenting.
In an intelligent and well-documented series of anecdotes and interviews with other parents, Zaske enthralls us with the parenting lessons she learned in Germany. She goes further and offers practical examples of how to give our children the freedom they must have to grow up to be self-reliant and responsible adults.
Enthralling. I loved it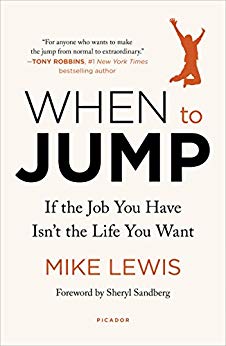 When to Jump – If the Job You Have Isn't the Life You Want by Mike Lewis
This debut How To book inspires the pursuit of your dream career. With stories of more than forty people who have taken that leap, Lewis details and lays out the "Jump Curve" – four steps to pursue your dream job instead of staying in a job you hate.
Lewis himself took the jump at 24 where he helps a prestigious corporate job when he really wanted to become a professional squash player. Mike sought help and advice from other people who had made this kind of jump and decided to share his expertise, after starting to play squash professionally.
Fascinating. And a good read.