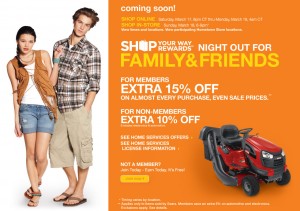 For those that have a Sears nearby, Sunday is THE DAY when you want to get into the car and drive it over, because  for only $17.99 (Use Coupon Code: 13997) you can get the oil changed on your Bentley, Mercedes, or even your Honda Civic Hybrid (like mine). Now, I don't know about you, but I absolutely HATE sitting around the garage waiting for my car to be ready (plus the smell of a mechanic's shop is icky), and apparently Sears knows that because….
They're also having a FRIENDS & FAMILY EVENT in store (and for those at home with no B&M store nearby ONLINE beginning tomorrow March 17  through Monday, March 20).
You'll get an extra 10% off of EVERYTHING (excluding electronics and automotive), but if you're a member you get 15% off. Membership is FREE and you can join SHOP YOUR WAY right now from the comfort of home. By becoming a member you'll always
Earn 10 points for every $1 you spend on qualifying purchases
Earn and redeem points online and in stores at Land's End, Sears, Kmart, the great indoors and mygofer.com
Earn your way to VIP status to receive more exclusive offers
Meet Fellow Shoppers, Earn Badges, Follow Brands, and Create Catalogs
They make it easy to socialize. Don't be shy now!
I'm just about due for an oil change, so if you're in the area…I'm sure that I'll see you there!