When it comes to doing save-the-date photos, all my fiancé and I knew was that we didn't want something traditional. No holding hands and skipping down a beach, no snuggling up under a tree as we gaze off into the distance – no. We wanted a theme that truly spoke to who we are individually and as a couple, so we went with an "awkward family photo" theme. It's tough to tell a photographer that you have your own idea of theme and shots, do's and don'ts and that you're a bit of an insane person when it comes to the angles of the photos.
Luckily, we had the amazing Nicole Glab Pereita to help us plan and execute our dream save-the-dates. Together, we showcased our wedding slogan visually and through the line, "Making it awkward since 2014, making it official in 2017."
Now that the photos were complete, we knew we needed a site that had flexibility, range of choices and would be easy for a non-designer like me to operate. Wedding Paper Divas was the immediate and obvious choice to create a one-of-a-kind piece that would stun our friends and family. Not only is the site incredibly easy to navigate, but the choices are endless, which truly makes creating and bringing your vision to life a simple reality.
There are a ton of shapes, magnet and coaster options, foils, and more to personalize. Because we wanted to showcase more pictures than information, we went with a custom template option (which they have for EVERY type of invite, which was super amazing) that allowed us to have our photographer design our save-the-date layout.
With two clicks, we uploaded our pics, reviewed our order and hit send to print!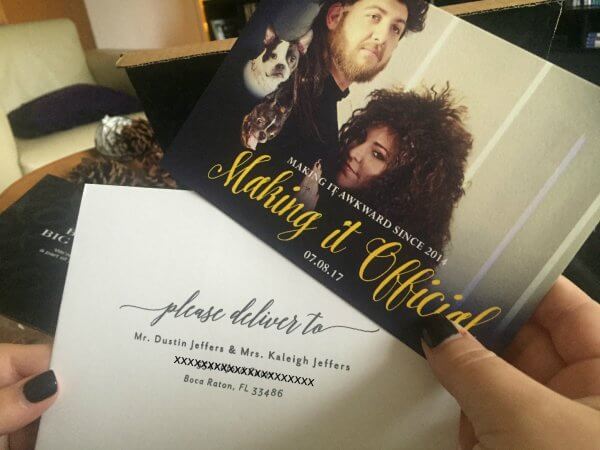 It was then that we saw the most exciting piece of the save-the-date experience from our perspective. Customized envelopes so that we didn't have to waste time addressing the envelopes! Our handwriting is not always the easiest to read, so we were so excited to input our names and addresses into the super simple Wedding Paper Divas template, upload, review and boom – off they went to printing!
Even receiving the package was such a treat. The inside of the box really completes the experience! It's cute and welcoming and made us even more excited to check out the finished product.
Our family and friends cannot stop talking about the save-the-dates and how amazing they are, and we couldn't agree more. To us, there's NO other company we'd trust more with our wedding paper needs than the Wedding Paper Divas!