The items in this post were sent to us by the brand. We do not charge them for consideration or placement as we prefer to retain the right to not place an item that we don't truly love. We may receive a commission when you purchase via our links.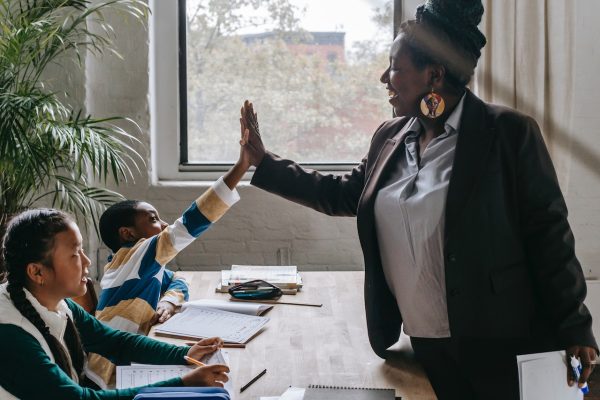 As the kids get ready to go back to school (here in Florida, they already have), I sat down with my sister-in-law, a long-time teacher who has taught middle school and high school for many years (she retired, then came OUT of retirement to teach again). Years ago, most of what teachers needed was provided by the school department, but as school budgets have dwindled, teachers have found themselves having to reach into their own pockets to provide the items that they need for their classrooms. While the image of a teacher's wishlist might be dominated by classroom supplies, there's much more to what educators truly desire. Let's delve into their unspoken wishes that go beyond classroom books and pencils and find out what teachers REALLY want as they go back to school.
In today's world, health and safety have taken center stage. The desire for a clean and healthy classroom environment is more prominent than ever. An air purifier stands as a valuable addition, working silently to eliminate germs, allergens, and viruses from the air. By gifting teachers an air purifier, we provide them with the peace of mind that their classroom is a safe space for both students and themselves.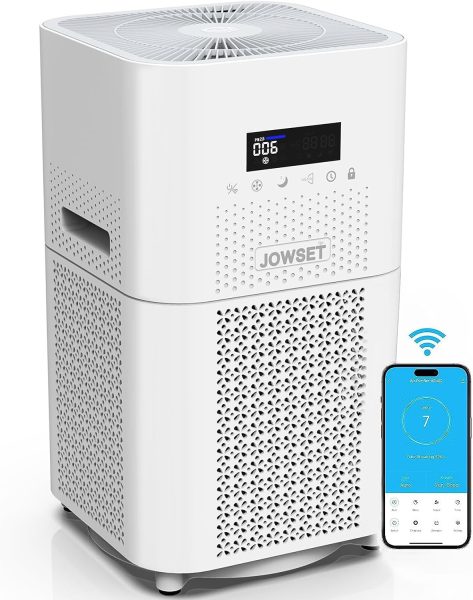 Perfectly suited for the classroom, the Jowset Smart WiFi Air Purifiers featuring the H13 True HEPA Air Purifier offer exceptional purification capabilities. Germs are inevitable in the classroom with so many children and this air purifier is designed to effectively cleanse a 365ft² room five times per hour or a 1830 ft² room once per hour.  Embracing cutting-edge technology, it can be effortlessly controlled via the Smart Home Life App or even activated using voice commands through Alexa, Google Assistant, and IFTTT. Hamster in the classroom? Don't worry, with its 360° air inlet, it captures airborne particles, including pet fur and hair, without causing blockages, ensuring the air remains fresh and invigorating.
The 4-stage filtration system, consisting of the H13 HEPA filter and an enhanced carbon element, excels at neutralizing odors and efficiently filtering out particles like PM 2.5. Furthermore, the washable pre-filter extends the main filter's lifespan by 6-8 months while preventing clogging. The Jowset Smart WiFi Air Purifier isn't just a device; it's a comprehensive solution for cultivating a healthier and more comfortable environment in the classroom.
While teachers are busy imparting knowledge, they often need a space to jot down their thoughts, lesson plans, and creative ideas. A notebook reserved solely for their personal use can be a treasure trove of inspiration. It's a canvas for their aspirations, a place where innovative teaching techniques are born, and a sanctuary for moments of reflection.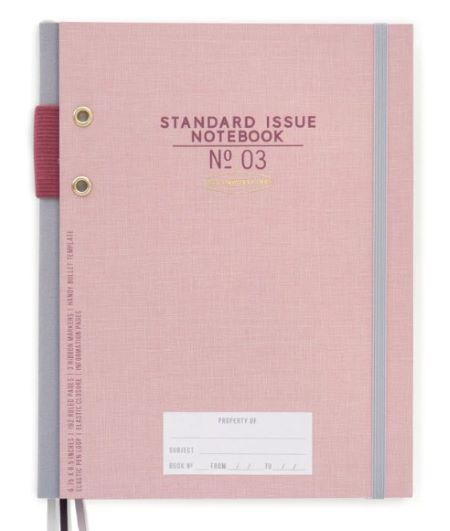 Form meets function in these Standard Issue notebooks. Whether you're creating a lesson or an idea for their next big project these notebooks are all you need. The paired clean utilitarian designs are made with high-quality construction for a premium writing experience.
Each journal is packed with handy features like bullet templates conversion charts pen holders and ID badges to help keep you organized. Standard Issue notebooks are designed to be the one piece of gear that teachers need to get through the day.
Teachers are masters of multitasking, and their lives are filled with lesson plans, parent-teacher meetings, extracurricular activities, and more. A weekly agenda or planner becomes their lifeline, helping them stay organized and on top of their game. By providing this essential tool, we enable teachers to navigate the chaos of their profession with grace and precision.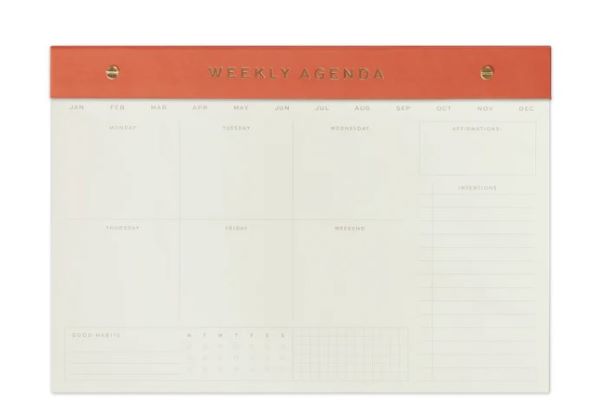 Balance is hard. So is handling a classroom of 6th graders. Thankfully, this weekly agenda can help with the first thing. Take the wobble out of your week with this elegant and handy Weekly Postbound Notepad – Chili, a chic way of getting your agenda in order.
Made for the center stage of your desk, use it to keep tabs on your top lessons, parent meetings, and even your self-care after class. Tackle those routines with the added habit tracker to keep YOURSELF together once you leave the classroom as well. You've got 60 leather-bound sheets of organizing zen to fill.
Classroom Essentials: Good Scissors and Quality Pens
The classic classroom supplies like scissors and pens might seem mundane, but they hold a special place in a teacher's heart. Good scissors effortlessly cut through craft projects, and quality pens make grading and note-taking a pleasure rather than a chore. These seemingly small items contribute to a teacher's daily efficiency and the overall classroom experience.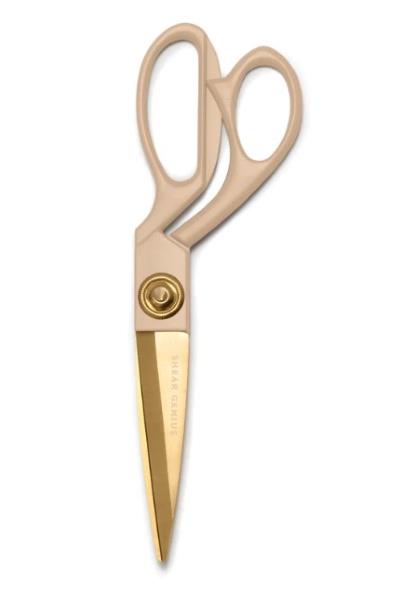 Take a snip down memory lane with these vintage-style scissors. These chic shears are the treasure of all teacher's art supplies. With glossy taupe handles and durable stainless steel blades, these scissors are a cut above the competition and are designed to whimsy up your desk.
Among the arsenal of classroom essentials, a glue gun stands as a powerful tool that can transform ordinary lessons into captivating experiences. With its ability to effortlessly bond materials, a glue gun opens the door to a world of creative possibilities. From crafting engaging visual aids to assembling intricate projects, this versatile tool fosters hands-on learning and sparks students' imaginations. Teachers wield glue guns as magical wands, turning simple materials into captivating educational masterpieces. Just as a glue gun solidifies connections between objects, it also symbolizes the unbreakable bond between educators and their students, creating an environment where knowledge sticks and curiosity thrives.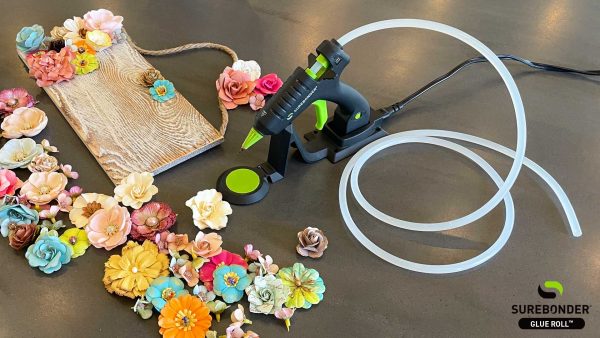 Teachers will love this crafting toolkit for school projects and decorating the classroom! Celebrate the freedom to create with this cordless hot glue gun. This kit contains a selection of the brand's best-selling specialty glues and the new crafter's favorite glue gun, the CL-195F, which allows for you to craft for up to 2 minutes cord-free! Simply return the glue gun to the stand to reheat after each application. Create anything with fabric, jewelry, color, glitter, and all-purpose 10" mini glue sticks. They will love that this kit features built-in safety, such as an insulated nozzle and a fuse.
Teachers appreciate these little gifts from parents and students. What have you put on your "must give" list to your child's teacher this year? I'd love to hear.