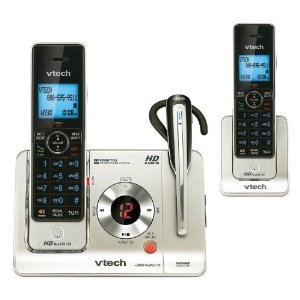 Do you ever get ""into the zone" when you're getting your work done, the mojo is flowing and you just want to keep it going. Then THE PHONE RINGS and you have to leave the computer, walk into the other room, see who's on the caller ID, answer it and now you've LOST it? The mojo is gone, the blog post no longer has flow and you're attention is somewhere else? THAT JUST DRIVES ME CRAZY.
But, I don't have to deal with that anymore, because (as you saw in the video), I don't have to get up to answer the phone, don't need to see the caller ID to know who's calling and can order the rest of my family to get cracking via intercom…right from my new Vtech LS6475-3 two-handset phone with HANDS FREE calling. The BEST part is that I can spend time talking to my friends like Jewel, Lisa and Katja and be blogging at the same time.
Did I mention that it's got a slew of great features?
* Remotely retrieve messages on the digital answering system.
* Easy to use, standard wall mount capability.
* Backlit message counter.
* Audible time and date stamp on recorded messages.
* Stylish metallic finish.
* 50 name and number phonebook directory.
* Trilingual prompts allow you to choose between English, Spanish or French.
* Multiple over the ear and over the head wearing styles.
* Caller ID/Call waiting stores 50 calls.
* DECT 6.0 digital technology provides the best sound quality, security and range in cordless phones.
* Audio equalizer allows you to choose from 4 different profiles to best match your hearing.
* Excellent range, up to 500 feet.
* VTech supports RoHS initiatives by reducing the use of hazardous substances including lead, mercury and cadmium.
* Energy Star Compliant.
* Expand this system up to a total of 12 cordless handsets and 2 cordless headsets.
* Hearing Aid Compatible.
* Blue backlit keypad and display.
* HD Audio provides an extended frequency band allowing for the signal to be reproduced and tuned for a fuller and clearer sound.
* Voice Announce Caller ID audibly announces the name and number of the caller on all of the handsets and base unit. No need to find the handset to see who is calling. Makes screening calls that much easier.
* Push-To-Talk acts as a multiple handset walkie talkie system to instantly communicate with any or all of the handsets within the system.
* Interference free for crystal clear conversations. Won?t interfere with wireless networks and other wireless devices.
* With the touch of a button, the handset speakerphones makes hands-free conversations easy.
* Handset volume control.
The bottom line is, that it really HAS made work easier for me and I spend less time getting distracted when I can stay focused on what I'm doing. I've used it when housecleaning (which I HATE to do – so getting it done quickly with no interruptions is important), while blogging, even while watching TV (yes, I AM that lazy).
For more information about the Vtech LS6475-3 two Handset DECT 6.0 Expandable Cordless Phone with One DECT 6.0 Cordless Headset, Push-To-Talk & HD Audio go to Vtech.com
I wrote this review while participating in a campaign by Mom Central Consulting on behalf of VTech and received a product sample to facilitate my review.