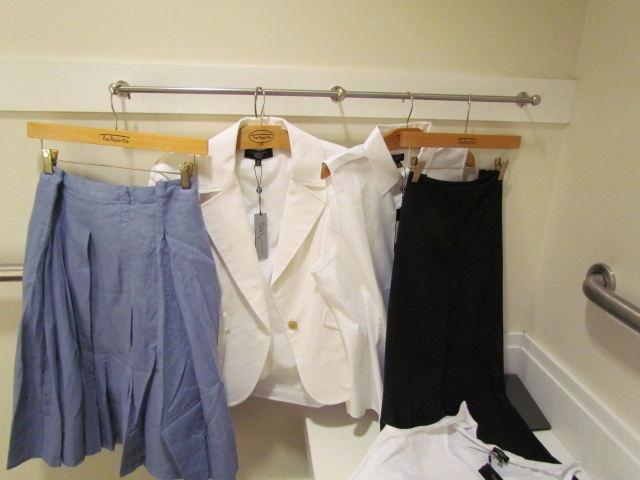 This coming Wednesday I have yet another wonderful event to attend. This one is at a luxury hotel on the beach in Delray to celebrate the Grand Opening of a new concept store down here in South Florida (you'll get the opportunity to come along with me via photos, video and a post or two). While this type of "Champagne Living" is fun, there is the constant problem of what to wear. Quite often I run into the same people that I did at the event the previous week, and wearing the same pieces over and over gets a little…TIRED. Personally, while I love wearing dresses, for this event I didn't want to spend that much, so I figured a nice skirt that I could easily mix and match with what I already own would be perfect.
THE MALL – Discount stores are fun, but the mall is DANGEROUS. I have "shiny thing syndrome" (medical term) and walking past the windows and through the department store gives me whiplash and a case of carpel tunnel. My head swings back and forth as I ooh and ah and the unzipping or my wallet and signing my name to receipts makes my fingers all numb and tingly (but somehow I manage to fight through the pain).
THE PLAN – As I was on my way home from South Beach (a 2 hour drive from home), I figured that I'd swing by Palm Beach (my halfway point) and go to "my" mall (there are LOTS of malls, this one is the one that I typically shop at – if you're a shopper you understand the concept of "my mall"), run into Talbot's for a classic piece that I could wear during the day and dress up for evening and get out (all this without the use of blinders).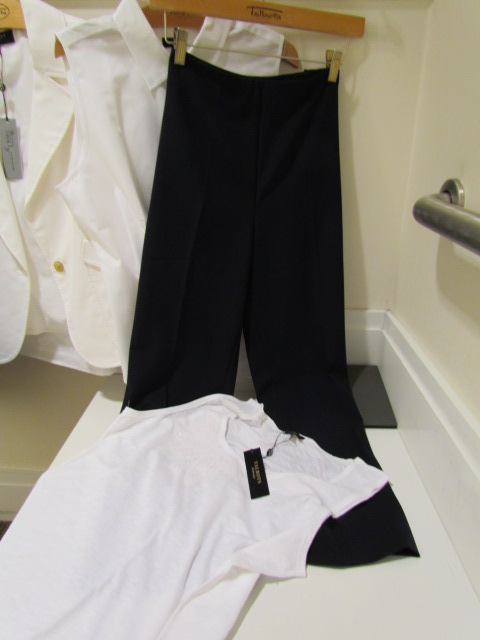 THE STORE – I love Talbot's window displays. They tend to be very simple. A lot of window dressers don't understand the concept of less is more when it comes to women and window shopping. They over accessorize and throw too many pieces into the window. I want to stop, stare and be drawn to that ONE OUTFIT in the window that screams – "I'm going to look so good on you that people will stop and ask me if I lost weight, who my hairdresser is, do I have a new boyfriend (the "glow") or WHERE DID I GET THAT OUTFIT?" The window is where it ALL happens. It's the showcase for the best in the store. Talbot's window dressers (or the people who do the plan-o-grams both window & in-store) actually understand how to appeal to me.
THE HISTORY – Mom used to shop at Talbot's. For some people that would conjure up an image that says out of date, old, un-cool, etc….except that my mother was beautiful, elegant and dressed like a million bucks. She had the perfect figure and a smile that would immediately draw you to her. She understood the difference between style and fashion, and could wear pieces that she had purchased 20 years earlier and make them look like they just appeared on the rack this year. I KNOW FROM EXPERIENCE that I can walk into a Talbot's and buy something today….and wear it for MANY, MANY years and it will still look stunning.
SHOPPING – Perhaps it's the change of season, or maybe the buyers were handed a WAD of CASH and told to go crazy…this store was STOCKED. It was stocked with luscious sherbet colors that said SUMMER, there were classic navy and white separates that could be worn year round, the shoes (oh, the shoes) and accessories to actual MATCH or rather ENHANCE the clothes. Wading through the racks was fun. I had an idea – navy & white – that was my ONLY idea walking in. I grabbed a myriad of blues and navy's. There were classic shirts, well cut slacks, skirts that were FUN, new trendier/edgier t-shirts and linen shirts. WAIT – did I just say the words trendier and edgier when describing Talbot's? YES. It seems like they have found a way to combine the classics (the store would still appeal to those shopping for the "standards") with some of the HOT NEW designs found in some of the trendier stores. Bravo Talbot's! There were still a few items that had me scratching my head, like the orange cropped pants that I could see on a 78 year old, but perhaps that's the point (78 year old's from Boca can shop alongside me and we both exit with a bag).
THE FITTING ROOM – What? Why would I talk about the fitting room? Well, for one thing I love a well stocked boutique. Back in Rhode Island I'd go to a ridiculously overpriced boutique that was owned by someone that I knew. Think couture meets outrageous, with $250 t-shirts and a table to get a mani/pedi in case your nails didn't look perfect in those sandals you tried on. Why would I overspend? Because ALL of the stores accessories were duplicated there. So, if I tried on a dress, I'd simply grab a scarf or a necklace, earrings and a handbag and be able to see how the item that I'm thinking of purchasing would look when I "finished" it. It's also a REMARKABLE way to upsell. Talbot's has instituted the same concept in their fitting room. I was greeted by a rack of GORGEOUS scarves and a table with different styles and types of jewelry. SMART, SMART, SMART
THE SIZING – I'm going on record to say that I LOVE Talbot's sizing. I always have to go down a size when I shop there. Psychologically…it makes me feel WONDERFUL and if I can knock 2 digits off of the size, I'll add 2 to the bill.
THE PURCHASE – I found the most beautiful lined linen skirt ON SALE. I went in thinking BLUE and came out purchasing gray (I also bought a cute eggplant colored tank with some trendy detailing). It was a smart purchase, as I have LOADS of black tops. Add to that the fact I can pair it with everything from blue, to black – and from purple to more gray and I knew that I had a versatile winner.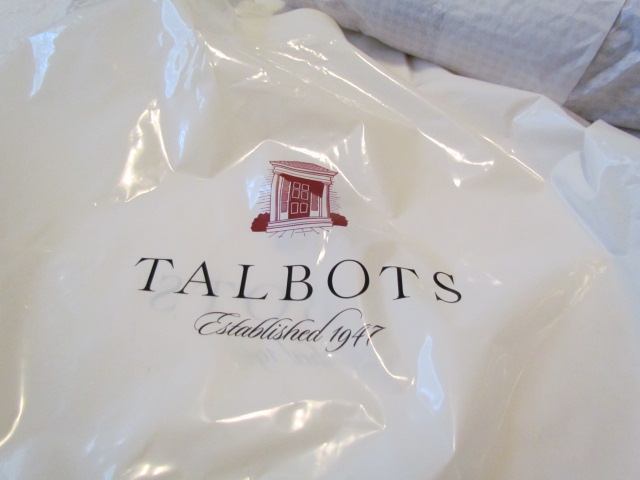 THE CLOSET – Once home, it fit perfectly in my closet. Is that a strange statement to make? I actually have my closet designed so that clothes are sorted by item, style and color. When something doesn't fit with my wardrobe – I can see it the moment I hang it up.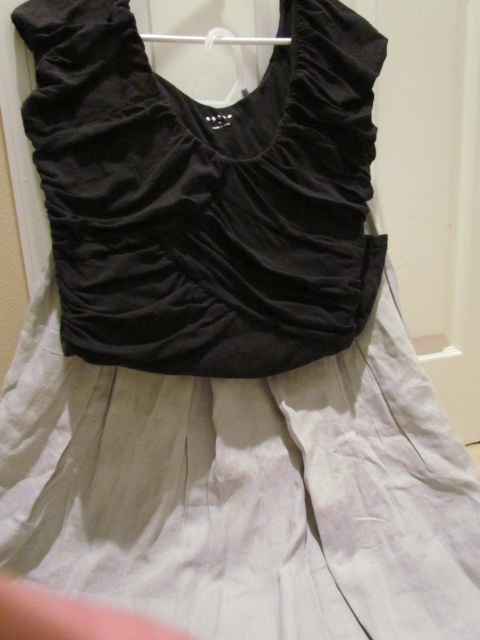 ODDS & ENDS – While I love Talbot's their sales staff is not  my favorite. I struggled for the first half of my shopping experience, holding hangers while looking through the racks as the saleswomen chatted, hung clothes, etc. The shopper should be their first priority. The racks can WAIT. Add to that the fact that I would have liked to have been shown other tops, ideas for jackets, etc. to go with my purchase. Maybe I'm a bit high maintenance, but if I'm spending money I expect to be able to have their expertise of the clothes, designs, etc. to help me…otherwise I'd shop at Costco.
While the photos here are so-so (yes – that IS my finger in that last picture), I'll have photos from the affair that I'm going to after Wednesday. Hopefully it will be a good "fit."
This shop has been compensated as part of a social shopper insights study for Collective Bias. Opinions are always my own.