The global pandemic has shown us that our homes are often our sanctuaries in more ways than one. If you're keen to set yourself up in a way that means you can do more from the comfort of your home, you might like to add a home gym to your property. There are numerous factors to consider when creating this space.
Choose the Right Area
The first step is to work out where you want to set up your home gym. You need to ensure you'll have enough space to move about freely and that you won't disturb family members, housemates, or even neighbors if you listen to music, hit a boxing bag, jump around, or otherwise create some noise while you work out. Most people find that a good spot for their gym is the basement or garage or a spare bedroom, but it all comes down to your needs and property options.
Think About How You Want to Use the Space
Before shopping for gym gear, work out exactly how you want to use the space. For instance, do you want a treadmill and a bike, a variety of weights, a Pilates reformer, some mirrors and a bar to do ballet in front of, or a good sound system so you can dance in the space?
If you think you might want to tackle various types of exercise in your home gym, it's worthwhile considering multifunctional pieces of equipment that won't take up so much room and give you more flexibility. If you're focused on one or two workout areas, though, such as weights and cardio or Pilates and yoga, you can concentrate more on setting up the space to suit those activities in particular.
Consider Your Budget
It's wise not to go ahead with the gym conversion until you've set yourself an overall budget for the project. Think about how much you feel comfortable spending to get your home gym set up, and then work back from there to decide where to allocate these funds in the best way.
The equipment you buy for the space will likely be your major expense, but you could have other costs to factor in, too. For instance, you may need to pay for a contractor to do some work, such as insulating a garage to make it more amenable to work out in, adding a patio over an outdoor area, or even removing or putting up a wall between rooms.
Consider rubbish removal costs and charges for work like adding power points or special sound or lighting setups, among other things. Extended warranties and shipping fees may be applicable, too.
Start Small and Build Supplies Over Time
The more limited your budget is, the more it pays to start small with your home gym and build up supplies slowly over time. Think about the one or two main pieces of equipment that you want to use upfront and that you can do the most exercises with, and start with those.
You might also find that you can save a lot of money if you purchase pieces second-hand. Many thrift stores and garage sales have sporting goods for sale at a low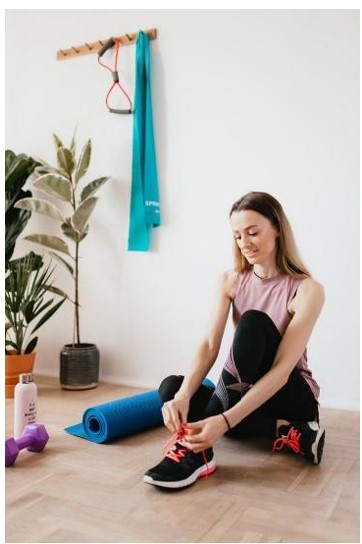 price, or you can see if any family member or friends have items they'd like to donate or sell affordably. Keep an eye on swap sites on Facebook and other avenues, as well. Do be careful with buying second-hand pieces, though, especially electrical ones. Always check them out thoroughly to ensure they're working correctly and will be safe before you bring them home.
Consider Other Practical Elements
When designing and creating your home gym, don't forget other practicalities such as heating and cooling options. You may want to install a reverse-cycle air conditioner if you live somewhere that gets very hot or cold, but in many cases, you'll find a fan or two is adequate. Search online and you'll find many products to choose from, including quality rustic ceiling fans and modern stainless steel options; there's something to suit every décor.
Also, additional storage for smaller pieces such as exercise bands, light hand weights, yoga straps, blocks, skipping ropes, and the like. It helps to install storage up higher on the walls for things like exercise balls, too, to get them out of the way.
Plus, choose appropriate flooring that will be kind to your knees and the rest of your body when working out and reduce the amount of noise your gym time creates. Rubber flooring is often a good solution.
Once you have your gym all organized, do what you can to make the most of it. Schedule exercise appointments for yourself like you would a meeting, create goals for your workouts, and break up activities into short bursts to fit between other tasks as needed.