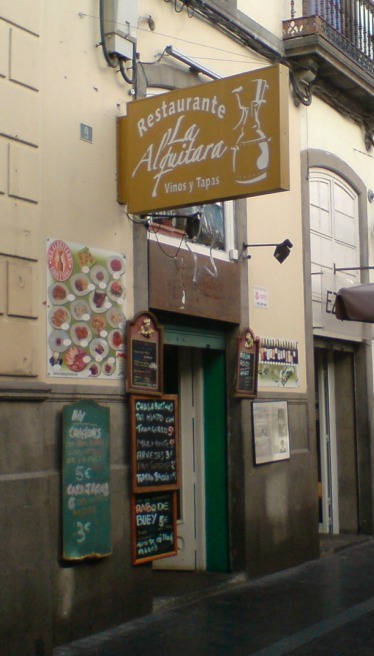 Matthew Hirtes of Going Local in Gran Canaria. How to turn a holiday destination into a home. offers his favorite restaurants in a destination he knows all too well, having just written his first book on the area. Here are his favorite places to grab a bite.
Much more multicultural than other Spanish municipalities, thanks to its internationally-celebrated port, you'll likewise find a diverse culinary scene in LP. One more reminiscent of bigger cities like Barcelona.
1. Bar Rosmi (*Paseo de las Canteras 43*; 928 22 54 77) –  with a menu 11 entries short, nevertheless offers a more authentic introduction to Asian cuisine (in this case Korean) than the Chinese buffet eateries littering the rest of the promenade above Canteras beach.
Nearby, you'll find the exception proving the rule that it's impossible to find a good vegetarian restaurant in Las Palmas: the recently-opened
2. Bambu (*Paseo de las Canteras* 63; 928 22 25 74). – Old staples seitan and tofu dominate the menu but they're sexed up beyond belief by a dynamic chef who even managed to make a starter that I ordered, which was essentially a plate of spinach, one of the most mouthwatering dishes I've ever enjoyed.
On the other side of town, head to
3. La Alquitara (*Calle Domingo J. Navarro* 9; 928 38 49 59; www.laalquitara.es). – Housed in the bustling central shopping area of Triana, LA is a veritable temple of fine dining. Ignore the tacky pictures of food which ´adorn´ the restaurant's exterior. For the tasting menu, lovingly crafted by head chef and owner Emilio J. Cabrera López, is one of the most imaginative on the island and if you can't find a decent wine to accompany it; you're obviously not looking hard enough, given there are close to 1,200 labels to choose from. Fusing Basque-Country cooking with Canarian cuisine. La Alquitaria's a temple to cod – with said fish appearing in no less than 18 dishes on the set menu. No wonder there's an international shortage.
For more from Matthew you can always catch up with him on: