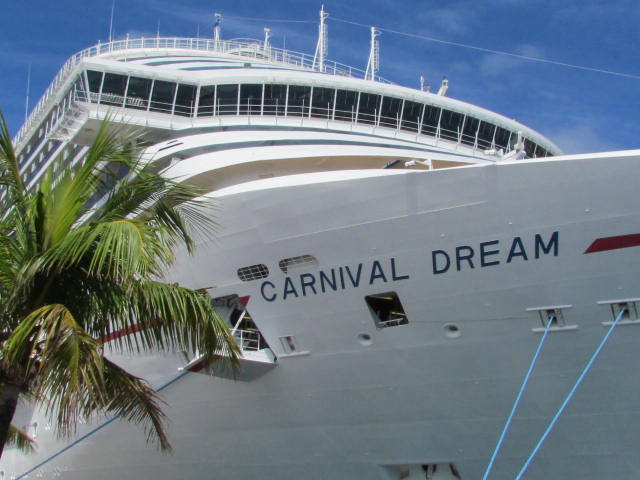 Less than two weeks ago I was cruising the Eastern Caribbean on the Carnival Dream. When I return from a major press trip, I take a while to really gather my thoughts and impressions before writing. I do this because there may have been something that happened that wasn't absolutely perfect, and I want to make sure that I'm not making a big deal out of it because it's so fresh. On the other hand, sometimes I come back SO VERY excited and I when I look back a week or two later, I realize that I can see a lot more clearly, and I'm not writing a manic article.
It's been a bit over a week since I've returned from my 7-day cruise on the beautiful Carnival Dream with Mr. S, and as I've gathered my thoughts I've been making a list of why you should book a cruise on this ship ASAP.  I'll be writing more about my experience, but the ship is going to be leaving Port Canaveral in Florida and heading to New Orleans where she'll be cruising from NOLA to the Caribbean through August, and if there was EVER a trip to be had…bundling a stay in New Orleans with a voyage on the Carnival Dream is it.
Champagne Living's Carnival Dream top 10 list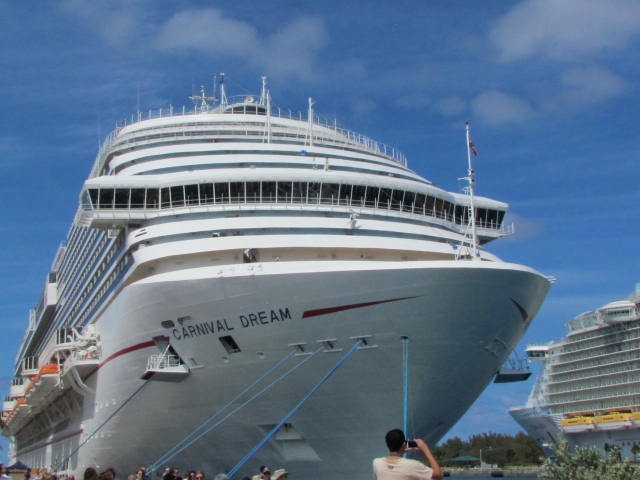 1. Dollars to $$, a Carnival vacation is a BARGAIN.
Where else can you visit the Cayman Islands, Jamaica, and Cozumel for only $53 per person, per day (plus taxes & port charges)? A hotel room for one night, with nothing but a bed and bathroom costs more than double that. Watch the sales on Carnival.com and you'll be vacationing in the Caribbean for the price of 2 nights in a roadside hotel.
2. Don't skip the Punchliner Comedy Club
The new Comedy Clubs presented by George Lopez are not only beautiful, but the comics are top notch. I had expected one or two comics for a 7-day sailing, but there were FOUR. Needless to say we returned again and again. We absolutely LOVED Brian Bradley, and his all ages show had us in stitches (and I wasn't expecting a kid-friendly comedy show to be that funny). If you're with your family – TAKE THEM to the all-ages show. You'll ALL love it.

3. Chef's Art Steakhouse
Cruise ships have to feed thousands of people daily…the Dream carries upward of 4400 passengers and 1300 crew members, so my expectation is the same as going to a chain restaurant on land. That's not a bad thing, but it's certainly not Peter Luger's. Both Mr. S and I were completely seduced by the melt in your mouth tenderloin artfully plated with perfectly cooked sides. Add the bottle of Moet Prosecco that we shared and it was a romantic evening of great food in an elegant steakhouse atmosphere. Chef's Art rivals the finest steakhouses that I've reviewed in the past.
4. Book a Balcony
My suggestion when cruising is to book a balcony, have breakfast or dessert delivered to your stateroom (along with a glass of wine) and watch the pelicans dive for food and the occasional school of dolphins swim alongside the ship as you relax just outside of your cabin. It's one of those upgrades that is well worth the price. I'm not embarrassed to say that I ditched the dining room on most mornings and enjoyed breakfast this way.  A little self indulgence goes a long way.
4. Take a Mulligan
While there is no golf simulator aboard the Dream (Mr. S's only disappointment), there is a miniature golf course. Mr. S and I have been on about a half dozen cruises, many with mini-golf and this one is well maintained (no artificial turf buckling), with while it may not be a Tom Fazio par-72 golf course, we had a challenge going on. Let's just say a wager was involved and when he wasn't looking I may have taken a Mulligan.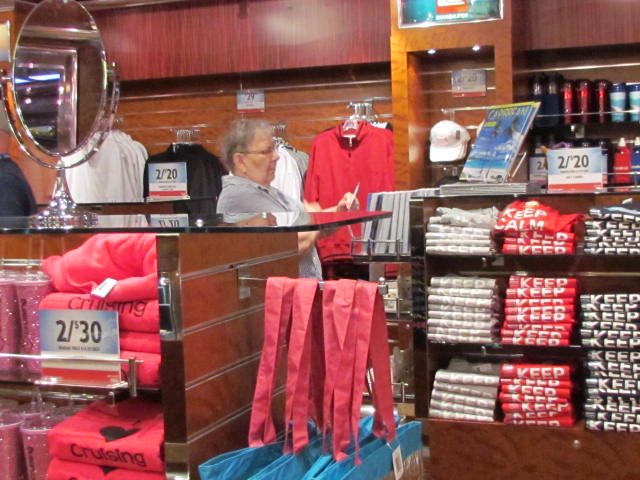 5. Go Shopping
This is a personal favorite of mine, and while I fully expected to be shopping in the ports off of the ship (I picked up 3 new Alex and Ani bracelets – a cruise, a Caribbean, and a St. Maarten one in the islands), the jewelry and perfume shopping on the ship had deals that rival those in the ports.  Even the liquor was inexpensive. So, if you find yourself in need of a little retail therapy…head to the Promenade Deck (deck 5) for a little something to bring home. Don't worry, I never told Mr. S about the Tag Heuer event on Sunday.
**Don't miss the daily sales. Each day different items are put on clearance style tables at drastically reduced prices.**
6. Buy some chips
Or play the slots. Mr. S won $240 on the Wheel of Fortune slot machine and I played blackjack for days (and spent my winnings on jewelry of course). The casino action gets going once you've pulled out into International waters. There was even a $100,000 blackjack tournament, but I chickened out (Mr. S wanted me to show my mad gambling skills, but I don't play at night when I'm tired).
7. You can dance if you want to
Men at Work had it right, and it's your choice whether to put on your dancing shoes or just sit and enjoy, but whatever you do you'll have more choices than you can imagine. From cool Lido sounds with your DJ by the pool, to live jazz daily in the Ocean Plaza, or the nightclub with DJ Sir Charles and Chronos (on the Dream) there are eight or nine spots to listen to your favorites or get down on the dance floor.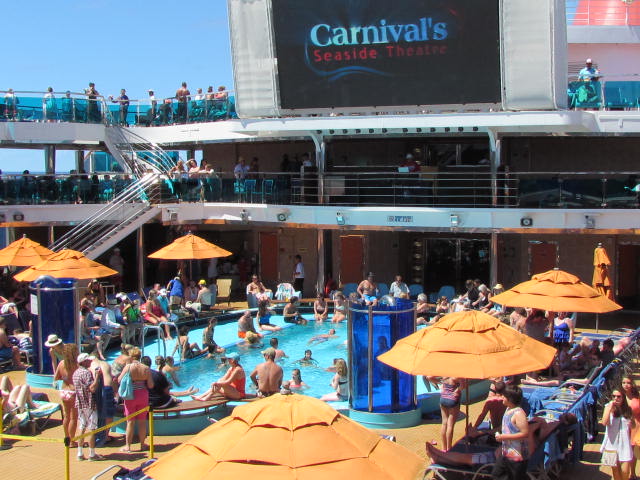 8. Catch a flick
Yes, you can lay in your stateroom and watch movies on the TV, but WHY just lie in bed when you can grab a box of popcorn, stake our your favorite lounge chair and watch on the Lido deck at Carnival's seaside theater. Daytime movies are geared to the kids (but you'll enjoy them as well) and evenings bring concerts and movies that are geared to adults.
9. Leave younger than you came
No, there's not a time machine on the Dream, but there is the FABULOUS Cloud 9 spa, and you and I both know that nothing takes off years than a little relaxation (and maybe some botox). So, book a massage, get that anti-aging facial, or make an appointment with the doctor for some Botox,  Dysport, Restylane, etc. Plump your lips, non-surgical brow lifts, or adding volume, are just a few of what the doctor offers. A 15 minute consultation at the med-spa is free. My suggestion, you never tell your friends that you did it, let them think a good vacation made you look 10 years younger.
10. I never thought I'd say this
BUT > Don't miss the hairy chest contest. I was ready to leave the pool area when they announced it but stayed for a few minutes. That few minutes turned into laughter, a few drinks, and new friends. As ridiculous as it sounds (and it is), it is good old-fashioned FUN. I swore I wouldn't tell anyone that I enjoyed it, but what the heck. You deserve a laugh as much as I do. SO GO!
I'll have more about my 7-day trip on the Carnival Dream soon. In the meantime, check out the great deals they offer on Carnival.com and don't miss bundling a weekend in New Orleans with this Carnival cruise.
Details: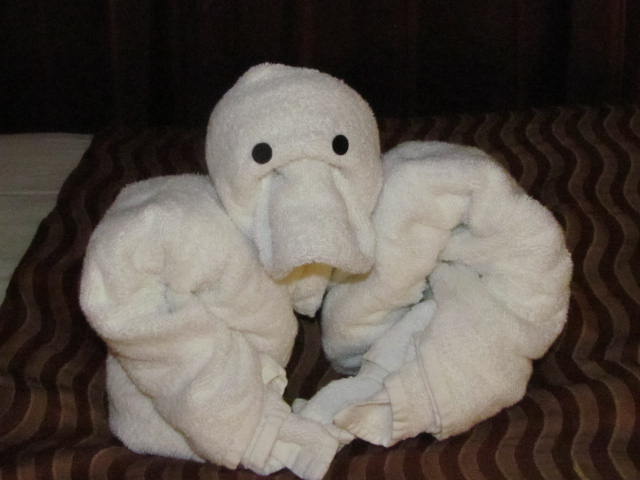 Thank you to Carnival Cruise Lines for providing both my husband and I a 7-day cruise on the Carnival Dream. We had a BLAST!