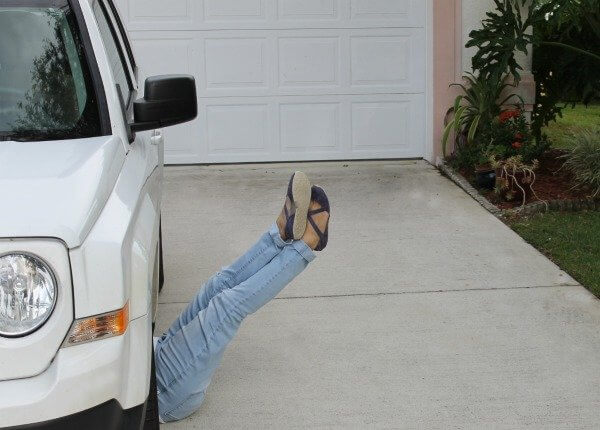 And…it's not
knit an Irish Wool cable knit sweater
cook a recipe with 174 ingredients
skydive into the Grand Canyon
build a popsicle stick version of the Taj Mahal
It's something simpler…but it's JUST as scary and probably more messy than all of the above. While others may have a 7-layer cake saved in Pinterest…I have this…

I've always wanted to learn
HOW TO CHANGE THE OIL IN MY CAR
I come from a family of…if it needs to be done, you take it to the proper person (in this case my trusty mechanic or the dealership), but even if I NEVER DID IT AGAIN, I wanted to  know how to TO IT MYSELF.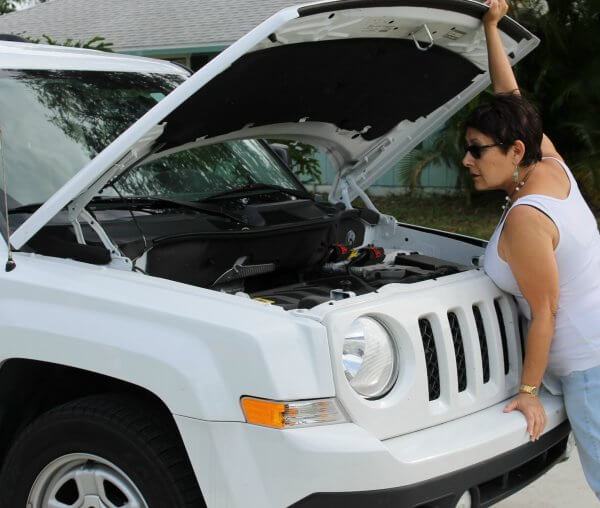 When Clorox 2® Stain Remover & Color Booster challenged me to and "Inspiration Procrastination" and try out one of those DIY crafts or recipes I had saved (on Pinterest or torn our of a magazine), I decided to take the road less traveled and slip under the car to get a look at what it's all about. I wanted to learn where things are and what I'd need to DIY.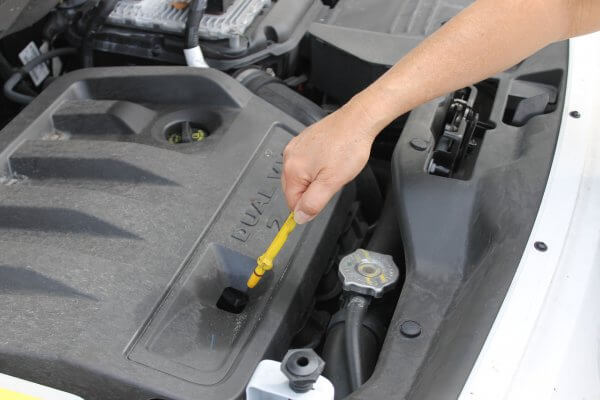 CHECK THE OIL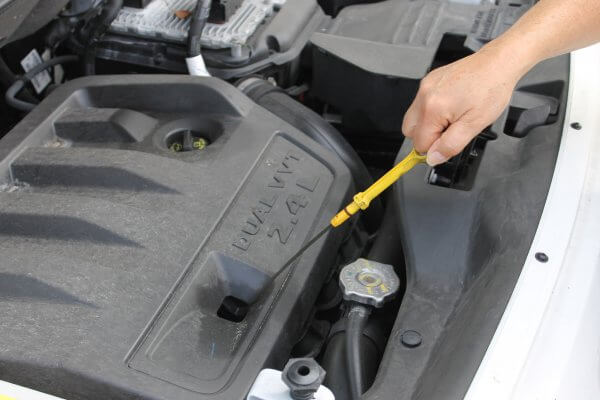 I do this regularly. You'd be surprised to learn that not only do I check the fluids myself (and replace them), but I've also replaced belts and hoses. For those who've never done it…
Find the dipstick (it's usually got a yellow handle)
Pull it out and wipe it off
Place it back into the pipe (if it feels like it doesn't fit, turn the dipstick – there is a CURVE to the pipe) ALL THE WAY
Pull the dipstick back out and look at the tip. There are markings on it that say "ADD" and "FULL."
If the oil is on/below/near ADD – look for the oil cap. It is usually the LARGEST SCREW ON CAP ON THE ENGINE.
Add the correct weight of oil oil according to your car's manual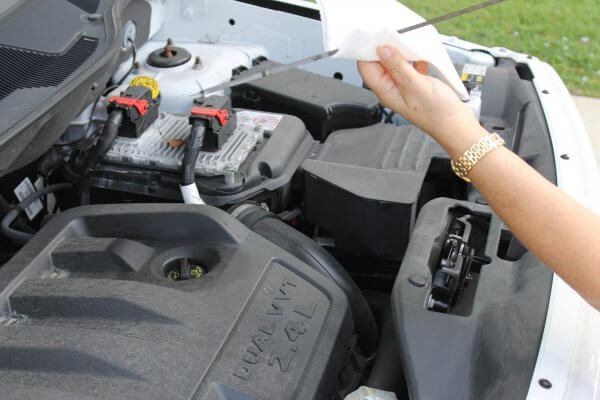 IF THE OIL IS BLACK
Smudge a little of the oil between your fingers. If it's low, gunky or black it's TIME TO CHANGE the oil.
As you can see, mine was fine, but I wanted to see what it looked like under my car.
IMPORTANT: PUT YOUR EMERGENCY BRAKE ON BEFORE DOING THIS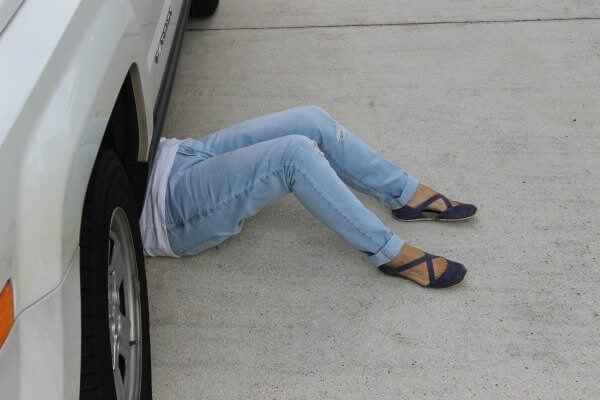 I slid under to find the oil plug. Honestly, I needed the car to be jacked up, not only for safety reasons, but it was a tight fit. I found the plug easily.
TO CHANGE YOUR OWN OIL
Look for the oil drain plug and filter
Put a drain pan (so the oil doesn't go all over the place) under where you see the plug
Unscrew and drain the oil into the pan
Replace the plug
Unscrew the oil filter – make sure to take off the rubber gasket (it can get stuck to the engine, so you might have to peel it off).
Replace the oil filter
Add oil (see above)
RECYCLE THE OLD OIL!!!!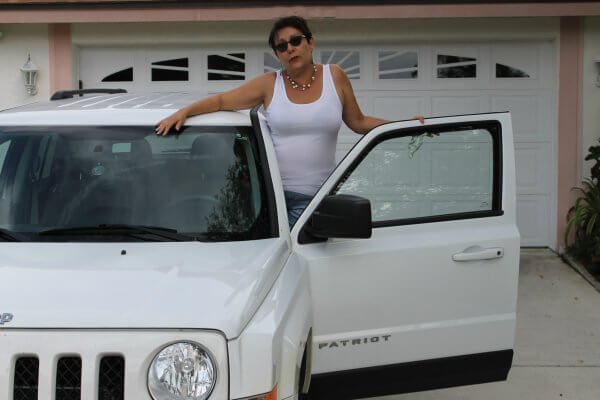 You WILL get dirty. I didn't get oil on me (other than my hands), but I did get LOTS of dirt from laying in the driveway. I took care of that with Clorox 2® Stain Remover & Color Booster added to my laundry (AND to the stain). I knew that I'd be able to wear that shirt again…it's been through chocolate smears and glue, spaghetti sauce and dog drool…and now…driveway dirt.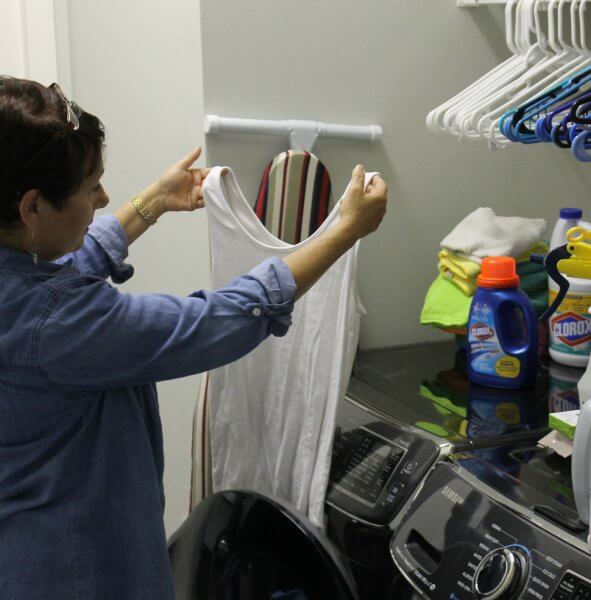 Don't be afraid of doing those projects that you've ALWAYS wanted to do just because they're MESSY. Just make sure you have the right tools…be it a glue gun for your craft project, a candy thermometer for making chocolate truffles, your favorite detergent and a bottle of Clorox 2® Stain Remover & Color Booster to take care of the mess you made by removing FOUR TIMES more stains than using JUST detergent. You can also pre-treat with it to remove more stains…so go ahead and get that bucket list inspiration done and don't worry about getting dirty.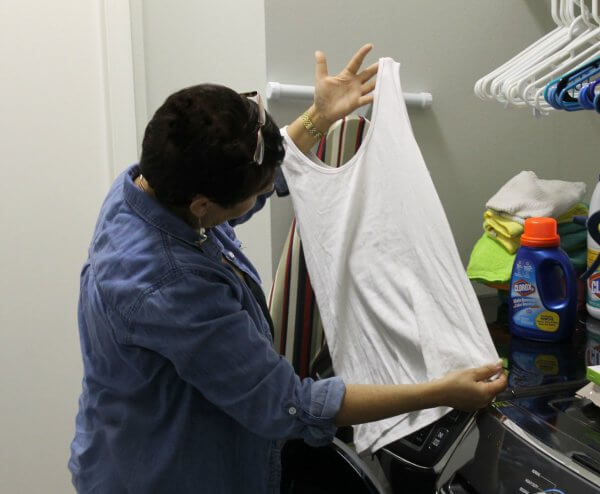 Grass stains, mud splatter and even my VERY FAVORITE SPILL >> wine are all signs of life well-lived. Go dig in the mud, lay in the driveway (like me), make that chocolate layer cake or paint your masterpiece, creativity shouldn't be squelched because of stains. You can also use Clorox 2® Stain Remover & Color Booster as a pre-treater for stains and in the wash to keep colors bright.
How I got the dirt off my white shirt
I applied Clorox 2® Stain Remover & Color Booster directly to the stain, and rubbed it in…letting it set for about 5-10 minutes before washing it.
I have an HE washing machine, so I only filled the cap to the first line & added directly to the detergent dispenser, and added the detergent.
Let me know what YOUR Inspiration Procrastination project is in the entry form!
GIVEAWAY
Enter on the Rafflecopter below. One lucky Champagne Living winner will get this FAB prize so that they can create an "Inspiration Procrastination" project of their own.
PRIZE
Clorox 2® Stain Remover & Color Booster Liquid
Clorox 2® Pre-Treat Stain Remover Pen
$200 Michael's gift card for your next DIY project
Enter DAILY (via twitter)
US residents, 18+
Ends November 12, 2016 11:59pm EST


Learn more about Clorox 2® Stain Remover & Color Booster at www.clorox.com.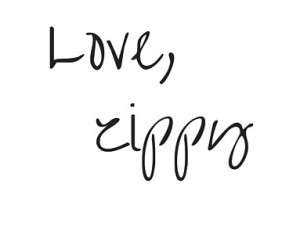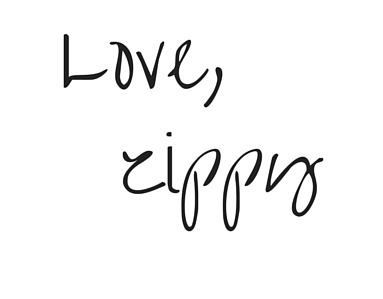 I am participating in a VIN campaign for Clorox® . I am receiving a fee for posting; however, the opinions expressed in this post are my own. I am in no way affiliated with Clorox® and do not earn a commission or percent of sales.