Smoothly Does it for the Ultimate Stress Free Wedding Day.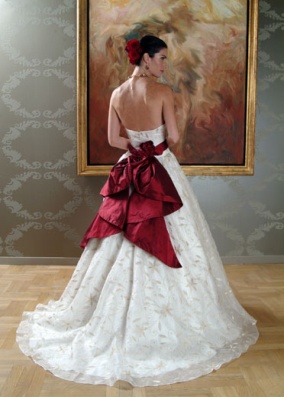 Wedding planning can be quite notorious for inducing near nervous breakdowns for the bride to be. Here are a number of common hurdles that can be faced throughout the planning process along with possible solutions to overcome them and keep you on track for a truly fabulous special day!
The Dress…
Dilemma: Traditional versus modern. Depending on the style you choose for the whole event, it can be tricky to imagine how your dress will tie in with the theme of your wedding. Should you opt for a classic simple gown or something a little more contemporary?
Solution: Why choose one style when you can incorporate both? For inspiration check out this beautiful range of London wedding dresses from Fiorisimo. This Divina dress is a particular highlight. The coloured sash gives an extra dynamic to a beautiful floor length gown.
The Speeches…
Dilemma: The unruly best man. Depending on the groom's choice, there is of course potential for a few flushed cheeks and bowed heads among those seated at the top table. That's before gauging the reactions of the new in-laws to the stag do revelations and other anecdotes of their bachelor times together!
Solution: While cringe-worthy speeches are often part and parcel of a memorable day, it's good to ensure a balance of comedy and nostalgia with an awareness and respect for those guests with delicate ears such as children and even your grandparents! Maybe try diplomatically pointing the speechmakers in the direction of a little experienced help. The website www.greatspeechwriting.co.uk offers some great advice with regard to pairing humour with tact!
The Food…
Dilemma: Catering for all tastes. You'll most likely have a range of guests with various dietary requirements that can leave you at a loss knowing what choices to offer. It can also be difficult to decide based on whether your reception will be held indoors or outdoors.
Solution: Spend some time discussing options with your chosen wedding venue. If you're indoors and having a sit down meal, it's often best to cover all bases and have a meat, fish and vegetarian option. Outside caterers who offer a selection of dishes can be ideal for outdoor venues as the guests can pick and choose what catches their eye.
Ultimately, there's only so much planning that can be done. Once the day arrives, the key is to take it all in your stride, relax, and overall enjoy!