The items in this post were sent to us by the brand. We do not charge them for consideration or placement as we prefer to retain the right to not place an item that we don't truly love. We may however include affiliate links so that we get credit when you shop.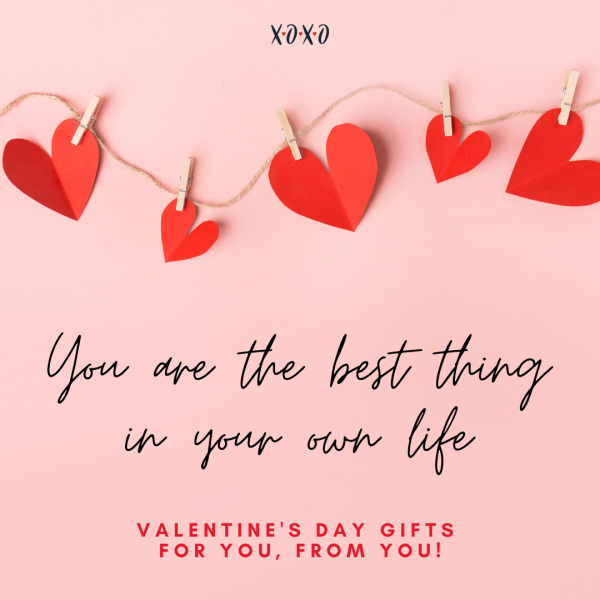 My hints take time
I actually had a photo of the pair of diamond studs on my refrigerator door for over ten years before he bought them for me. He'll be the first to admit that he doesn't take a hint well. Then again, if I wanted them badly enough to keep a picture on my fridge all those years, why hadn't I bought them for myself?
So started a tradition for me
Each Valentine's Day I buy something for myself that I want. It's not always expensive like diamonds. Most of the time it's something that I know he'll never get me. He is stuck in that box of chocolate mode. The same ones that I received half eaten. There's only one brand that he knows (Godiva) and that's what he buys – for Valentine's Day, Mother's Day, my birthday, or whenever there's a time that he's expected to give me a gift (there are exceptions of course).
This gift guide is for those of us who are terminally disappointed on Valentine's Day. WERE? Yes, because from this year forward, I suggest that you (like me) make it a point to get something that you really want.
My 2023 suggestions for gifting yourself (or dropping a hint)
Gifts for those with wanderlust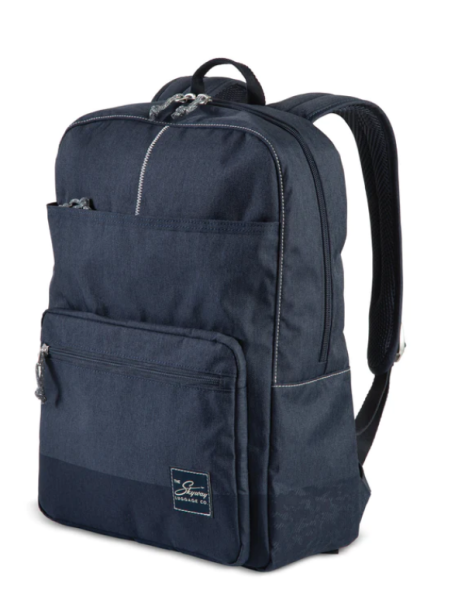 This no-fuss essential backpack is built with a padded pocket so you can take your laptop wherever you go. Its double front pocket allows for additional storage capacity and it's adjustable, padded shoulder straps will be easy on your back. Perfect for those on the go, or just for day-to-day running around.
Contoured/padded tuck away, adjustable shoulder straps.
Add a bag strap for sliding over tele handle.
Two front zipper pockets
Main compartment w/padded laptop pocket
You'll love the fact that this backpack is made from recycled plastic water bottles! Available in Zion Gray, Moab Red, Tahoe Blue and Kohala Black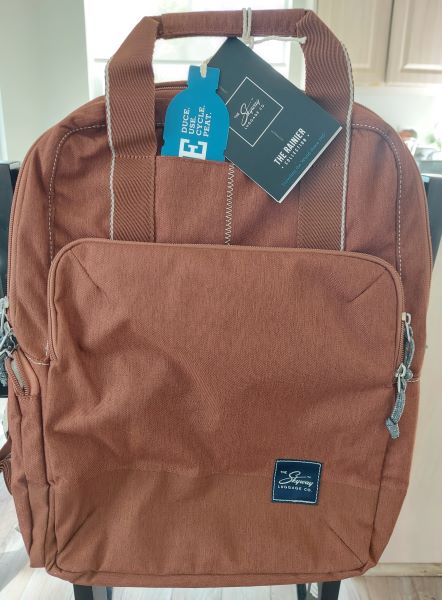 Price: currently ON SALE. Price varies depending upon color.
Available at: Skyway Luggage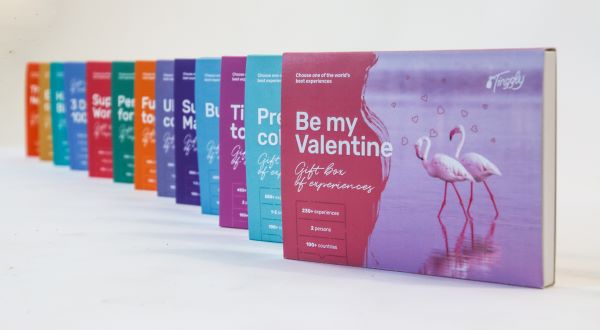 Tinggly is a global experience gifting company on a mission is to help people give more meaningful gifts, whilst reducing the giving of meaningless material presents. Each gift box has hundreds of experiences or getaways to choose from in all major cities and tourist destinations around the world. For every gift purchased, Tinggly plants and protect trees to offset 200% of CO2 that was created during your chosen experience!
They are currently offering Valentine's Day experience collections like Be My Valentine ($129). The collection features over 800 adventures for two people to cherish together, whether it's ziplining in the Rocky Mountains, a pizza tour of Brooklyn, or snorkeling in Key West.
How Tinggly works: You choose a Tinggly gift box, you send it as a gift (physically or as an e-voucher), and the recipient gets to choose from hundreds of diverse experiences in over 100 countries around the world. Booking is super simple– the recipient just has to visit Tinggly's redeem page, select the date, the experience, and wait for the confirmation via email.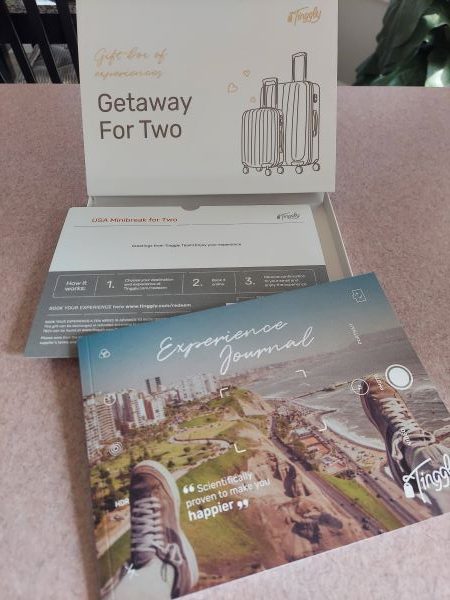 Price: Varies based on experience
Available at:

Tinggly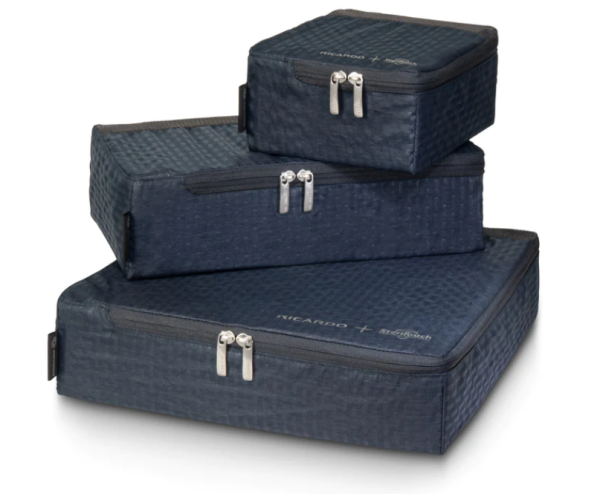 These packing cubes will revolutionize the way you pack. Seriously. This set of three ultra-lightweight, minimalist cubes separates everything you need into neat, perfectly sized packages that tuck snugly in your suitcase. Mesh windows let you see inside, so you'll never again have to dig around an unorganized suitcase to find that elusive pair of socks. You're going to want more than one set: pack different outfits in each one, group different clothing types, and have one for each member of the family.
Tuck socks, undergarments, accessories or charging cables slash odds and ends into the small cube.
The medium cube is just right for shorts, swimwear, rolled T-shirts or sorting clothing types with multiple cubes.
Pants and tops fold neatly into the large cube, or it's an excellent place to keep your laundry while traveling.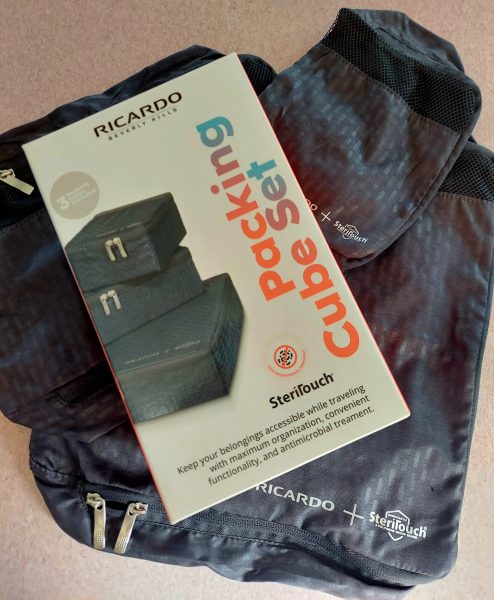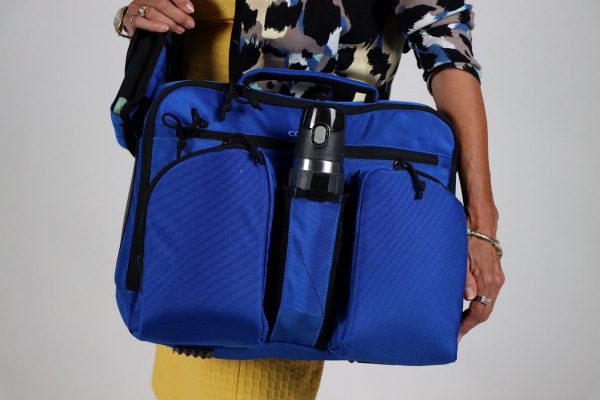 Passion takes many forms, and if one of your Valentine's passions (besides you) is travel, the 'ULTI'™ travel bag by CONMIGO® will pique your wanderlust.  The 'ULTI'™ offers the Luxury of Comfort, the Joy of being Organized and the Peace of mind of being Safe.  The only bag on the market with the exclusive built-in, multi-purpose padded electronics sleeve that functions as a TSA compliant sleeve, a cushion for your bum and a detachable portfolio.
The only back on the market with a built-in, multi-purpose pad
TSA compliant protective electronics sleeve
Cushion for your bum (saves you back/bum and legs on those long flights and layovers)
Detachable portfolio
Brightly colored lining
Dedicated padded/secured cell phone compartmen so you never miss important calls
12 pockets-5 easy access exterior and 7 interior
Holds multiple laptops and tablets in padded compartments – Maximum sized screen-17"
Easily converts from cross body design to classic brief case
Perfect when a backpack doesn't fit your need or style
Airline under seat size compliant
Weather resistant ballistic nylon shell.  Easy to clean nylon lining.
Metal hardware and heavy duty zippers
Who says that you can't purchase this bag for you?  You deserve to be pampered too!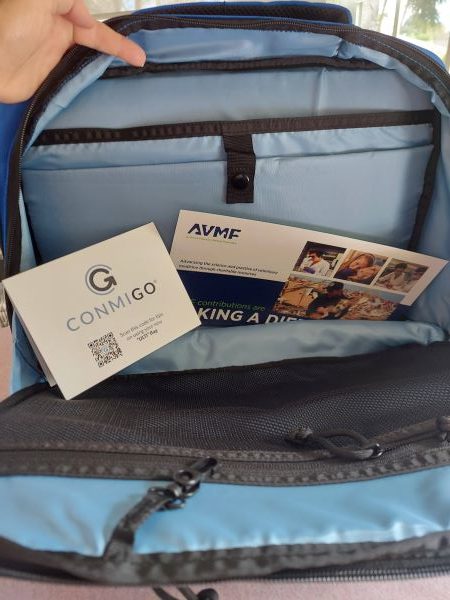 Price: $98 with free shipping & lifetime warranty (ships within 48 hrs of ordering).
Available at: Conmigo Bags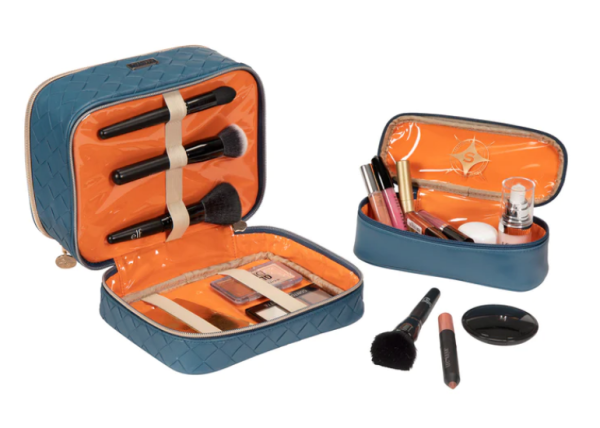 This Jenny Makeup Case from Stephanie Johnson has two separate packing compartments along with with a removable zippered pouch that can go anywhere. The Jenny has a roomy interior that keeps large and small items in place while the clear plastic lining provides an easy to clean surface! The top compartment features two mesh pockets for organization, along with a removable case. The bottom compartment has elastic straps to secure brushes, pallets, or other travel products, keeping them in a safe and secure location that reduces the rattling of your precious products.
The perfect piece for all of your beauty needs, the case is available in both Stellar Blue and Toasted Almond. You'll wonder how you ever traveled without it.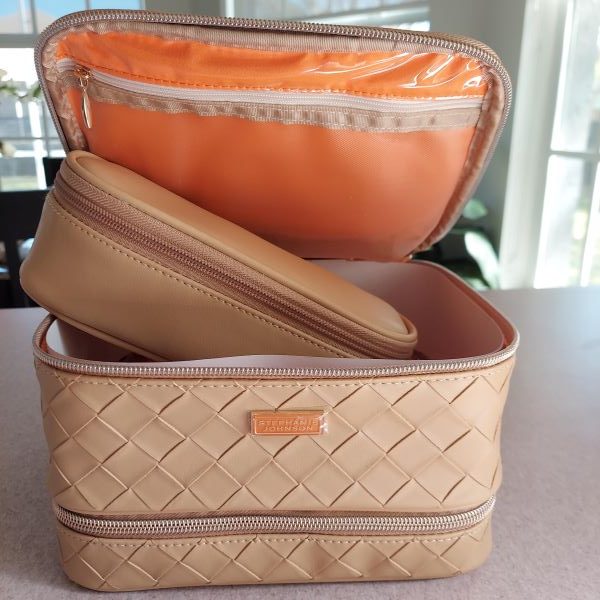 Guilty Pleasures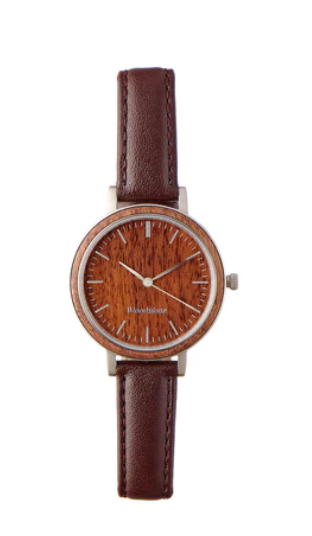 I have to admit that I've always been a tad bit jealous when I saw men wearing wooden watches. When I learned that Woodstone had women's watches (my wrist is too small to handle the larger size men's watch), I got very excited. I love the combination of earthy wood with classic, traditional styling.
I chose the Serenity which has a slim feminine design. With its low and curved profile, it provides comfortable wear and adds that extra stylish touch to any outfit. Serenity is classy, elegant, and high quality. Its minimalist, uncluttered design promotes calmness, a peaceful state of mind, and simply serenity to its wearer.
It comes in either gold, silver, or rose gold, with a face of either
Walnut
Rosewood
Maple
Sandalwood
Purpleheart
The band is 100% genuine leather, a sustainable walnut bezel and dial, sapphire-coated scratch-proof glass, and Citizen Miyota quartz movement. Of course, they have men's watches as well.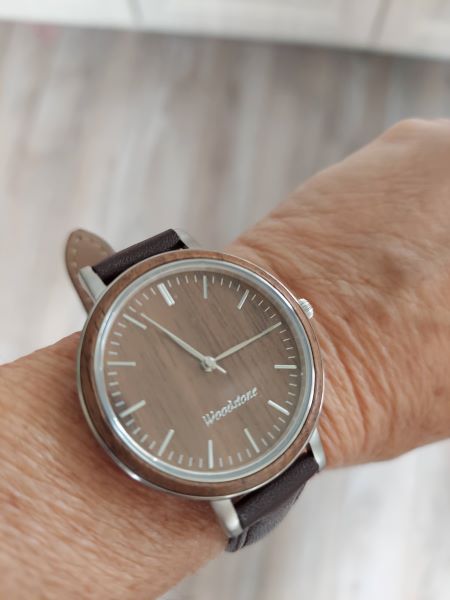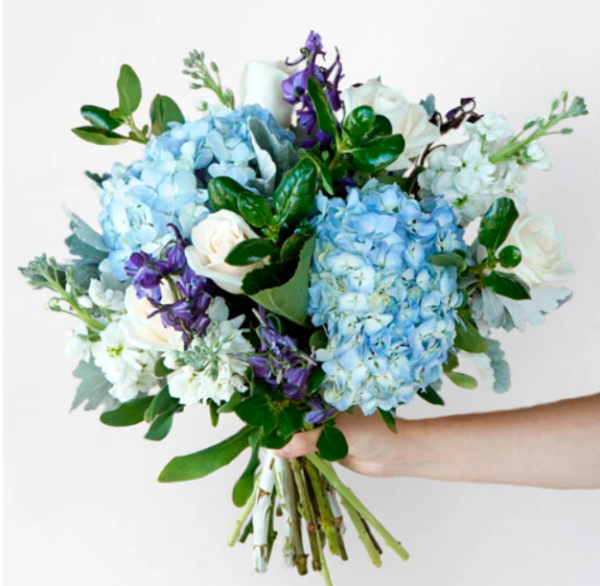 Giving yourself flowers should be something that we do often. I happen to absolutely love Flowerfix by Fifty Flowers. Why? Because their bouquets are 50% larger than competitors and sure to impress. Did you know that research shows that receiving flowers by surprise brings a boost of JOY into your life? (University of Florida 2018)
This Valentine's Day I chose the Making Waves Flower Bouquet. This jaw-dropping flower bouquet will rock the boat and make a splash. The floral designers' unique combination of blue hydrangea, dark blue delphinium, and chic white flowers is a trend-setters dream, and will create a ripple effect in your living oasis. You can send flowers to your doorstep, or to a loved one – fresh from their farms!
They also offer DIY floral arranging courses online complete with everything you need; flowers, floral supplies, and a link to a pre-recorded flower design class with an AIFD certified floral designer.  Order online today and get creative! I love this idea to gift yourself not only beautiful flowers but also to learn exactly how to arrange them.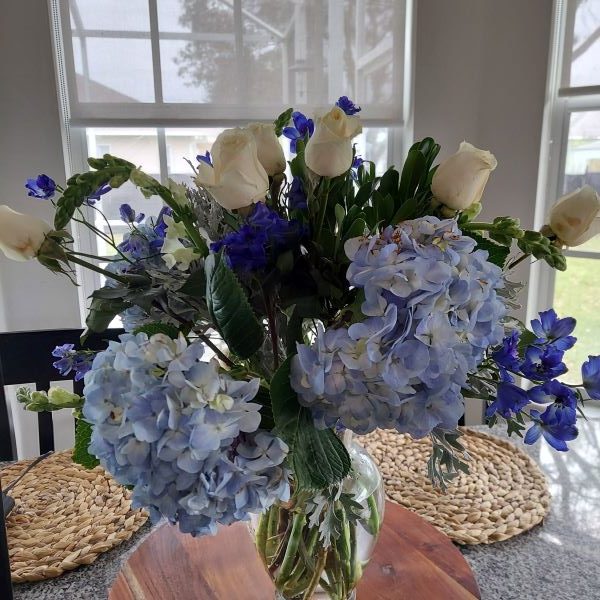 Price: $89.99 as shown – flowers plus class – $119.99
Available at: Flower Fix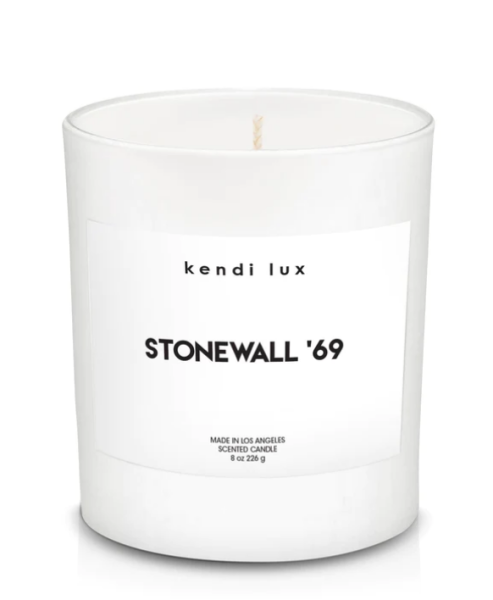 This candle means a lot. I remember the Stonewall Riots (no, I wasn't there) and as a staunch ally I feel that it is important to remember. It is also the perfect gift for my brother and his partner, and this candle is as memorable as the streets of Greenwich Village in June 1969. Let's take it back to the beginning by celebrating the roots of LGBTQIA freedom. With each burn, you'll be reassured that you are not alone! Reflecting on the history and sacred resistance to unjust systems, kendi lux wants to remind you that all of us stand together, hand-in-hand! 
There's a reason that their motto is "don't let anything or anyone dim your light!" Embrace who you are with absolutely no fear and no limitations. #LGBTQIA+ #Pride
Of course, they have MANY other candles and gifts available, even those with words that might make you sit up and smile each time you burn them. Each candle has its own distinct fragrance. The Stonewall '69 fills your room with the smell of lemon leaf that is complemented with a bouquet of Jasmine Petals. Blue Cyclamen Flowers and is joined with Tonka. Rose, Vanilla, and Musky lye beneath this fragrant affair.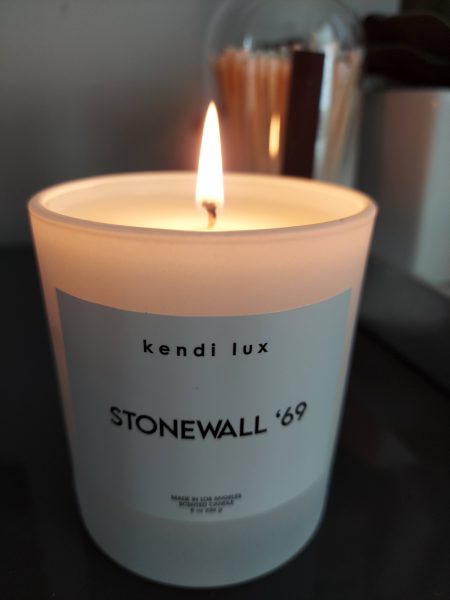 Price: $35 (although the Stonewall '69 candle is currently on sale for $19.88
Available at:

kendi lux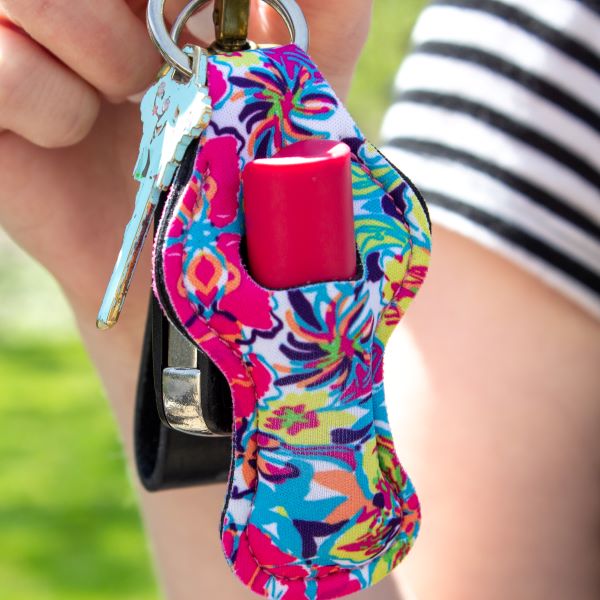 Keep your essentials at bay with a pop of print! I love these for going out for a walk or to the beach and leaving my bag at home. These brightly patterned keychains come in a kaleidascope of colors and have the functionality you've been looking for. Maintain your night out look, temporarily store valuables on-the-go, or simply access your favorite travel items easier! Don't forget to tuck in a little money for your coffee shop stop!
Easily attaches to a set of keys, purse, luggage, or backpack
Tight, neoprene fabric secures your belongings
My friend Rachel had showed me hers, and I knew that I had to have one. It's funny how sometimes the smallest of gifts make the biggest impact on your day to day activities. Available in sets of three. You'll want to share these with ALL of your besties (so go for the 3) in your choice of patterns.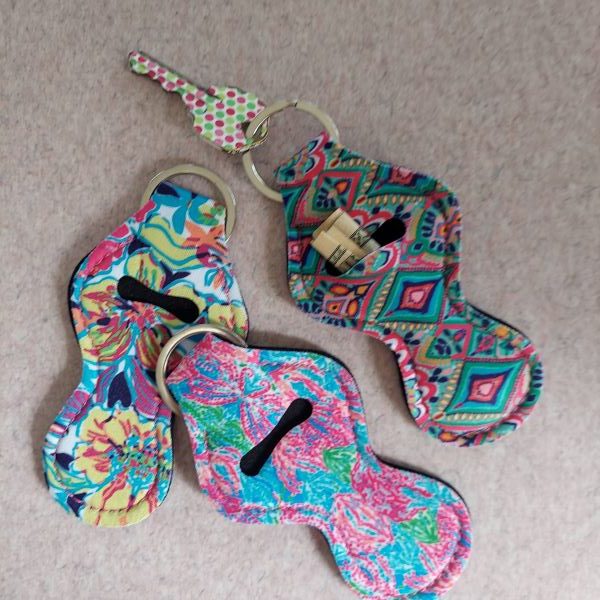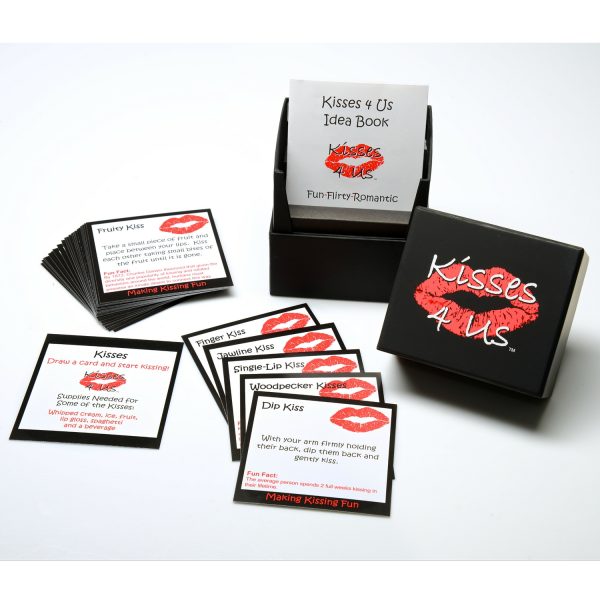 I've been married for almost 43 years now. That's a long time, and honestly sometimes we forget to be romantic. It happens (although it shouldn't). That's why I thought that buying this Kisses 4 Us kissing game would be a great way to add a little SPARK!
Do you remember how you used to pack notes in with lunch every day? Do it again by randomly choose a kiss card and be surprised on what you might pick – a Hand Kiss, Trail Kiss or even a Woodpecker Kiss!  A combination of fun, flirty and romantic kisses are all included in Kisses 4 Us, and the idea book will give you suggestions on how to use it.
Hide cards around the house
Put one in his jacket pocket
Tuck it into his lunch
Put a card in his wallet
Lay one on the pillow
The ideas are endless!
FYI – I never knew there were so many different ways to kiss (yes, at 69 I'm learning new things).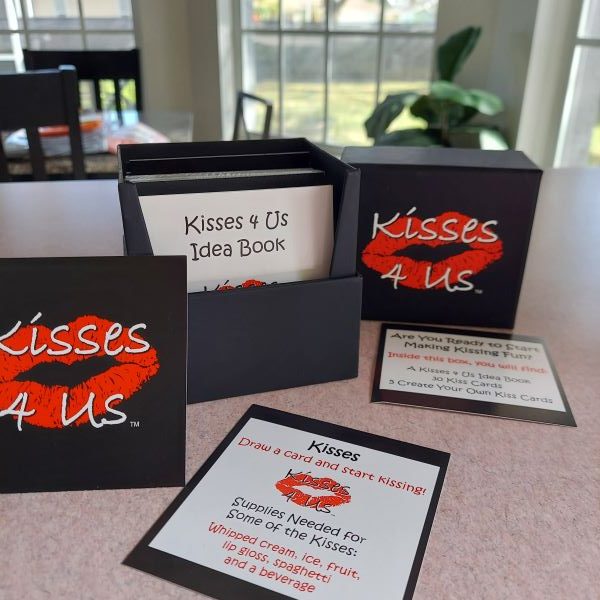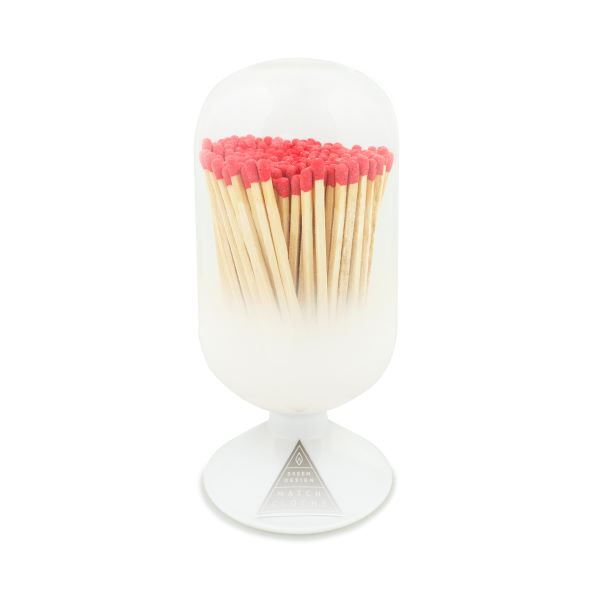 It's getting HOT in here! With its a soft, white, ombre finish, Skeem's handblown glass Cloud Match Cloche topped with a cork stopper holds 120 red-tipped matches. Light his fire and light up Valentine's Day with this pretty match cloche that adds panache to a mantel, side table or bookshelf. Ready for lighting that special candle or a roaring fire to cuddle up in front of.
120 white-tipped matchsticks

7″ high x 3″ wide

Hand blown glass

Strike-on-bottle flint

Cork stopper

Did I mention – BEAUTIFUL?
Toss that ugly plastic lighter away and light those fires with a match from this beautiful cloche.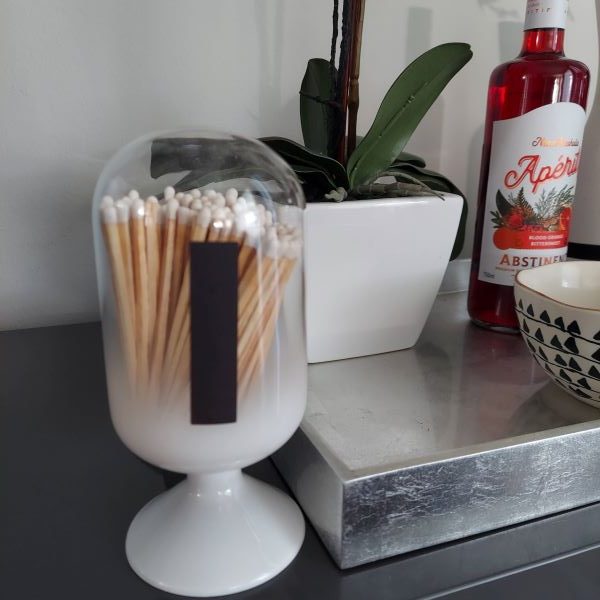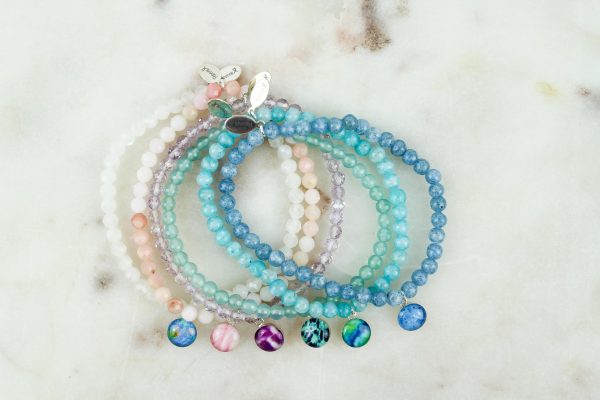 The Awareness Stretch Bracelet is available in 12 different causes. I happen to have the Ovarian Cancer cause bracelet in memory of my friend and blogger Jewel Figueres (whom many of you may remember). 10% of the gross profit of each bracelet is donated to a charity associated with that specific cause.
Causes include:
Ovarian Cancer
Alzheimer's Research
Breast Cancer Research
Childhood Cancer Treatment & Research
Diabetes Research
Heart Disease Research
Infertility
Lung Cancer Research
Lupus Research
Multiple Sclerosis Research
Pancreatic Cancer
Sarcoma
Stack for hope. Stack for strength. Stack for awareness. Stack for charity. Stack for cures.  These are sure to make a serious wrist statement for your favorite cause to support! Show your commitment to spreading awareness & raising money for research, while inspiring others to get involved too.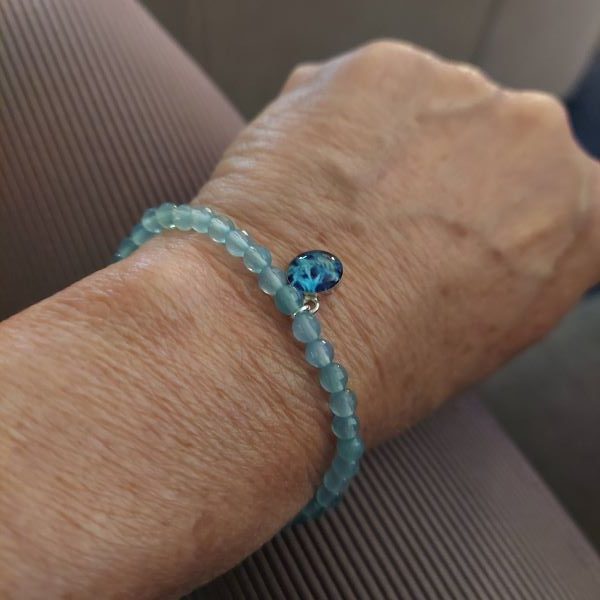 Price: $66+up
Available at:

Revive Jewelry

Discount –  Use code ZIPPY for 15% off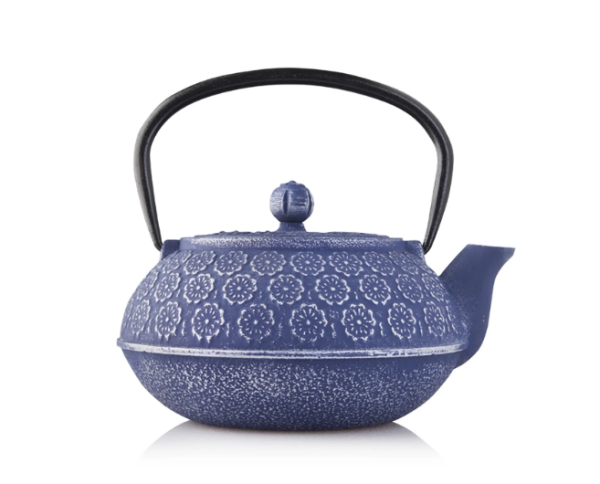 Check out this Lilac teapot, strong and stout with my cast iron body, I sure stand out. Here's my handle, there's my spout. One of the things that I had promised myself this year was to indulge daily in a "spot of tea" and nothing makes that experience more luxurious than this 32 oz. cast iron tea kettle with its intricate artwork that draws inspiration from ancient masters. It is truly a 'must have' for every tea lover and a collectible.
The Lilac Blossom Japanese cast iron teapot makes brewing the perfect cup of tea, quick and effortless. Made of cast iron, it is able to maintain a high level of temperature and helps retain the warmth of the tea for long without compromising its aroma or flavor. Easy to clean and maintain, the cast iron tea kettle with infuser isn't just for everyday use, but an heirloom that can be passed down with pride. Simply heat your water in a pot, pour it over the tea infuser filled with tea and let it steep a bit (not for use on your stovetop).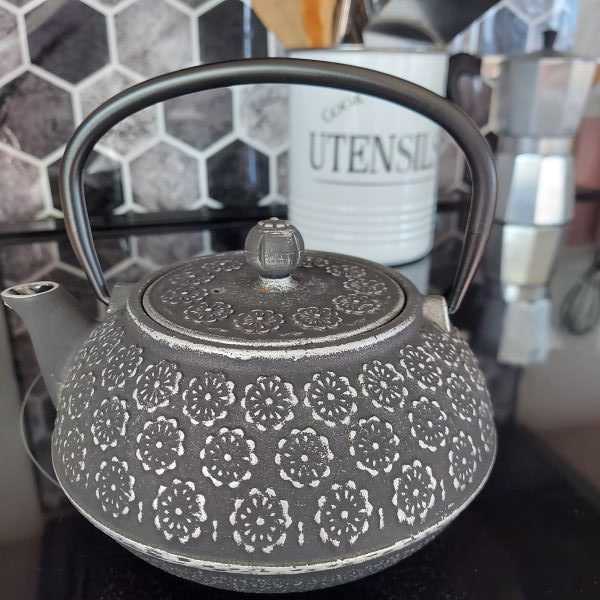 Price: $27.99 on sale
Available At:

Virtail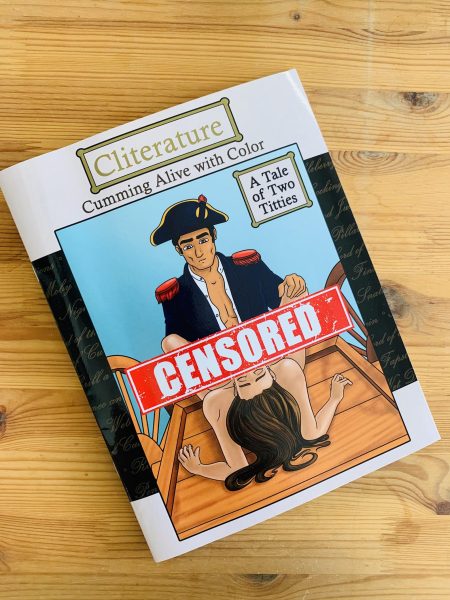 OK, so maybe I saved the most INTERESTING for last. What can I say? I wanted you to scroll ALL the way down here because this coloring book is FIRE! Go steal your kids crayons, pour yourself a stiff drink and get creative as you color in a host of dirty pictures. THAT'S RIGHT!
Keep your thoughts and creativity in the gutter with this 20 page coloring book for adults that will provide hours of entertainment! This  book contains a variety of designs from your favorite old time classics. Designed by artists, each page will be sure to make your artistic + dirty skills come out to play! Just make sure that you hide it from the kids (along with your old Playgirl Magazines).
Created by two badass women after a couple drinks and talking about what everyone loves doing best :sex. A Tale of Two Titties being the first of their line, they wanted to bring the public a mix of your favorite old time classics with a naughty twist, of course. Remember when I said that these Valentine's Day gifts were for YOU? Make sure your stocked with crayons and colored pencils because you'll want to dig right in when this coloring book arrives.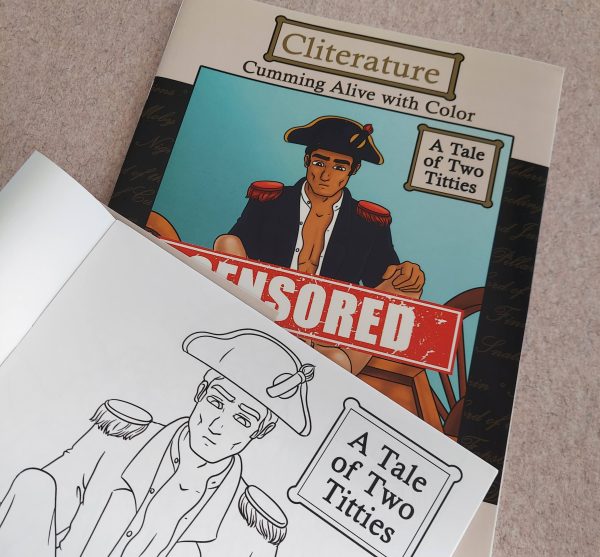 For HIM – just because he doesn't know what to buy you – YOU know what to buy him!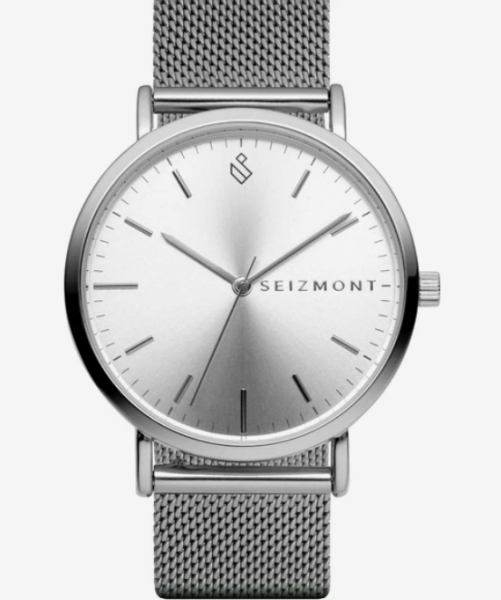 There's nothing here that says that you can't spoil HIM as well as yourself. It is Valentine's Day and since he LOVES everything he's gotten in the past from Trendhim, I knew that's where I had to choose his special gift. This year's pick for HIM is the Seizmont Moment Watch, a beautiful minimalist look for his wrist that shows you care ALL OF THE TIME.
With a lightweight body, this silver-toned metal watch and matching face with silver-toned numerals and hands offers Japanese quartz movement for accuracy and a lightweight body, this watch suits every occasion. The strap is made of coordinating silver-toned metal chain for added strength and comfort. It has 3 ATM water-resistance and will fit max. wrist size: 21 cm, min. wrist size: 15 cm. Engraving is also available for that extra special Valentine's Day message just for him.
This and other great gifts for men are available on Trendhim!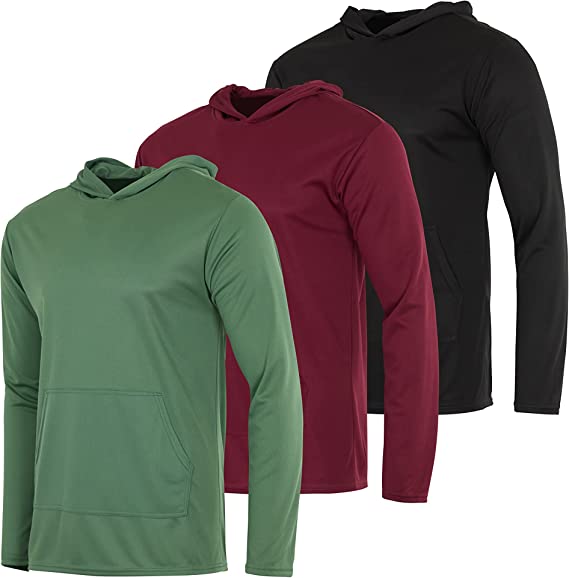 You know how he's always asking you for hoodies that don't leave him too hot or too cold? You just found him these great long sleeve athletic pullover hoodie sweatshirts with kangaroo pockets that are JUST RIGHT.  Give the gift of comfort to your loved one (it's such a simple luxury).
These versatile pullovers are appropriate for any casual occasion and the perfect gifts for boyfriends, husbands, sons, or even yourself (yes, they are available in women's sizes and colors as well). With a UPF 50-rated fabric, the sun is automatically blocked and prevents harmful ultraviolet rays and long-term damage to the skin.
Best of all they come in 3-packs in an assortment of colors and with sizes ranging from small to 5XL, in regular and big and tall (like my husband), you'll find the perfect pack for him.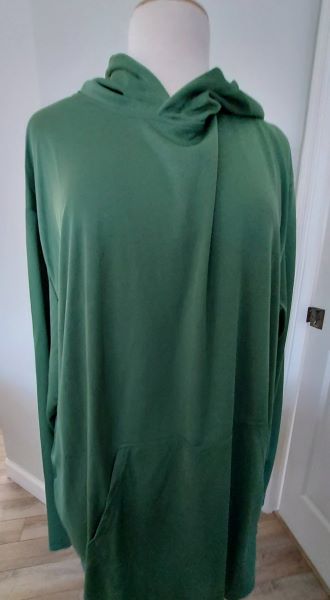 Price: $34.99 – $37.99
Available at:

Amazon
One for him and one for you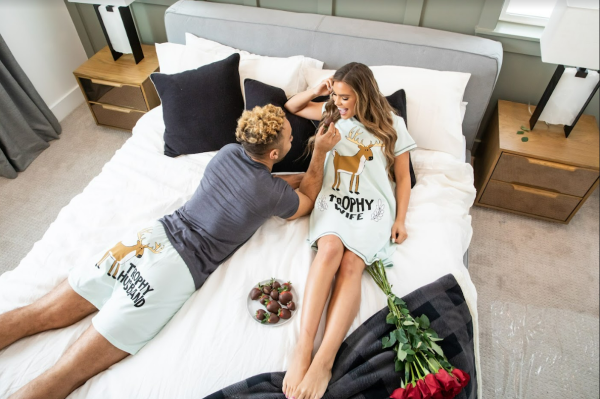 What's cuter than matching with your significant other?! Show 'em they're still number one in your books with the matching trophy husband and trophy wife pj set. The women's v-neck nightshirt even features a convenient pocket to stash your cell phone or a midnight snack!
Get the kids involved as well, as Lazy One offers jammies for the ENTIRE FAMILY (even the dog). I love the trophy wife/trophy husband nightshirt for me as it serves as a reminder every time I wear it. After 42 years, he still needs that reminder that he definitely chose the RIGHT ONE.
With patterns and sizes for everyone (sizes go up to 3XL for bigger men like my hubby), you're sure to find a great his and her gift that will put a smile on BOTH of your faces.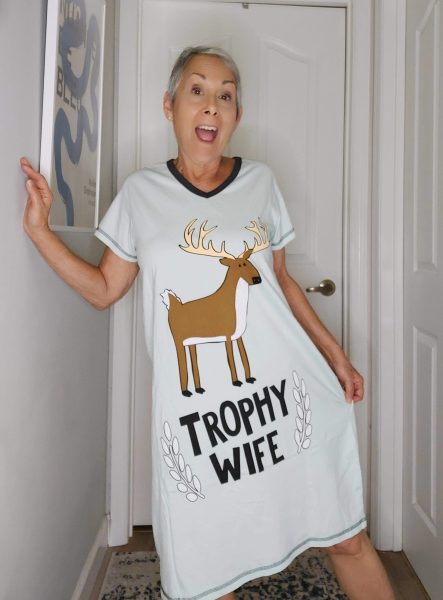 Price: varies
Discount: Take 10% off sitewide on LazyOne with the code VDAY1023


KURU Footwear is a shoe company with one mission: resolving foot pain. Every shoe they build contains their patented KURUSOLE which is engineered to eliminate foot pain for their customers (especially Plantar Fasciitis). With a shoe for every occasion, KURU makes it convenient to recover and heal without slowing down.
I have a difficult time breaking in sneakers, as a result, I usually HATE wearing them. After seven knee surgeries and favoring one side over another, I have feet that are VERY different from each other. I was amazed at how I was able to put on my ROAM iconic women's court shoes that have been reimagined for modern comfort and get outside for a walk immediately (which usually takes 1-2 months in the house, breaking them in period). They come in some FUN colors (in both canvas and leather) and they can be dressed up or down effortlessly, so you can look your best doing more things in more places: from work to weddings, to wandering around town.
My husband on the other hand has a wide foot. Again, it's always an issue finding sneakers and shoes that he can wear (he is the king of using stretchers). Once again Kuru Footwear comes to the rescue with a pair of QUANTUM light, breathable, high-performance men's fitness trainers that come in both medium AND wide (in men's sizes ranging from 6.5 to 14).